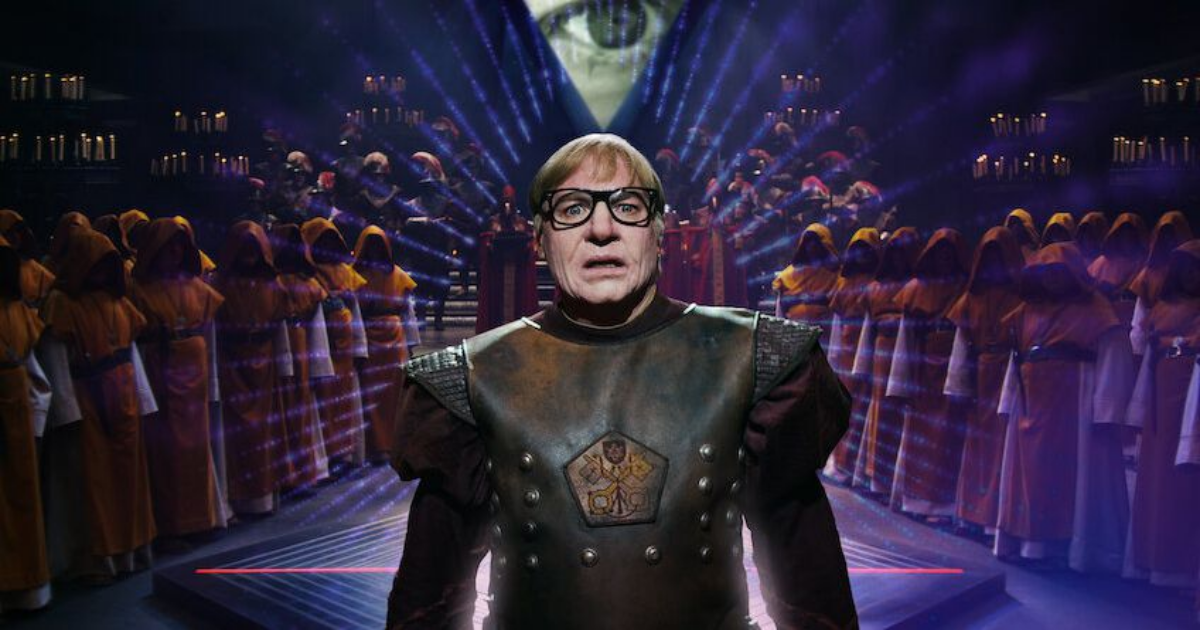 There's obviously a bounty of great Netflix original movies and shows, but they seem to be giving expensive deals to anyone who has ever made a profit in their life, resulting in critically reviled movies like Thunder Force, Yes Day, Red Notice, and He's All That. They even gave Rob Schneider a show with Real Rob, which many consider to be the worst television show ever created, scoring 0% on Rotten Tomatoes.
Some personalities seemed like surefire bets, such as Judd Apatow's much-disliked The Bubble (22% on Rotten Tomatoes) or Adam Sandler's The Do-Over (8%); a Mike Myers series might have seemed like one of these 'sure things' as well, leading to the six-episode show The Pentaverate. Unfortunately (and almost predictably, at this point), the series is pretty bad. Stupidity, immaturity, poor writing, laughably bad special effects, and practically anything else can be forgiven in a comedy, so long as it's funny. The Pentaverate usually isn't.
MOVIEWEB VIDEO OF THE DAY
Mike Myers is Back in The Pentaverate
Netflix
Mike Myers is a legend in the comedy world, creating one of the most successful parody series of all time with the Austin Powers films, along with arguably the best film based on SNL skits with Wayne's World. Audiences haven't seen much from Myers this past decade, as he's opted to stay close to home and be with his younger children rather than devoting time to long projects. As such, he's worked on the documentary Supermensch and had a memorable appearance in Bohemian Rhapsody (and Inglourious Basterds), but not much else. So now he's back, with… a television series based off a throwaway joke from 30 years ago in his box office bomb So I Married an Axe Murderer?
It appears so. Granted, time has been kind to So I Married an Ax Murderer, which is now recognized as a '90s cult classic that deserved much better than the disdain it received in 1993. It's still remarkably odd that Mike Myers' first major new work in a long time is a spin-off from a three-decade-old joke, and also very sad that the humor in The Pentaverate feels practically 30-years stale, as well. This is honestly depressing, considering Myers' wealth of talent as a writer and actor, and the abilities of stars Ken Jeong, Keegan-Michael Key, Lydia West, Jeremy Irons, and the great Jennifer Saunders.
Related: The Pentaverate Trailer Gives Fans Eight Versions of Mike Myers for the Price of One
Nonetheless, it is a sweet show in many ways, one that extols kindness and niceness, which is appropriate given that much of The Pentaverate is a loving, winking homage to Canada (which Myers also wrote a book about in the past decade, aptly titled Canada). Sweet, but largely unfunny. It has a good point about conspiracies, the death of truth, journalism, and government, but it has no idea how to make this point.
The Pentaverate is About Conspiracies But Not as Interesting as One
Netflix
The show (just like the 30-year-old joke) is about a 700-year-old secret society called The Pentaverate, led by five experts in their field, who ostensibly rule the world. One of their members (a weak caricature of Jaron Lanier) has died, and so they set out to recruit a new member, but he, too, dies, and foul play is suspected. Meanwhile, an aging Canadian journalist is being fired from his job as a kind 'man-on-the-street' reporter and believes that he can save his career if he just gets one good story. He goes down the conspiracy theory rabbit hole, hoping to uncover a secret group that hardly anybody believes in (or has even heard of): The Pentaverate.
All of these lives collide in the most improbable and idiotic of ways; it's as if Myers, and co-writers Roger Drew and Ed Dyson, believed they didn't have to do any work regarding narrative, character, dialogue, plot, or essentially anything that goes into writing a good screenplay. As stated, this can occasionally be forgiven in comedies if a movie is actually funny, but the chuckles here are few and far between. It's three hours long and filled with good talent, so there are certainly a handful of laughs, but 95% of The Pentaverate feels like a dreadful, wasted opportunity. Listening to an actual conspiracy theorist talk for three hours is more likely to be funny.
Netflix
Myers does his usual multiple-role thing, playing something like nine people here, except there's so little characterization that each person becomes an extremely dull stereotype identifiable by basically their nationality (the Russian, the Englishman, the Australian, the Canadian, the American, etc.). Even the make-up and prosthetics are weak; these people look nearly the same, all reminiscent of a 70-year-old Mike Myers with varying degrees of hair.
The special effects and digital work are similarly shoddy and poor, and anytime CGI is used, the result is atrocious. Occasionally, The Pentaverate will hearken back to the cheesy special effects of the '80s with knowing intentionality, something derivative of director Tim Kirkby's older work (Look Around You). The sets seem claustrophobic and then poorly manipulated through green screens or editing, and everything just feels ridiculously cheap and rushed, not least the storyline, which is a race to the finish between boredom and incomprehensibility, resulting in a tie.
The Pentaverate is Painful to Watch
Netflix
If The Pentaverate is painful to watch, it's for a variety of reasons, only one being that it's generally humorless. First, the aforementioned talent in the show is surely capable of something better; this is on display most when there actually are funny moments, reminding audiences of these actors' abilities. It's also difficult, for anyone who grew up loving Mike Myers (be it from SNL in the late '80s or a generation later with Austin Powers) to watch his work crash and burn so hard. He's an icon with iconic characters, but none of them are evident in The Pentaverate.
Third, The Pentaverate feels like a missed opportunity. It honestly could've made a great kids' show — it's silly and wacky, and an audience of children wouldn't mind narrative incoherence or immature humor. However, the series goes a mile out of its way to make sure that parents don't let their children watch it, joking several times about censorship as it rewinds certain scenes and replaces curse words (ironically making the scene more vulgar) or adds pixelation for penises. Very adult turns of phrase constantly prevent the series from being watched by children, and yet the series' juvenilia, dull attempts at comedy, and poor plotting likely won't appeal to most people 20 or older. Thus, it seems The Pentaverate has conquered the 17-19 demographic.
Related: Austin Powers 4: Did Mike Myers Just Confirm That the Spy Comedy Sequel is in Development?
Comedy is obviously subjective, though, and there's no shame in laughing at this. From a personal standpoint, this reviewer honestly wishes he had, perhaps succumbing to the cynicism, suspicion, and skepticism of the digital age which The Pentaverate is so unsubtly against. Because that's the final aspect of what makes this series painful to watch – it has some genuinely noble and good intentions, but is either so on-the-nose with its message that it comes across as practically parodic, or fumbles it altogether in a sea of incoherence.
Mike Myers is Right About Conspiracies, But The Pentaverate is All Wrong
Netflix
Ultimately, buried beneath a bevy of bad jokes and worse make-up, The Pentaverate is about journalism, truth, and kindness in an age when all these virtuous concepts are being eroded. A comedy about conspiracy theories is a great idea at the moment (and done infinitely better by the series Inside Job), what with roughly 40% of Americans believing that the last presidential election was rigged and Joe Biden did not actually win, and approximately 20% of Americans believing in the dangerous conspiracy idiocy of QAnon.
From people believing that snowstorms were fake (and taking videos of themselves burning snowballs) to the belief that COVID vaccines will tag people with 5G microchips, the conspiracy thriller is an active part of everyday life, and a massive political threat internationally. Even deliberately made-up, satirical conspiracy theories (such as the 'birds aren't real' joke) have developed actual honest believers. This has led to millions upon millions of people buying into destructive, hateful ideas run by white nationalists, anti-Semites, and all-around lunatics who exploit their suspicions and conspiratorial fears for profit, resulting in consistently close elections in America, France, and around the world.
Netflix
As such, it's an excellent time for The Pentaverate, and Myers seems to know it (going so far as to dedicate the series to journalists).
"The people need to trust the experts, but the experts need to serve the people," one character says, while another tells a conspiracy theorist (in yet more unsubtle, very obvious messaging):
You're not a free man. You're a slave. You're a slave to every conspiracy theory that says that there's an Other keeping you down. An Other who took your job, your tax dollars, your culture, your country. So you all get together and dress alike and make up your own flags. But I've got news for you. There is no Other. There's just you. You're why the American dream passed you by.
Myers has a good point, and his presumably kind-hearted journalist protagonist is a hero for this day and age (presumably, because there's almost literally no character development or exposition of him or anyone else, so the show essentially equates his Canadian citizenship with kindness). A good point, but one tragically obfuscated by uncomic distractions.
Austin Powers 4 Update Arrives from Director Jay Roach [Exclusive]
Read Next
About The Author
Matthew Mahler
(99 Articles Published)

Editor and writer for Movieweb.com. Lover of film, philosophy, and theology. Amateur human. Contact him at matthew.m@movieweb.com
You can view the original article HERE.