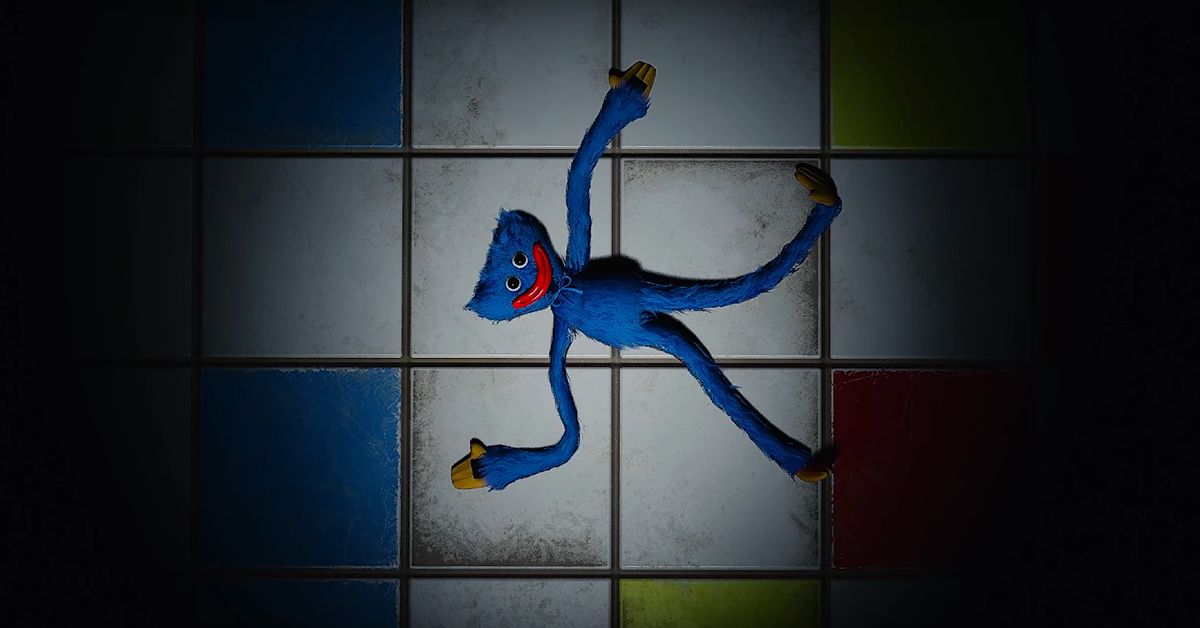 Videogame movies are probably not going to be as rare as before anymore after the success of Sonic the Hedgehog 2. While gamers will have to wait a bit longer for the Mario movie, Mob Games has already announced that they are partnering with Studio71 to create a film adaptation of the viral horror game Poppy Playtime. The game studio has made this announcement on its official Twitter account.
Poppy Playtime is a survival horror game that released its first chapter in October 2021. In the game, the player assumes the role of a former employee of Playtime Co., a popular toy company. One night, the protagonist receives a mysterious VHS tape from an employee that was thought to have disappeared ten years ago. The protagonist ventures to the abandoned Playtime Co. warehouse to find out what happened to the staff. After various puzzle-solving sequences, the protagonist soon finds themselves chased by Huggy Wuggy, the company mascot who is alive and bloodthirsty. The goal of the game is to figure out what happened to the staff, find out what is behind the famous doll Poppy, and survive treacherous enemies such as Huggy Wuggy. Following the success of Chapter 1, Chapter 2 was announced earlier this month but has yet to announce a release date.
MOVIEWEB VIDEO OF THE DAY
Poppy Playtime was an immediate success and fit right in with the ever-growing subgenre of indie horror survival games such as Five Nights at Freddy's, Hello Neighbor, and Bendy & the Ink Machine. But while Five Nights at Freddy's is still struggling with its own film adaptation almost ten years after the first game's debut, Poppy Playtime is already getting started. Zach Belanger, president & CEO of Mob Games, expressed the excitement of a film adaptation with Deadline.
"We never could have imagined that this game would become as popular as it is with such an enormous and ever-growing legion of fans. We are so excited to deliver the next chapter of our game and beyond excited to work with Studio71 to transform Poppy into a feature film. It's going to be a great ride!"
Come Play With Us
Poppy Playtime by Mob Games
This will not be the first time Studio 71 and Mob Games have collaborated. For the past six years, the two companies have collaborated on four different, widely successful YouTube channels. So the step from internet video to the big screen, while a bit one, will be one that the two can confidently collaborate on. While the announcement is fresh, Studio71 is reportedly buzzing with excitement and searching for writers and filmmakers to bring the Poppy Playtime story to life. According to Deadline, Mob Games and Studio71 are in early talks to bring in Roy Lee (It, Godzilla: King of the Monsters, The Lego Movie) as producer. Studio 71's president of Scripted Content, Michael Schreiber, expresses his own excitement over the project.
"We're thrilled to be partnered with such an incredible team in Mob Games and their breakout game, Poppy Playtime. Their vision for this game is a vivid tapestry that allows the space for feature films that don't retread on the narrative's gameplay. Fans of this franchise are in store for a new storyline that stands alone as its own terrifying and gripping saga."
While the story of Poppy Playtime isn't completed in the games, filmmaking is a long process as well. While fans are eagerly awaiting chapter 2 of their favorite horror game, they can also keep an ear out for the silver screen debut! Horror fans won't want to miss this.
13 of the Most Underrated Horror Movies of the 1970s
Read Next
About The Author
Caroline Miller
(140 Articles Published)

Caroline is a longtime admirer of film, music and the arts. She's been giving movie opinions online (warranted or not) for over a decade, and putting those thoughts to Movieweb since early 2021.
You can view the original article HERE.