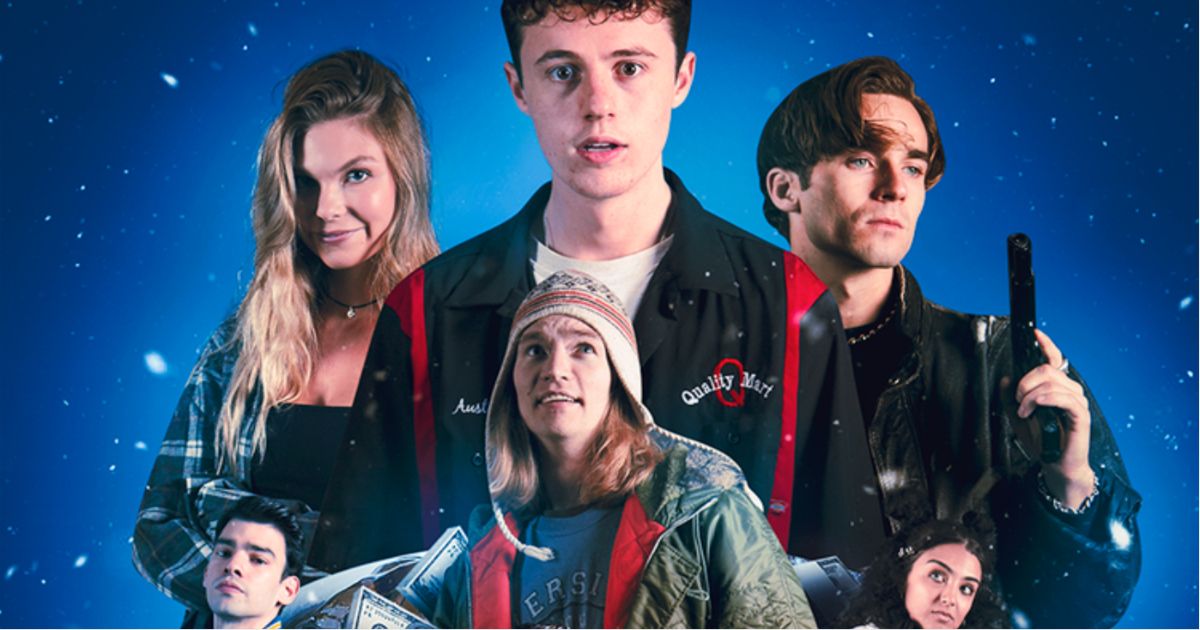 A smitten convenience store clerk and his stoner best friend conspire to rob the Quality Mart's ATM on the eve of Y2K. Turbo Cola is an indie coming-of-age dramedy about wanting to escape the confines of a small town. Based on the play "New Year's Eve at the Stop-N-Go" by Samantha Oty, the listless characters face high school graduation with different expectations. Their hopes and dreams cross paths with reality as the plan does not go smoothly. Turbo Cola dips with a few lulls but regains its footing for an interesting climax. The film has an honest outcome that reflects life's awkward truths.
A week before the twenty-first century, Austin Morris (Nicholas Stoesser) tells his bestie, Swearsky (Jared Spears), of an audacious plan between puffs of a joint. He's discovered a way to access the ATM at his Quality Mart job. Austin has fallen hard for the brainy Mary Jane (Jordyn Denning). She's got a full scholarship to NYU. Austin wants to steal the money and go with her to New York City. Swearsky can open an ice cream shop on the beach. They'll finally leave the doldrums of nowhere Michigan.
MOVIEWEB VIDEO OF THE DAY
Austin and Swearsky spring into action on New Year's Eve. All of the town's teens plan to attend a "fallout party" for Y2K. A critical component of the scheme involves Swearsky keeping Jimmy (Landon Tavernier), Mary Jane's unstable drug-dealing brother, out of the convenience store. He has no idea that Austin's dating his sister. Austin's efforts to squirrel the cash into the Turbo Cola prize display gets constantly interrupted. The situation devolves into chaos when Jimmy, Mary Jane, and a slew of other surprise shoppers start showing up.
Complex Characters in Turbo Cola
Turbo Cola is too easily described as a heist version of Clerks. The characters are more complex than Kevin Smith's Jay and Silent Bob caricatures. We piece together their backstories through snippets of dialogue. Each part of the ensemble has come to the point of breaking away from each other. Whether that leads to success or failure divides them.
Mary Jane has earned her way out by working hard in school. Austin wants to ride her coattails away from his misery at home. Jimmy is bitterly jealous and envious. The idea that his sister and Austin are leaving him behind devastates. The gentle Swearsky is seemingly along for the ride but has another agenda. He's tired of smoking weed and bumming around. Everyone keeps their true motives hidden until a dangerous incident forces a reckoning.
Related: The Good Neighbor Review: A Predictable Thriller Loses Tension Early
The Setting of Turbo Cola
Turbo Cola takes place entirely at the Quality Mart. The setting symbolizes the characters' trapped feelings. Austin despises his job. It represents his purgatory status. Stealing a path to freedom with a beautiful girl is the ultimate fantasy. The Year 2000 hysteria plays a vital part in the narrative. The apocalyptic doom and gloom scenario fits Jimmy's fatalistic personality. He takes a sad comfort in Austin's banal existence manning the counter. The store is both a prison and safe haven depending on the perspective.
Turbo Cola's strong character dynamics temper significant pacing issues. I almost checked out as the second act meanders with filler. The plot thankfully kicks into a higher gear. It veers into somewhat extreme territory but ends smartly. The characters learn that change is never easy. Progress requires more effort than raiding a broken ATM.
Turbo Cola is a production of Covert Film. It's currently available to download or stream on demand from Giant Pictures.
You can view the original article HERE.