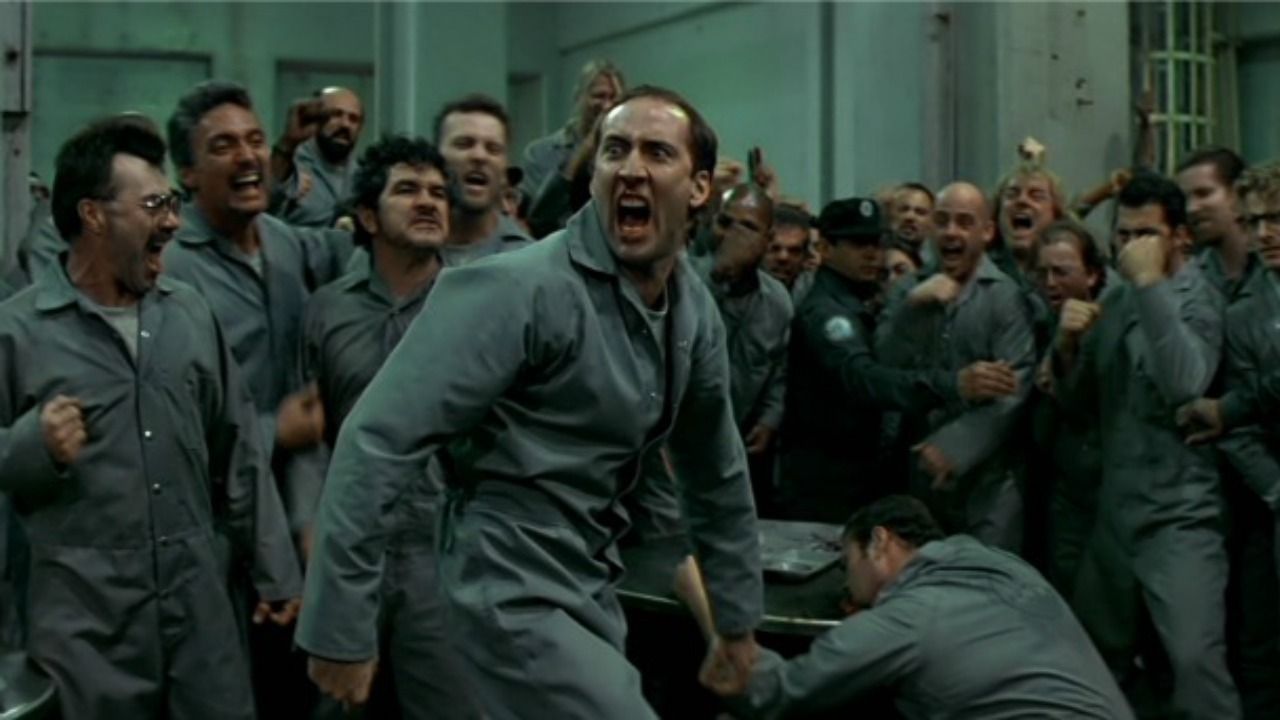 We've seen Nicolas Cage taking on all kinds of characters throughout the versatile actor's legendary career, but John Woo's Face/Off is still among his most memorable. In the action thriller, Cage plays elusive criminal Castor Troy opposite John Travolta as his arch-nemesis, agent Sean Archer. The two end up swapping faces as part of an undercover operation, but the plan goes awry when Castor escapes wearing Sean's face and takes control of his life.
Wearing the criminal's face, Sean (now played by Cage) is left to rot in a high-security prison to do Castor's time. At this point in the movie, there's a big prison brawl scene that erupts when Cage acts particularly erratic. As Cage now explains in an interview with Variety's Awards Circuit podcast, he had gotten so into the role of playing a man forced to live someone else's life that he found himself disconnecting from reality for a moment. The actor says that this one moment even made it into the final cut.
MOVIEWEB VIDEO OF THE DAY
"There was a moment in there where I think I actually left my body, where I just got scared. Am I acting or is this real? And I can see it when I look at the movie, that one moment, it's in my eyes."
Face/Off is directed by John Woo with the script coming from Mike Werb and Michael Colleary. Its premise of two sworn enemies assuming each other's lives sounds a bit out there, but Nicolas Cage and John Travolta made it work. The film was a huge hit at the box office at the time of its release and remains one of the most popular movies from both lead actors. Its critical reception was also very strong with the film now holding a 92% score on Rotten Tomatoes.
In 2019, it was announced that Paramount Pictures would develop a remake of Face/Off with an all-new cast. This iteration didn't work out, but it has since been reported that Adam Wingard (Godzilla vs. Kong) had signed on to direct a new Face/Off movie. While the previous attempt was seen as a remake, Wingard has made it clear he intends for this to be a direct sequel to the first film. It is still unclear if Cage or Travolta will be involved, but the apparent plan is to include both of them in one way or another.
"It took Adam and I two years to pitch Face/Off 2, because our pitch was so confusing, that [the studio] just kept saying, 'We think we like what you're saying, but can you just explain who's got whose face on in this scene?'" co-writer Simon Barrett told ComicBook.com.
He added, "When you're doing a movie like Face/Off 2, you're actually not allowed to talk about it. But we had an announcement and I don't even know if the announcement was actually totally intentional, in that it was announced as like a Face/Off remake and Adam and I had to actually get vocal and say, 'No, it's not a remake. It's a direct sequel.' Whether that's better or worse, we don't really care, because we think it's better, but it definitely is better than a Face/Off remake, because you pretty much know where that would go, don't you? Whereas continuing the story of Castor Troy and Sean Archer and maybe adding some younger characters to the mix, to me, is much more interesting."
A release date for Face/Off 2 has not been set at this time.
Nicolas Cage Doesn't Like the Term Actor, Says He Prefers 'Thespian'
Nicolas Cage says he doesn't like how the word 'actor' can be associated with liars, so he prefers to be called a 'thespian.'
Read Next
About The Author
Jeremy Dick
(4683 Articles Published)

Jeremy Dick has been writing for MovieWeb and Horror Geek Life for years, is the self-proclaimed biggest fan of Bob Saget, and doesn't particularly like talking about himself in the third person.
You can view the original article HERE.