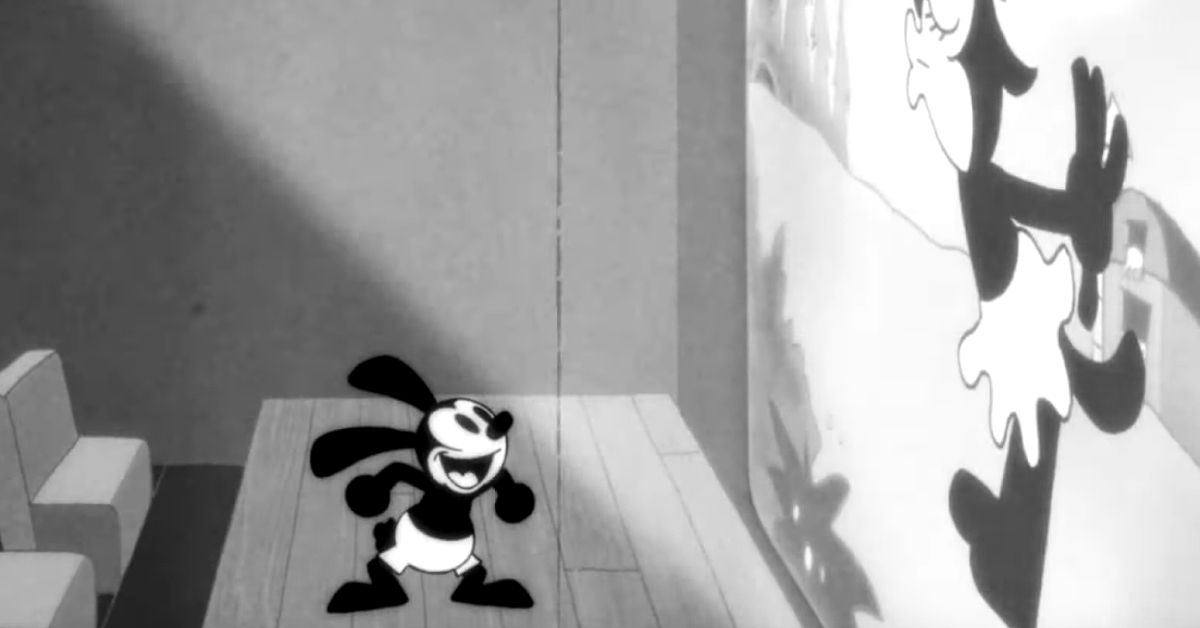 When you ask a Disney fan about Mickey's early years, hardcore fans will mention a special rabbit with an unfortunate history. Oswald the Lucky Rabbit, a character that spent over ninety years away from his home studio, has finally returned in an original short for Walt Disney Animation Studios. The short can be viewed below, titled Oswald the Lucky Rabbit.
The short follows Oswald as he enters a local theater to enjoy a show starring himself. There, he spies the lovely cat girl, Ortensia, gearing up for a kiss. Oswald, smitten by the fancy feline, tries to break into the picture to get that kiss. He earns his victory after employing some classic silent-era cartoon logic!
MOVIEWEB VIDEO OF THE DAY
Disney's hand-drawn animation team created the short to celebrate the company's 100th anniversary in 2023. Disney veteran animator, Eric Goldberg (Pocahontas, Fantasia 2000, Aladdin), served as director of the short, while Dorothy McKim (Meet the Robinsons) served as producer. Goldberg stated the following in a press release about bringing the iconic rabbit back into Disney animation for the 100th anniversary.
"Oswald is such a plucky scamp. We wanted to bring Oswald back, and in the short, he literally returns to his original home, the movie screen. We wanted to have Oswald do all of the 'squash-and-stretch,' 'rubber hose'-animation style, celebrating that first generation of Walt Disney's artists."
Related: Why Strange World Bombed at the Box Office
A Tale Of A Very Lucky Rabbit
Trolly Troubles
Created by Walt Disney, Oswald was introduced to the world in the 1927 short Trolley Troubles. The project was made for Universal Pictures and was considered Universal's first major hit, standing on even ground with similar cartoon characters like Felix the Cat and Koko the Clown. Oswald would go on to star in a total of 27 original shorts, but darkness was soon on the horizon for the lucky rabbit. Due to negotiation issues with producer Charles Mintz, Disney was forced to forfeit the character's rights to break away and focus on other original material. What he ended up creating afterward was another character, a humble mouse with big plans.
Oswald, meanwhile, stayed behind the fences of Universal. Shorts were still produced starring the character throughout the years, with his last theatrical appearance being a cameo in the 1951 short The Woody Woodpecker Polka. After that, Oswald stayed mostly in obscurity until 2006, when Disney CEO Bob Iger presented a deal with Universal to bring a number of assets under Disney's possession, one of them being a very lucky rabbit. Iger's deal included the trademark rights to Oswald the character, along with the 27 Disney-produced shorts and any physical Disney-produced Oswald material. Diane Disney Miller, daughter of Walt Disney, expressed gratitude to Iger in a press release.
"When Bob was named CEO, he told me he wanted to bring Oswald back to Disney, and I appreciate that he is a man of his word. Having Oswald around again is going to be a lot of fun."
Since Oswald's return, he has made several appearances in various Disney media. One of his biggest appearances was a major role in the Epic Mickey video games, which follows Mickey Mouse as he navigates a land of "forgotten" toon characters, with Oswald serving as an initial rival turned ally. Oswald also appeared in cameo form in the 2013 Mickey short Get a Horse. While his first appearances have still been overshadowed by Mickey, having a short with Oswald in the starring role is quite a way to celebrate the company's big anniversary. Producer Dorothy McKim comments on the importance (and fun) of including Oswald in the celebration.
"On the eve of Disney's 100th anniversary, it was such a joy to create the first new Oswald short from our studio since 1928. Our hand-drawn animation team – including our hand-drawn legends Mark Henn, Randy Haycock and Eric Goldberg, as well our wonderful team of 2D apprentices, had a ball animating in the style of Oswald's era."
You can view the original article HERE.