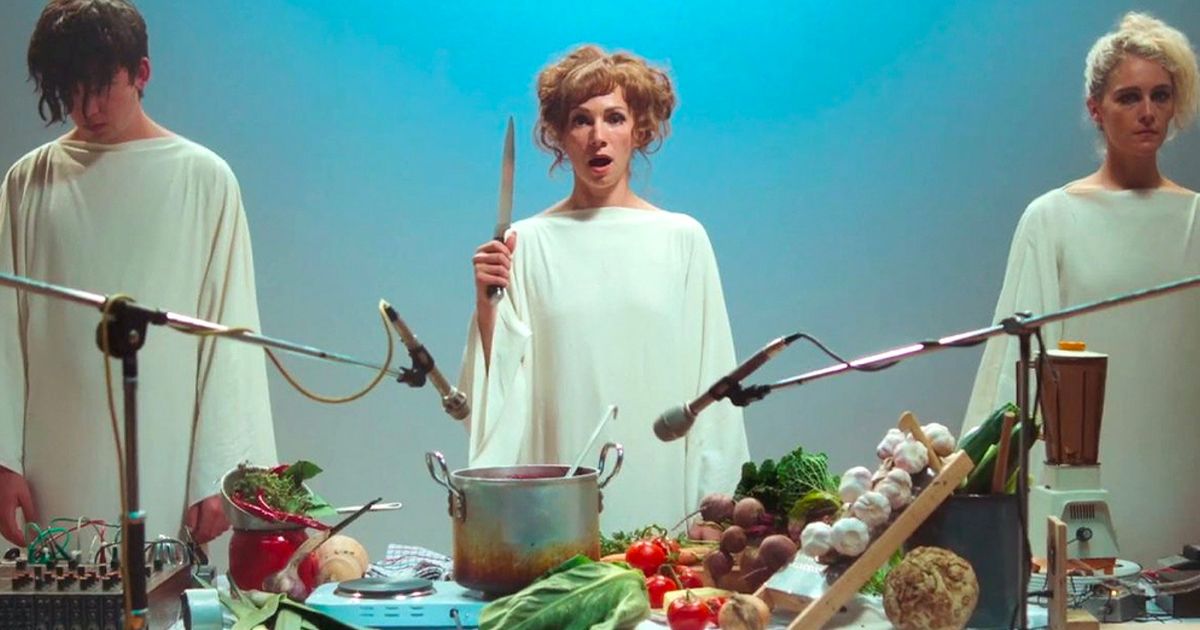 Flux Gourmet wallops the senses with a surreal cacophony of bizarre imagery, dark humor, and twisted sexuality. British auteur Peter Strickland pushes the creative envelope with a film that never fails to engage. Its outlandish characters and bonkers subject matter had me chuckling like a hyena throughout. Strickland skewers performance art while cleverly exploring the fickle nature of group dynamics. His brilliant ensemble chews up the screen with their barbed interpersonal conflicts. Flux Gourmet swings wildly from orgies to writhing in excrement. It's a remarkable feast of creativity that requires an open mind and a settled stomach.
MOVIEWEB VIDEO OF THE DAY
Flux Gourmet's premise has an unnamed trio of "sonic caterers" invited to a prestigious four-week residency at The Sonic Catering Institute. The performance artists, dressed in white robes, cook and slice vegetables while recording with various instruments. Their leader, Elle di Elle (Fatma Mohamed), takes center stage while the fop-haired Billy Rubin (Asa Butterfield) and Lamina Propria (Ariane Labed) work the gadgets.
The film is narrated by Stones (Makis Papadimitriou). He's a self-professed "hack writer" hired by the institute's eccentric director, Jan Stevens (Gwendoline Christie). She belittles him as a "dossier." Stones writes about the artists in residency but has another distressing problem. He suffers from extreme flatulence, diarrhea, and intestinal pain. It's difficult to hide when Stones has to sleep in the same room as the group.
Elle is an unbridled narcissist that chafes at any challenge. She browbeats Billy and Lamina with her oppressive demeanor. Jan has specific technical notes to better their performances. Elle refuses to acknowledge her criticism. Jan reminds Elle that she's funding and promoting their stay. Stones interviews the trio separately and learns of their frayed relationship. The situation devolves into backstabbing machinations as a power play erupts. Complications arise further when another group of scorned sonic caterers makes their presence felt.
Related: Turbo Cola Review: More than a Clerks Heist Film
Flux Gourmet is Truly Original
IFC
Flux Gourmet gets top marks for being truly original. Writer/director Peter Strickland (The Duke of Burgundy, Fabric) takes you on an odyssey of the unexpected. The film is completely unpredictable. Stones acts as a meek observer to the mind-boggling insanity. His abdominal ailments hilariously become a part of the show as the group obsesses about his farting. Stones' embarrassing malaise reflects the discordant atmosphere. The characters are intrinsically entwined but cannot get past their obstinacy.
Strickland's script allows for significant exposition. The characters talk openly with Stones and at fraught dinners for the institute's board members. These spotlight moments add meaning to the arguments and seductions to come. Billy and Lamina continue to be enthralled by Elle despite her overbearing dominance. Where would they be without her? Elle exploits their awe until she runs into Jan. She's forced to deal with another formidable woman who answers to no one. Strickland's dialogue is quite good here.
Related: The Good Neighbor Review: A Predictable Thriller Loses Tension Early
Flux Gourmet's Exceptional Presentation
IFC
Flux Gourmet's aural and visual presentation stands out as exceptional. The sound design, costumes, hair, and make-up are integral to the film's peculiar delivery. The shows are maelstroms of sizzles and whirs with disturbing nudity. One example has Elle, a vehement vegan feminist, nakedly emoting a blood-covered pig while her cohorts tinker noisily. The women wear Victorian Goth couture with smokey-eyes, gallons of mousse, and extravagant headpieces. Billy, who has a pretty interesting fetish, mopes around in denim like a sixties greaser.
Flux Gourmet satirizes performance art with an incisive and artistic touch. Strickland succeeds where David Cronenberg's garish Crimes of the Future failed. I saw both films within weeks of each other. They tackle similar themes with a nearly exact final scene. The difference is that I laughed purposely in Flux Gourmet. It's a wild ride that thoroughly entertains but isn't for the timid.
Flux Gourmet is a production of Bankside Films, Blue Bear Film & TV, Head Gear Films, Metrol Technology, Lunapark Pictures, and Red Breast Productions. It will have a streaming and theatrical release on June 24th from IFC Films.
You can view the original article HERE.