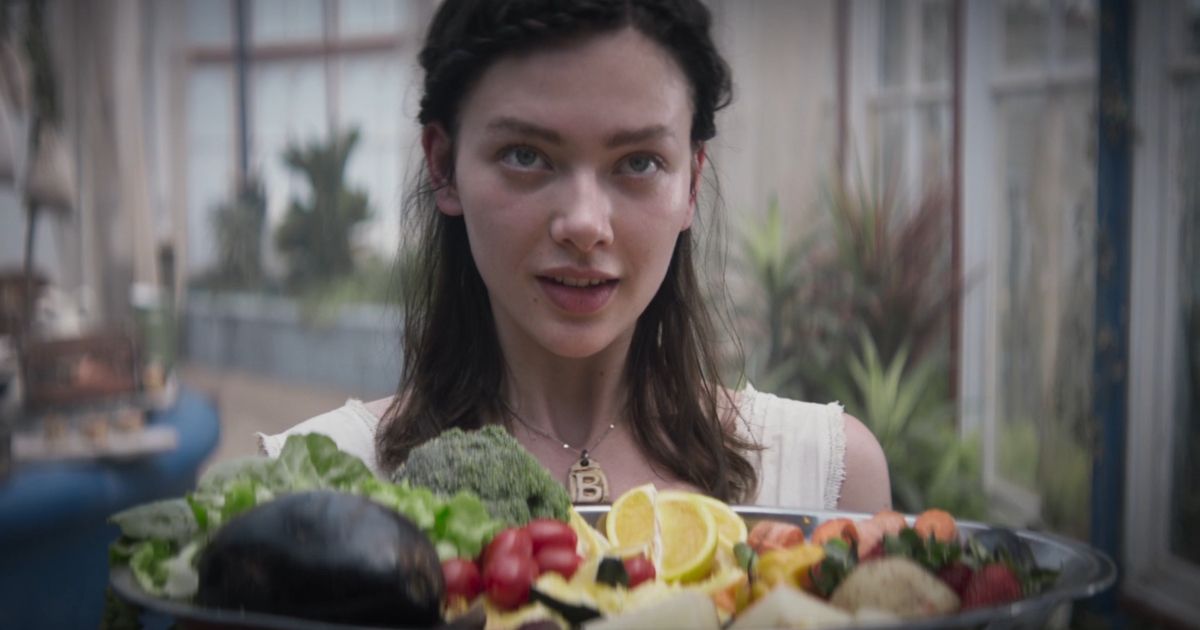 A terrifying notion — what if Alzheimer's was contagious, spreading as rapidly as the Omicron variant of COVID-19? That's the conceptual set-up for the quietly simmering new thriller Glasshouse, a movie that uses its sci-fi premise to tell a small, mysterious story rather than a big science fiction spectacle. The film premiered at the Fantasia International Film Festival and screened at Sci-Fi London, but it's more Harold Pinter than William Gibson, an interesting hodgepodge of indie sci-fi, modern murder mystery, and one-act play.
This certainly isn't a bad thing (any Pinter comparison is praise), with the film receiving rave reviews and hovering around 90% on Rotten Tomatoes. The Guardian, for instance, calls it, "A sinister, seductive meditation on memory, desire, and loss," and Glasshouse will definitely appeal to fans of more theoretical and intellectual science fiction.
MOVIEWEB VIDEO OF THE DAY
Glasshouse is a Post-Apocalyptic Mystery
Glasshouse is set in a post-apocalyptic South Africa, in what is essentially a compound — greenhouses connected to sleeping chambers surrounded by fortifying structures like guard towers. The film opens with a young woman, adorned in a flowing white dress and industrial gas mask, shooting a trespasser with a rifle. His body will be laid out on a table in one of the many rituals practiced by the family in the compound, which often seems more like a cult.
Led by Mother (Adrienne Pearce), the family consists of the pleasant but naive Bee (Jessica Alexander), the stern and protective Evie (Anja Taljaard), the young and precocious Daisy (Kitty Harris), and the frustrated and near-silent Gabe (Brent Vermeulen), the only member who seems to have been exposed to the pandemic (called the Shred) and has a kind of dementia as a result. These people guard the compound (sealed up by plastic in every direction) and shoot trespassers, whose bodies are mostly used for fertilizer and food. They sit in their watch towers in shifts, armed and masked.
MultiChoice Studios
Showmax
Bee does the same at night, except she's looking for more than trespassers. Her brother had wandered off one day and never returned, so she waits for him most nights, flickering a flashlight in a code that he once recognized, unsure if he'll ever recognize anything again if the Shred got to him. One day, a trespasser (The Stranger, played by Hilton Pelser) crosses into the compound, but he collapses before Bee shoots him. She brings his body back into the glasshouse and tends his wounds, to the combined curiosity and distress of her family.
Related: Best Movies About Pandemics and Viruses, Ranked
How much has The Stranger forgotten? Has he brought the Shred in with him? What does he know about the outside world? Can he be trusted? Can anyone, including oneself? These are the questions the family must ask after their idyllic post-apocalyptic Garden of Eden is shattered by the sudden intrusion of a stranger, the same way a functioning immune system becomes discombobulated by the introduction of a toxin. Thus begins a psychological thriller in which viewers are never quite sure who is telling the truth, who is being manipulated, and whose memory is truly accurate.
Kelsey Egan Directs the Dreamlike Glasshouse
MultiChoice Studios
Showmax
Writers Emma Lungiswa de Wet and Kelsey Egan do an excellent job at creating mounting tension mostly from dialogue. They employ their sci-fi concept in the service of what's really a chamber drama (which is appropriate, considering the term usually refers to theater, and Glasshouse does often feel like a stage play). Egan's direction, however, keeps things cinematically suspenseful and inventive in a way that theater couldn't. She maneuvers jarring cuts and sound design into the film, interrupting the otherwise dreamlike flow, and does a great job with close-ups and reverse shots, building intrigue by focusing on reactions.
The entire film feels dreamy, with light filtering through stained-glass and walls of plastic and creating a blurred background haze, and the sometimes strange dialogue (punctured by dementia, or hidden in half-truths) adding to the effect. The incongruities in the film also contribute to its hazy surreality, with the green grass and gardens and the Victorian-era dresses of the women giving an almost textural and organic feel to Glasshouse, while the ever-looming threat of the Shred, the dystopian environment, and the polite cannibalism enshrouds that softness with menace and horror.
MultiChoice Studios
Showmax
The result is a film that combines the dreamy mystery of Panic at Hanging Rock, the male intruder into a group of women seen in The Beguiled, the post-apocalyptic family struggles of A Quiet Place, and the devious use of dialogue for power politics in the Pinter plays The Homecoming and The Birthday Party. The viewer almost feels like a victim of the Shred throughout the film, rarely certain of what's true, lost in a foggy daze that's simultaneously sinister and pretty.
As the film progresses, a fascinating power struggle develops which is cleverly and realistically handled, with certain characters relying on the memory loss of other characters in order to manipulate them and lie their way into dominance. Glasshouse reveals subtle surprises and remarkable revelations laced throughout its plot, and none of them ever feel cheap or like narrative tricks. It would be a shame to ruin this tight, efficient little thriller by detailing too much of its plot, especially it's haunting ending.
The Abstract Vagueness Makes the Drama of Glasshouse Mysterious
MultiChoice Studios
Showmax
The acting is remarkable throughout, with characters managing to be both seductive and scheming, and the dialogue feels true to each character with a lived-in sensibility. Their language is very much a part of the world-building in Glasshouse, which uses words to naturally tease out elements of the plot and fill in the details of this dystopian world of dementia, madness, and fear. World-building should be used loosely here; it's really more like 'word-building,' using language to piece together a peculiar, problematic puzzle.
The world outside the compound is never shown, and their technology is vague — the year could be 920, 2022, or 4010, and the women could be some of the last survivors on earth or just a lunatic cult hidden away in the woods. Part of the entertainment in Glasshouse is parsing together what's real, in the same way that a victim of the Shred might.
Related: 7 Days Review: COVID Comes to Cinemas
Of course, one's entertainment is another person's snooze button, so it must be said that Glasshouse is not for everyone. As mentioned, it's more of a psychological drama than it is a genre exercise, and it's a mature, downbeat film. It doesn't have big action sequences or epic moments, and some of it is intentionally uncomfortable and disturbing, but not in the way that gore-hounds and horror lovers would enjoy. Instead, Glasshouse is a complex, serious drama about serious things, written and edited in an intellectually stimulating way.
Coronavirus, Pandemics, and Glasshouse
MultiChoice Studios
Showmax
The film obviously comments on the Coronavirus pandemic and our age of 'post-truth,' where everybody's right and everybody's wrong all the time. It captures the paranoia many citizens feel in a world seemingly off its track, where conspiracy theories are more popular (and, to some, believable) than ever and outsiders and 'the other' is feared to border wall-building degrees. Glasshouse taps into our schizophrenic era of mistrust and manipulation, in which confused and misinformed people can be maneuvered into believing and doing anything thanks to the Machiavellian machinations of powerful elites (or regular idiots, on occasion).
With global viruses mixing and intermingling like college kids on spring break, there often seems like there is no end in sight, only plateaus before new spikes. The new COVID variant BA.5 is said to take the worst traits of Omicron and combine them with the severity of the Delta strain, and the same refrain of "will this ever end" echoes from the public square. Glasshouse is one of the better films of COVID-era cinema, one which reflects today's fears and the traumatic imprint pandemics have left in the cultural lexicon. It extracts important elements from today's world and slathers them all over a big slice of the human condition, mixing contemporary topics with timeless truths in a suspenseful way.
From Local Motion Pictures, Crave Pictures, and Rigel Films, and distributed by MultiChoice and Showmax, Glasshouse premiers today on digital and on demand.
You can view the original article HERE.