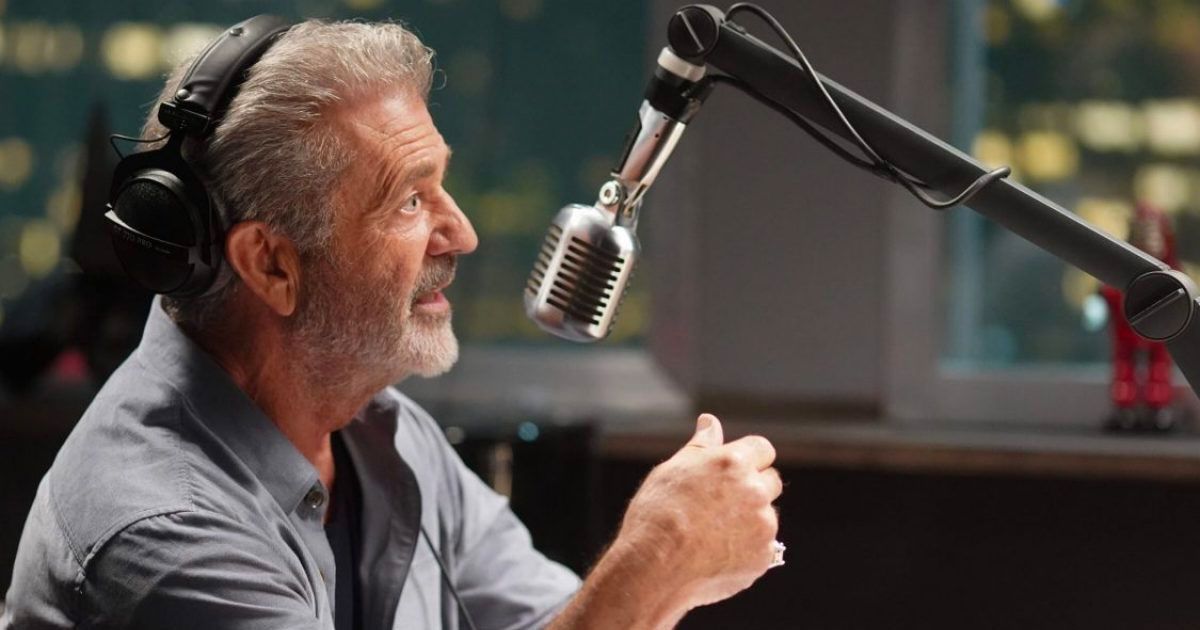 An abrasive LA radio shock jock gets a terrifying comeuppance when a disgruntled listener kidnaps his family on air. On the Line could have been an entertaining thriller. It had the basic elements and premise to weave a heart-pounding narrative. Instead, we get an avalanche of stupidity that tanks the entire film. A barrage of bewildering last-minute reveals crashes with a thud. I had a feeling something was amiss but could never have predicted anything so mindbogglingly idiotic. You'll lose IQ points sitting through this nonsense.
Elvis Cooney (Mel Gibson) kisses his wife and young daughter before driving to the radio station for a late-night show. He can't pronounce the Indian guard's name, so decides to call him "Bob". Elvis and Bob have a bizarre encounter in the building lobby. Elvis heads to his studio and butts heads along the way. The 8PM host, Justin (Kevin Dillon), hates his guts. Justin knows Elvis wants his time slot. Sam (Nadia Farès), the station manager, warns Elvis his ratings are falling. He's too much of a jerk and pays little attention to their social media strategy.
MOVIEWEB VIDEO OF THE DAY
Mary (Alia Seror-O'Neill), Elvis' producer and co-host, introduces the new board operator. Dylan (William Moseley) is fired immediately for accidentally insinuating that Elvis was old. Elvis breaks out into cackling laughter. He was just kidding. A rattled Dylan sits down to start their midnight program.
Elvis takes a few calls until Gary (Paul Spera) gets his attention. The halting Gary threatens to hurt someone before hanging up. Elvis calls back to try and calm him down. Gary's demeanor changes. He's breaking into a house. Smashing glass can be heard, followed by the screams of a woman. Gary puts Elvis' daughter on the phone. He'll kill her and his wife as revenge. A horrified Elvis begs to spare their lives. What has he done wrong? Gary has an elaborate plan to punish Elvis.
Related: The Estate Review: A Banner Cast Elevates Raunchy Comedy
On the Line's Wheels Fall Off
On the Line's first act works. Elvis is an arrogant bully. It's completely believable that an angry, deranged fan would want him dead. Elvis has had enough experience dealing with psychopaths to know that Gary means business. He needs to keep him engaged for his family to survive. Gary wants Elvis dead but first has to suffer. The film has you intrigued before the wheels fall off.
Gary's game takes a downhill turn when the radio station becomes the playing board. He's got bombs everywhere, drones in the air, and hacked into the security system to watch Elvis flounder about. The antagonist has planned for every scenario like a criminal mastermind. He gloats to the rapt radio audience as Elvis and Dylan try to find his location. Willing suspension of belief crumbles as On the Line fails the smell test. There's something fishy when bodies start piling up.
On the Line leads to a preposterous climax. An attempt to reframe the storyline is a colossal mistake. You'll feel cheated. It's honestly the dumbest ending I've seen in ages. I can't fathom what Gibson and the filmmakers were thinking. There may have to be a special Razzies category for this disaster.
On the Line is a production of BondIt Media Capital, CaliWood Pictures, R-Lines Productions, and Three Point Capital. It is currently in limited theatrical release and available on-demand from Saban Films.
You can view the original article HERE.