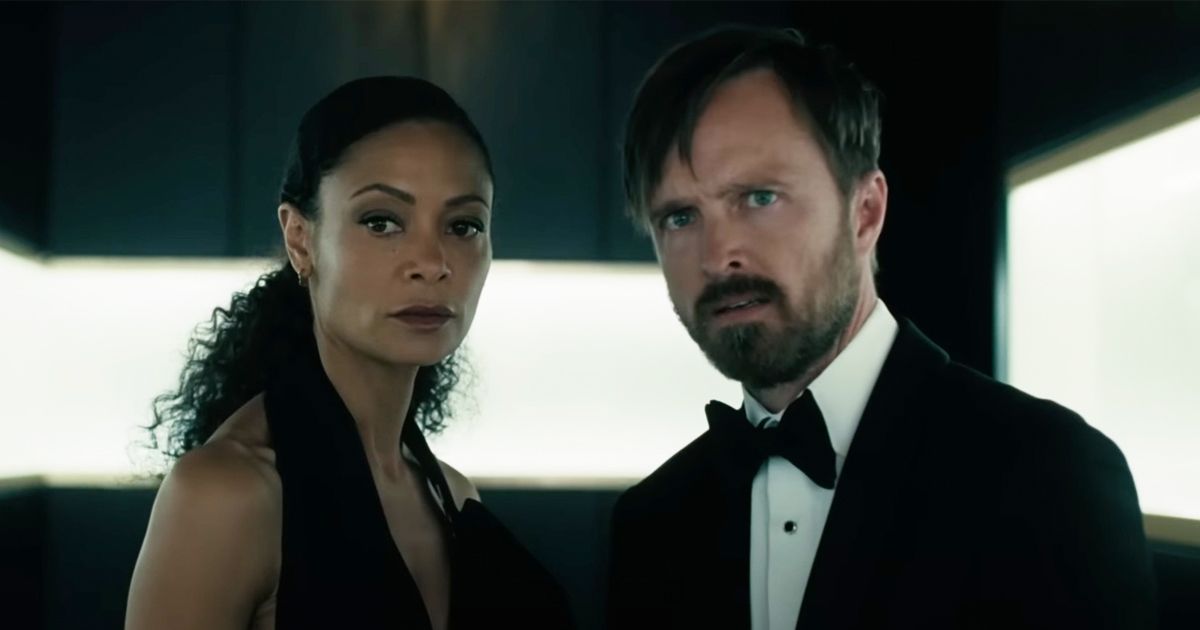 Delores is dead. So is The Man in Black. Charlotte can't be trusted. Maeve still kicks ass. Caleb gets an eye-opener about "life" and goes along for a surreal wild ride. And Bernard… well, how nice to see the guy finally allowing himself to embrace his own choices and still be able to wax existential along the way. Yes. That's how it all came to pass — more or less — at the end of Season 3 of Westworld, certainly one of the most mind-bending if not maddening series to emerge out of annals of television. Don't remember any of that? Fret not Stream Machine: it's okay to feel as if your memory was erased. Here in the real world, humanity has braved a pandemic and then some since the last season of the drama bowed back in 2020. And while we could spend pages recapping the show — and how Michael Crichton's hit 1973 Western sci-fi thriller film and subsequent book embedded its way into the pop culture collective for that matter — here's the burning question before Season 4 premieres on June 26 on HBO Max: Is it worth the investment?
MOVIEWEB VIDEO OF THE DAY
Yes. I mean, you've come this far, haven't you? Keep going. Judging by the first four episodes offered to press, the new season is as intriguing and unnerving as the show ever was. It's also refreshingly revitalized and at times surprisingly re-imagined, considering how convoluted last season was. Series creators Jonathan Nolan and Lisa Joy are engaged in new projects now, but they're still the showrunners here, and they offer a compelling if not complex seasons with plenty of twists. Some creative hiccups occur (more on that later), but for the most part, this outing tends to feel brand new and inventive even when it revisits old territory.
Still, it's best not to overthink things. As the great author Augusten Burroughs once said, "your mind is like an unsafe neighborhood; don't go there alone." In many ways, that's a major theme in Season 4, where we find the series' "hosts" and human beings having to rely on something other than themselves — bonds and partnerships — in ways they never have before.
Storylines in Westworld Season 4
Season 4 finds a good groove by revolving around four distinct story arcs that will, apparently, merge together at some point. We're introduced to Christina (Evan Rachel Wood), a writer living in the big city who, upon the urging of her roommate considers dating again. Played by Wood with detached eeriness, you often wonder if her gung-ho doppelganger (Delores) is going to "wake up" inside of her. Alas, the Delores viewers knew died at the end of last season during her plan to destroy Rehoboam — the AI controlling humanity — thereby allowing hosts and humans to live amongst one another, for better or worse. There's been buzz around the return of James Marsden (formerly Teddy) and what little we see of him in the first four eps intrigues, but the writers must have more in store for that ill-fated Delores/Teddy reunion toward the season's second half. Let's just say, Marsden is not the Teddy we once knew.
Then there's Maeve (Thandiwe Newton) and Caleb (Aaron Paul). Maeve's been purposely in self-exile for a while and by the time certain events force her to reunite with Caleb here, we discover that many years have passed since last season's finale when Sarec (Vincent Cassel) was killed, Rohoboam was destroyed, and Maeve turned to Caleb — while Los Angeles was aflame — and said, "… in this world, you can be whoever the f*** you want." There's a return to the "park" of sorts for Maeve and Caleb, with the ominous William/The Man in Black (Ed Harris) out to (still) destroy über host Maeve, but for entirely different reasons. One could argue that Westworld is returning to where it began and not offering enough new material, but somehow this plot device works. But William? Really? How is this so? Those Season 3 post-credit scenes clearly revealed William meeting his maker. But this is Westworld. You don't need to leap too far to understand what The Man in Black is really made of this go around. My, how persistent he is to destroy Maeve, though, and their scenes together are quite the romp, edited with spark. Newton and Paul's story arc stands out the most during the first four episodes. There's plenty at stake for the characters and without giving too much away, it's a thrill to watch them unravel a maniacal plan set in motion that will forever change existence. Think back to Season 1 of Westworld where humans were in control, flip it on its head, add some of Delores' initial motivations, and stir. By the fourth episode's big reveal, you're pretty much invested in seeing this whole new game play out.
The other two storylines revolve around steely Charlotte's (Tessa Thompson) mission to establish a creepy new world order, and Bernard (Jeffrey Wright) and Stubbs' (Luke Hemsworth) prophetic adventure to save the day. In Season 3, we've learned that Charlotte, the former Delos Destinations Executive Director, is a "copy" of Delores yet can still make her own decisions, shady as they are, espeically here. Season 3 post-credit scenes also revealed a Bernard sitting on a bed covered in dust, suggesting a time jump. Here, Stubbs finds Bernard shortly after that, suggesting we've arrived at that time jump — or not? Bernard employs the help of a motley crew of rebels, claiming he can take them to a hidden weapon that will change everyone's fate in an uncertain world. Again, the season's fourth episode packs a punch and sets up the last four episodes.
Related: Exclusive: Chris Pine Opens Up About Heading Behind the Camera for Doula
Back To The Future
HBO
Westworld has been nominated for 54 Emmy Awards, winning nine, including Best Drama Series and Best Supporting Actress (Newton). Season 3 was critically panned, and frenzied fans wondered what would happen next, especially after the "death" of a major character who'd been so instrumental in the first three seasons — Delores. Showrunners Nolan and Joy (a real-life couple) bring on writer/producer Alison Schapker (Alias, Lost, Fringe, Scandal) for Season 4 and Oscar winner Ariana DeBose (West Side Story) joins the cast in a recurring role that's bound to turn heads in the latter half of the season. These appear to be welcome additions and, at times, you feel as if you're experiencing Westworld for the very first time, just as we all did many years ago.
Overall, Season 4 works best when it holds to a solid rhythm of rotating its main storylines. In doing so, it grounds the outing and allows for chilling anticipation to grow. Yes, there are moments where you find yourself scratching your head, wishing you understood what's occurring, but that's par for the course in Westworld. It doesn't bog down the tale, though. Rather, it keeps one interested. The portentous addition of flies —and swarms of flies for that matter — are a considerable if not predictable plot device this season. Yet several scenes are so creepy, you're tempted to look the other way. I'm curious to see if the writers wrote themselves into a corner with that one, but for now, let there be "flies."
Other things to know: Previous wild cards like The Man in Black are rebooted creatively here and while some viewers may feel as it Westworld is just heading down familiar paths only with dry-cleaned attire, the effect still manages to evoke a sense of mystery and dread. Fun fodder, if you ask me. As for Charlotte, we always sense the character (and the writers) has more up her mysterious sleeve than we'll ever know. Watch the Bernard/Stubbs arc closely, and you'll be fascinated by Episode 4. And it's always a joy to watch Newton, who continues to fuel Maeve with a sense of vigor and determination. Few actresses could pull off what Newton manages to imbue in Maeve — fittingly, the writers feed her the best lines (darling). Big plus: there's wonderful chemistry, too, between Newton and Paul's characters. Here's a friendship worth rooting for, especially when fate is so intent on messing things up.
To reveal surprise twists and pertinent plot details wouldn't be fair going into this. One thing to realize, and perhaps always know about Westworld, is that what appears to be going on, may not be what's really going on. And where you find yourself (in time) in this series may just be an illusion. Or not. At least that's what the writers posit. What a mysterious labyrinth it all is. On some level, it beckons us to ponder something deeper entirely perhaps: Where are we — really — at any given time? Here? There? Way over there in the future? How crafty our inner world is. After all, the mind has, as stellar philosophers keep reminding us, a mind of its own. So… who knows what's real?
Season 4 of Westworld premieres Sunday, June 26 on HBO Max.
You can view the original article HERE.