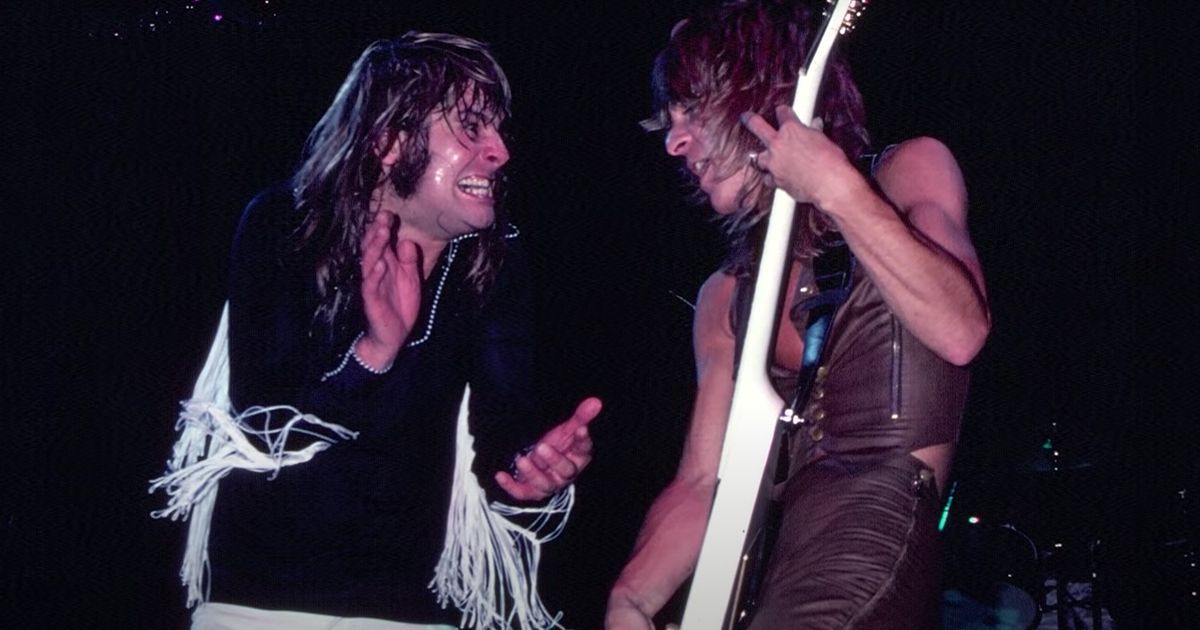 Randy Rhoads: Reflections of a Guitar Icon remembers a pioneering rock and roll virtuoso whose brilliant light was tragically extinguished. Ozzy Osbourne called him "a small guy with giant talent." The pair are forever linked for two legendary albums that were released within three years. Blizzard of Ozz and Diary of a Madman catapulted Osbourne, who was unceremoniously fired from Black Sabbath, to even greater success. Osbourne's snap decision to hire an acclaimed guitarist from the Los Angeles club scene resurrected his career and turned Randy Rhoads into a household name. Tracii Guns (L.A. Guns, Guns N' Roses) narrates Randy's story from a childhood as a musical prodigy, his foundational years with the band Quiet Riot, and stardom with Osbourne.
MOVIEWEB VIDEO OF THE DAY
The documentary uses archival footage, still photos, interviews, and audio recordings to illustrate Randy's brief life. Born in 1956 Santa Monica, California, Randy and his siblings were raised by a single mother. Delores Rhoads owned a music academy where Randy started playing guitar at age seven. She and Randy's brother, Kelle Rhoades, discuss how Randy quickly surpassed his teachers. He was a gifted musician who embraced learning. Randy had a rock star presentation but took practice and rehearsals seriously. He taught at his mother's school as a teenager. Randy's former students recall how he had no issues teaching them to play Eddie Van Halen, his L.A. club rival and guitar nemesis.
Randy Rhoads, Kelly Garni (bass), and Drew Forsyth (drums) started the band Quiet Riot in 1973. Drew Forsyth, who speaks prominently throughout the film, was astonished by Randy's shredding guitar skills. They gained notoriety playing rowdy parties without a singer. Randy approached the older Kevin DuBrow to lead the band as vocalist, and they became best friends. Much of the film's footage is provided by Ron Sobol, a close acquaintance of Kevin's who was hired as the band's photographer. We are also introduced to Jody Vigier. Initially Kevin DuBrow's girlfriend, she and Randy fell in love. Vigier to this day calls Randy her "soulmate."
Quiet Riot's Huge Following
Quiet Riot gained a huge local following. Lori Hallen, President of the Quiet Riot Fan Club, became an ardent supporter in high school. She watched Quiet Riot as they played weekly gigs at Starwood, a prominent LA rock club. The film's second act has Quiet Riot failing to break through and securing a record deal. They were continually rejected by major record labels. Drew Forsyth laments their first official studio album was only released in Japan. Their independent label was bought by CBS Records, who saw no value in their music but liked their glam-rock look. This worked in their favor as the album actually did well in Japan.
Related: Flint Review: An Infuriating Look at America's Deadliest Water Poisoning
Quiet Riot worked diligently to no avail. The group's close friendships began to crack and the relationship between Randy and Kelly Garni came to a frightening showdown. The bass player's alcoholism and rudimentary skill could no longer be tolerated. The film focuses on this event as a turning point for Randy. He realized that his boyhood dreams of the band's eventual success were not happening.
Black Sabbath fired Ozzy Osbourne in 1979. His wife, Sharon, convinced him to immediately start a new bad. Dana Strum, hired to play bass for Ozzy, knew exactly where to look for their guitarist. The film's best scenes are the recollections of Randy's audition for Ozzy. Randy was not a Black Sabbath fan. He thought their music was too dark. A recorded interview has Randy explaining how he showed up with his practice amp, never having auditioned before. Dana told him to bring his Starwood club presence. Randy Rhoads didn't even play a song. Ozzy was stupefied by his arpeggios warming up. The rest is rock and roll history.
VMI Releasing
Randy Rhoads, Rachel Youngblood, Ozzy Osbourne's seamstress, and pilot Andrew Aycock were killed in a plane crash on March 19, 1982. The film vilifies Aycock's foolish stunts for their deaths. Randy was just twenty-five years old. His less than three years with Ozzy Osbourne would cement him as a guitar icon. The blazing guitar intro for Crazy Train still resonates decades later.
Randy died at the dawn of the music video era. The documentary pulls back the curtains to his brief time on Earth. The footage of Randy practicing and playing early club shows mesmerizes. Brian Reason, his guitar tech at the time, explains what Randy did to differentiate his blazing solos. It's hilarious to learn that Brian put a picture of Eddie Van Halen on Randy's distortion pedal. Randy did not live long enough to reach Eddie's staggering fame. They're undoubtedly rocking the heavens.
Randy Rhoads: Reflections of a Guitar Icon is directed by Andre Relis. The documentary is a production of VMI Worldwide with a VOD release on May 6th from VMI releasing.
Exclusive Clip: Six Strangers Work Together in Escape the Field
Read Next
About The Author
Julian Roman
(1518 Articles Published)

Julian Roman has been with Movieweb for nearly twenty years. An avid film buff, he feels lucky to have interviewed and written extensively about Hollywood's greatest talents. In his spare time he plays guitar, treasures good company, and always seeks new adventures.
You can view the original article HERE.