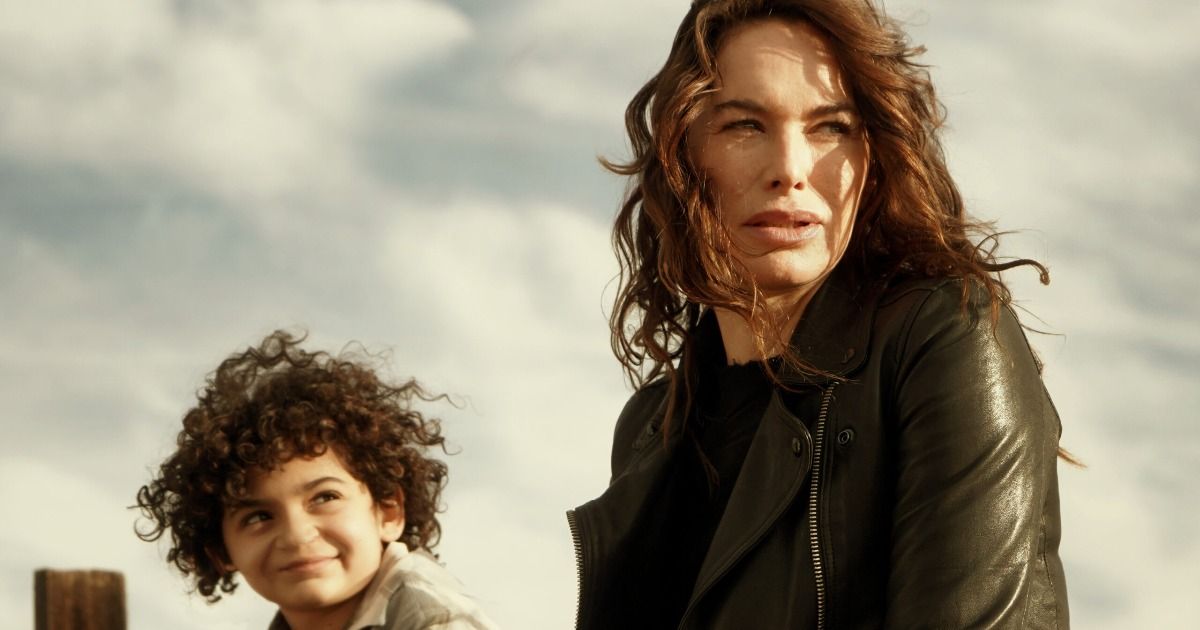 A burlesque dancer flees with a boy and his dog targeted by her gangster ex-boyfriend. 9 Bullets is a bewildering jumble of murder, contrived relationship drama, and an agonizingly foolish road trip. The film's illogical characters continuously bump into each other in a poorly played game of hide and seek. The script fails to establish realistic tension or a believable connection with the leads. There's also a scattershot approach to the narrative. The protagonist's actions in the climax could have easily been done in the first act.
9 Bullets opens in Santa Clarita, California with a frantic call. A terrified Ralph (Zachary Mooren) orders his eleven-year-old son, Sam (Dean Scott Vasquez), to grab his tablet and flee their house immediately. That's the last time they speak. Jack (Sam Worthington) does not take kindly to theft. His trio of ruthless hit men (Martin Sensmeier, Chris Mullinax, & Cam Gigandet) take no prisoners. Sam races to a neighbor after barely escaping a bloodbath.
MOVIEWEB VIDEO OF THE DAY
Gypsy (Lena Headey) ends her career as a burlesque stripper. Her plan is to write a book and go on a cruise. She didn't expect to help Sam. But knows that Jack, her former lover, is capable of murdering a child. Gypsy decides to drive Sam across the southwest to his uncle. She'll have to dodge Jack's goons, her tragic past, and open her broken heart to a frightened boy.
The Plot of 9 Bullets
9 Bullets dives into the plot with scant exposition. Gypsy shelters Sam within minutes of the first act. We ascertain from Ralph's call that Jack is the bad guy and something immensely valuable was stolen. There's no explanation whatsoever for how Sam's family came to live beside Gypsy. Or what Ralph actually did for Jack; whose evil lair is a mansion hundreds of miles away in the middle of Utah. Why are these characters associated with each other? We're just meant to accept a completely nonsensical set-up.
Related: The Duke Review: The Heartwarming True Story of an Irrepressible Dreamer
Gypsy initially treats Sam with a cold indifference. Get over it kid. Your entire family was massacred. Life is cruel and unforgiving. Be glad you're not dead. The child predictably weeps in sorrow. She has to comfort him. These scenes are meant to show Gypsy bonding with the boy despite her hesitation. This forced melodrama has a minimal emotional impact. Gypsy obviously cares for Sam. She could have easily dropped him off at a police station. Why else would she risk her life to protect the child? Her character is intrinsically good. It's tedious waiting for her to come to an evident conclusion.
9 Bullets has a confounding and meandering road trip. Jack's bumbling men hunt for her vehicle. She tries to lose them. The head-scratching rub is that they bump into each other repeatedly. Yet they can't find the kid or keep her under surveillance. These clumsy interactions are borderline painful to watch. It's like having Clark Kent in front of you and not recognizing Superman.
Lena Headey is a fine actress with tremendous presence. She can't rescue a weak plot with cardboard characters. I honestly don't have a clue what Sam Worthington is doing here. The final act pushes absurdity off a cliff. 9 Bullets is a total misfire.
9 Bullets is produced by Foresight Entertainment and Pop Films. It will have an April 22nd VOD and theatrical release from Screen Media Films.
Werewolf by Night Reportedly Wraps Filming, Still No Official Announcement by Marvel
Read Next
About The Author
Julian Roman
(1512 Articles Published)

Julian Roman has been with Movieweb for nearly twenty years. An avid film buff, he feels lucky to have interviewed and written extensively about Hollywood's greatest talents. In his spare time he plays guitar, treasures good company, and always seeks new adventures.
You can view the original article HERE.