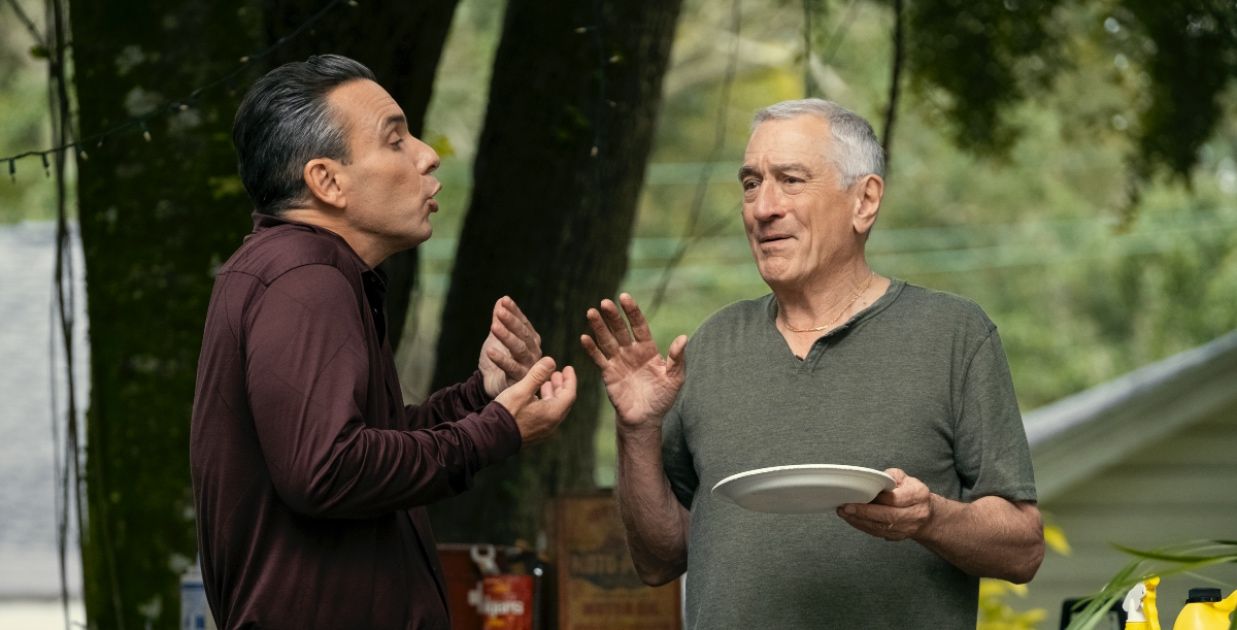 Stand-up comic Sebastian Maniscalco brings his personal life to the big screen with a talented supporting ensemble. About My Father pokes good fun at his Sicilian roots and immigrant hairstylist father's stern but lovable guidance. Robert De Niro co-stars as the penny-pinching pops in a reverse Meet the Parents scenario. They get big laughs as a heavily perfumed, working-class famiglia attempting to bond with country club wealthy prospective in-laws. Swift pacing and a lighthearted tone overcomes constant voiceover narration. What's usually the crutch of a weak script works by establishing warmth and framing wildly different personalities.
MOVIEWEB VIDEO OF THE DAYSCROLL TO CONTINUE WITH CONTENT
Sebastian opens the film with a brief history of his father's journey from Italy. Salvo (De Niro) came to America dirt poor with the same goal as every Maniscalco man for generations: he wanted to give his son the opportunity for a better life. Salvo prides himself as the finest coiffeur on Chicago's East Side. This meant getting up at the crack of dawn, then working like a rented mule at the beauty salon until bedtime. But don't forget a spritz of cologne before your weary head hits the pillow. Sebastian had to respect the value of money — order from the middle menu, no appetizers or desserts. Finish your food or foot the bill.
Sebastian attends the gallery opening of his artist girlfriend. Ellie (Leslie Bibb) is the daughter of powerful Senator Tigger Collins (Kim Cattrall) and her hotel magnate husband (David Rasche). She's pleasantly surprised when her parents invite Sebastian to their Fourth of July celebration. He cries with joy as this gives him the perfect forum to propose marriage. He just has to get his recently deceased mother's wedding ring from a skeptical Salvo.
The Wealthy Collins Family
Lionsgate
Ellie desperately wants Salvo to come. Sebastian swears that's a terrible idea, but Ellie insists. How can they all be a family if Salvo has never met her parents? The trip to Maryland has a rocky start with the introduction of Lucky (Anders Holm), Ellie's spoiled playboy older brother, and the weird Doug (Brett Dier), her sound bowl meditating, liberal leftist younger sibling. An exasperated Salvo thinks Sebastian has no business consorting with these strange rich people.
Related: Exclusive: Kim Cattrall and Leslie Bibb Deliver the Laughs in About My Father
About My Father plays out similarly to Maniscalco's popular stage routine. He groans and contorts with exaggerated expressions in a state of constant embarrassment. He's stuck in the middle of an awkward situation that's getting progressively worse. Shenanigans compound as Salvo's attempts at acclimation inherently cause chaos. He's not mean-spirited or trying to sabotage his son, but is honestly a fish out of water. Maniscalco adds to the goofy antics as the butt of most jokes. The pair have good comedic timing that's endearing to the audience.
Embracing Italian Values
About My Father never disparages Italian culture or promotes stereotypes. You get the requisite slang, music, and mannerisms but with no ill will or mocking intent. Salvo blows out perms, snips bangs, and colors roots. He's not a gangster guzzling wine and pizza. Maniscalco treasures his traditional ethnic upbringing and value system. There's no shame to be had but definitely a few chuckles. Subplots about Ellie's parents and her career aren't that interesting. They thankfully don't detract from the film.
About My Father is a Depth of Field production. It will have a May 26th theatrical release from Lionsgate.
You can view the original article HERE.