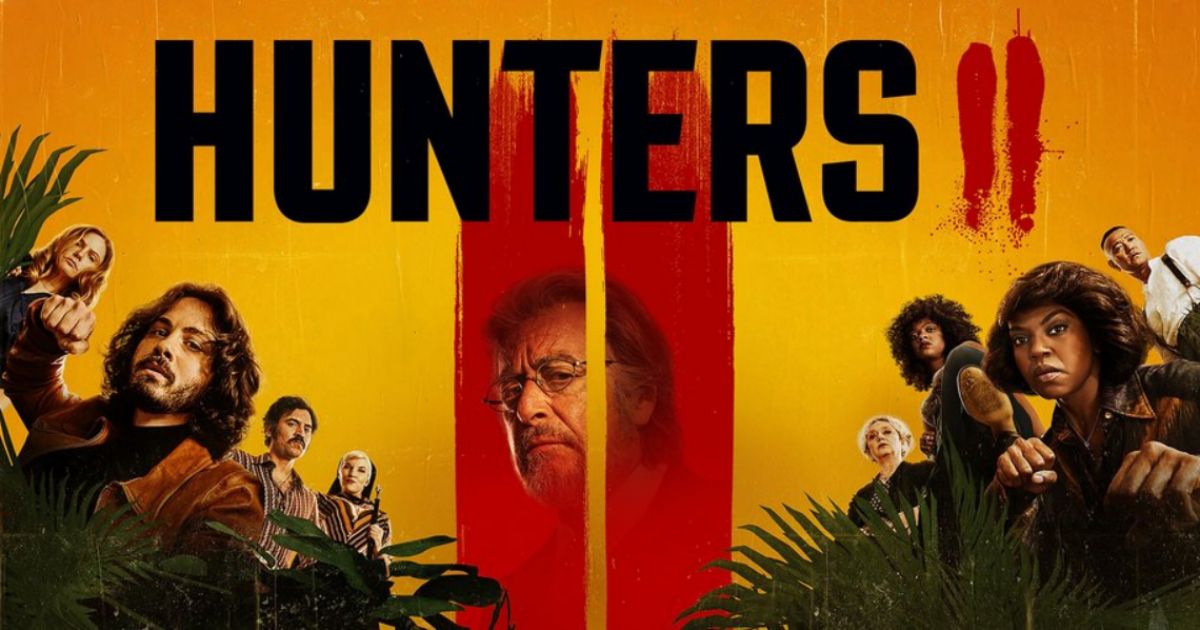 Josh Radnor, star of How I Met Your Mother, gets cocaine in his mustache. His character, Lonny Flash, is snorting it off the floor of a crowded trailer. Two actors covered in green paint from head to toe nudely fool around until Al Pacino storms into the small space. Screaming, he smacks everyone with a newspaper before telling Radnor's character that his grandfather was killed by Nazis in a concentration camp. He's a Nazi hunter; they both will be.
If that sounds utterly ridiculous, it's actually one of the tamer moments in Hunters, an epic, wonky, wild show on Prime Video. After three long years due to Covid-19 and other delays, Hunters is back with its second and final season, and it's like stepping into a whole different world.
This season seems to embrace the more bonkers elements of season one and quits masquerading as 'prestige' TV; instead, it goes all in on the successful aspects of season one — wild conspiracies, secret identities, soapy plot twists, heightened melodrama, and surprising bursts of well-orchestrated violence. If Inglourious Basterds was written by Ryan Murphy and set in the '70s, it would look a lot like season two of Hunters, and if that sounds whatsoever appealing, then this is the show for you.
Hunters Season 2 Is Both a Sequel and Prequel
Amazon Studios
Hunters alternates between 1979 and 1975, acting as both a sequel and prequel to the first season, and also goes increasingly global. Few shows are as globe-trotting as Hunters' second season, which plays delirious hopscotch with space and time. In 1979, the group of Nazi hunters from the first season are now scattered across timezones, each doing their own thing. They're all a little older and more cynical, something that's actually aided by the three-year gap between seasons.
Jonah Heidelbaum (Logan Lerman), the ostensible lead of the series, has gone from looking like Aaron Taylor-Johnson in 2010 to Aaron Taylor-Johnson in 2022 — it's an evolution from babyface to tough guy. The clean-shaven young man has become better at killing people and worse at grooming, with a scraggly beard and long, dark hair obfuscating his haunted eyes. Despite his loving relationship, Jonah hasn't given up the hunt in 1979.
Millie (Jerrika Hinton) has attempted to bring Nazis to justice in a more legally sound way, having spent a long time building a case against a former SS officer. Justice, though, works much differently without a gun, and she's found herself frustrated. The aforementioned Lonny Flash (a quirky Radnor) is back to acting in schlocky movies, and Joe Mizushima (Louis Ozawa Changchien) has been practically brainwashed by a group of powerful Nazis attempting to initiate the Third Reich. Oh, and Adolf Hitler's alive.
An Ensemble Cast of Nazis and Nazi Hunters
Amazon Studios
That's right, Hitler and Eva Braun are hiding out in South America, staging a comeback as Nazis around the world plan their reunion tour. Once this information is given to Jonah, he can't help but organize the Hunters to do what they do best, hunting the head Nazi himself. Meanwhile, a mysterious woman named Chava (Jennifer Jason Leigh) seems to be killing old Nazis herself, and her path becomes intertwined with the Hunters.
Related: Exclusive: The Cast of Hunters Discuss the Show's Epic Final Season
The 1979 storyline of Hunters is a gleefully offbeat, over-the-top action-adventure full of melodrama and total camp, but season two also spends a lot of time before all this, in a more subdued 1975, where it explores Al Pacino's character Meyer Offerman. It's still a fun plot thread, with Pacino chewing the scenery like it's cud, but it's more of a palette cleanser from the ridiculousness of the main story. It also provides background on a variety of characters, telling the story of how Meyer discovered some of these individuals and informing the main action as the show progresses.
Detailing those characters barely scratches the surface of Hunters, which has a large ensemble cast. Carol Kane is kind, warm, but underused as Mindy Markowitz, Kate Mulvany is fierce as the secretive killer nun Sister Harriet, Greg Austin is wickedly over-the-top as the psychotic Travis Leich, and Judd Hirsch is surprisingly subtle as Simon Wiesenthal. The legendary Udo Kier shows up as a bitter old Hitler, and Lena Olin is great as his impatient bride. Even that litany of names doesn't cover the main cast — Hunters is positively stuffed, almost decadent in its massive cast, intercontinental settings, and narrative layers.
Hunters Embraces Being Bonkers in Season 2
Amazon Studios
With all this going on, Hunters is undeniably messy, but it's a hot mess. It easily could've descended into incoherence and self-indulgence, but there are a couple of keys to this season's success that ensure it never does. The first is that this show does not take itself too seriously. It recognizes the utter wackiness of some scenarios and the pulpy camp of its storylines. The second season feels like the narrative manifestation of some Nicolas Cage performances — it's over-the-top and maudlin, but it somehow works.
Take, for instance, the scene in which Travis is hiding out from the police. He steps inside an ice cream shop in order to stay off the streets, and then takes his time trying every possible flavor, from caramel to bubblegum. When the customer behind him gets impatient, Travis gets bug-eyed and literally screams, "I scream, you scream, we all scream for ice cream!" Or take the episode that opens with a polished, spot-on recreation of The Sound of Music, only to end in sudden violence and death.
Related: Exclusive: Hunters Creator David Weil and Star Logan Lerman Unpack the Wildly Explosive Final Season
The list goes on. Pacino and Jennifer Jason Leigh seem to be competing over who can sound the most like Yitzhak Rabin; it'd almost be offensive if it wasn't so funny, and if they weren't so committed to their performances. Like their Yiddish intonations, Hunters has a pretty zany artifice but entirely commits to the outlandish execution (all the way to one of the most far-out finales in recent memory).
Hunters Season 2 Looks and Sounds Even Better
Amazon Studios
Hunters lands this execution by way of a very talented cast and crew. Almost every scene is elevated by the dramatic, pitch-perfect score from the great Cristobal Tapia de Veer (The White Lotus, Smile, Utopia). The cinematography from William Rexer, Tim Norman, and Frederick Elmes goes a long way to establishing the differences between the 1975 and 1979 storyline, as well as highlighting distinct aspects of each location.
Speaking of which, the location scouting in Hunters is extremely on point. From luxurious, grand hotels and seedy brothels to corporate boardrooms and South American vistas, every place is perfect for what's set there. The action sequences and choreography is great, with several episodes being gracefully led into a crescendo of exhilarating suspense and shocking violence.
Hunters discusses big things (conspiracy theories, the nature of justice, identity, and Judaism after the holocaust), but it stopped trying to be totally serious about them. It took the awkwardness and tonal disparities of the first season and transformed them into something messier but much more palatable and enjoyable. Critics can call this season eccentric, messy, or ridiculous, but nobody can call it boring.
Hunters is produced by Monkeypaw Productions, Sonar Entertainment, Big Indie, Black Mass Productions, Governor's Court, and Amazon Studios, and will debut its second and final season on January 13.
You can view the original article HERE.