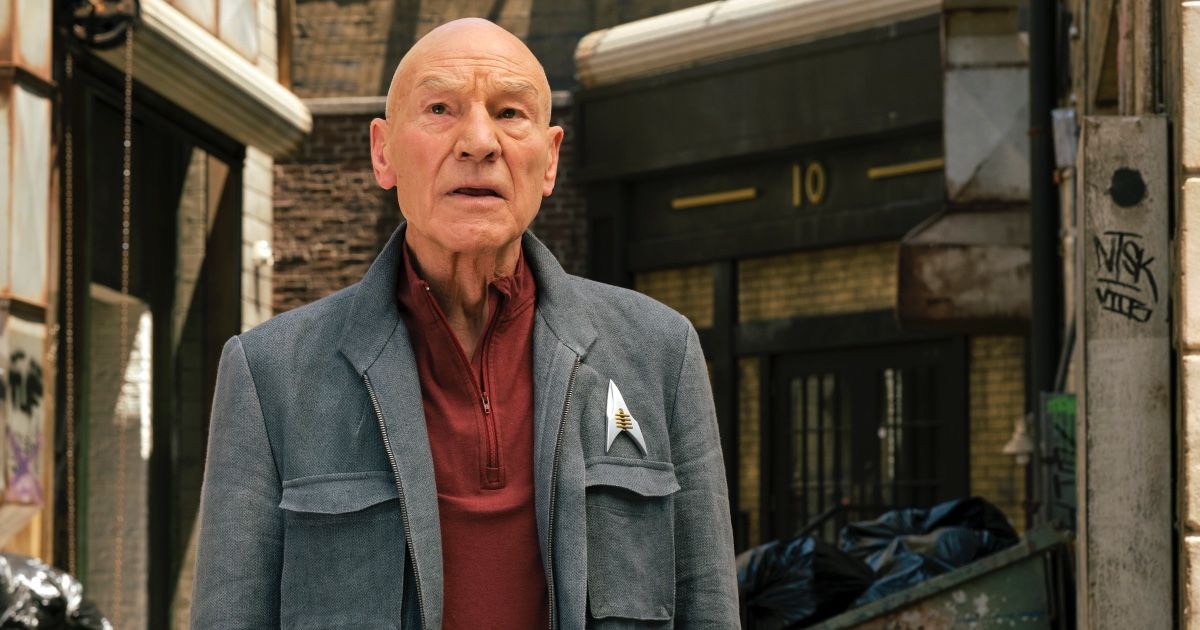 Star Trek: Picard started its second season on uneven footing with a retread time-traveling storyline. The show found its stride mid-season with several twists that added intrigue. Insert sigh here. I am bitterly disappointed to report that the season ends with a thud. Questions are never answered. An important canon character is completely forgotten. We get another inexplicable Star Trek: The Next Generation cameo. The crew of the La Sirena saves the galaxy while predictably splitting up. The show tries to overcome its poor writing with a saccharine, feel-good finale. It doesn't work at all.
The season began with a new Borg collective appearing at a distortion in space-time. A signal is sent specifically requesting Admiral Jean-Luc Picard (Patrick Stewart). He goes to the fissure on the Star Gazer with Rios (Santiago Cabrera) as captain and Dr. Jurati (Allison Pill) on board. Seven (Jeri Ryan), Raffi (Michelle Hurd), and Elnor (Evan Evagora) arrive as well. A new Borg Queen boards the Star Gazer and attempts to take control of the entire armada. She doesn't kill anyone just stuns. The Queen utters a phrase to Picard that only his mother would know. Seven cries for Picard to destroy the ship before she assimilates their fleet. He orders the destruct protocol. Just before the ship explodes, the crew of La Sirena is transported back to Earth by Q (John de Lancie).
MOVIEWEB VIDEO OF THE DAY
Picard wakes up in his château to a nightmare. The Federation, now called the Confederation, has conquered the Alpha Quadrant and enslaved alien species. Q tells Picard that humanity's trial never ended. The crew of the La Sirena save that century's Borg Queen (Annie Wersching) from execution. She's their only hope to calculate time travel to correct the past. The Borg Queen tells them they must find a "Watcher" in the year 2024. Elnor is killed during their escape.
The mid-season arc has the crew splitting up on 2024 Earth. Picard contacts a young Guinan (Ito Aghayare) for help. Rios gets hurt and meets Teresa (Sol Rodriguez), a doctor who runs a free clinic for illegal immigrants. On La Sirena, Jurati and the Borg Queen start to dangerously bond. We are introduced to Adam Soong (Brent Spiner) and his genetically engineered "daughter", Kore (Isa Briones). She has an immune disease and cannot step outside their shielded home. Q appears before Soong with an offer to cure Kore if he stops a space launch.
The 'Watcher' Was Sent to Protect Her
Paramount+
The event that secures the future is the Europa Mission. Picard's ancestor, Renée Picard (Penelope Mitchell), will discover a sentient microbe that transforms humanity. The "Watcher" was sent to protect her and ensure she achieves this goal. Picard is stunned when the "Watcher", named Tallinn (Orla Brady), looks exactly like his Romulan housekeeper, Laris. She loves Picard, but he can't bring himself to reciprocate her affections.
Renée suffers from clinical depression. This is a family trait that also tormented Picard's mother, Yvette (Madeline Wise). A thread runs throughout the season of Picard remembering her as a boy. His father (James Callis) locked her in a room after she led a young Jean-Luc into the tunnels below the château. Episode seven, "Monsters", explores Picard's guilt over the fallout from this event. Episode nine, "Hide and Seek", reveals that Picard's mother hung herself when he unlocked her room.
Related: Exclusive: Alison Pill Won't Be in Star Trek: Picard Season 3
The primary arc leading to the finale has Dr. Jurati becoming infected by the Borg Queen's consciousness. She takes control of Jurati. Then makes a deal with Adam Soong to kill the crew and Renée. This will allow Soong to become Earth's savior. Thus creating the Confederation of the future. The Borg Queen wants La Sirena to start a new collective. Soong is furious because Kore discovers her creation. She is the only surviving clone of his genetic experiments. Kore receives an antidote from a mysterious benefactor and leaves her "father."
"Hide and Seek" has the Borg Queen and Soong attacking the crew for control of the ship at the château. Rios has revealed his true identity to Teresa and her young son. Tallinn transports them to safety before the battle. Jurati will not let the Borg Queen kill Seven. They become a new being with a different purpose. Jurati saves Seven. She is given the ship in return. Before Jurati leaves, she tells them their must be two Renées, one who dies and another who flies to Europa.
Star Trek: Picard Season Two Finale
The season finale, "Farewell", has the La Sirena crew and Tallinn trying to stop Soong. Picard and Tallinn transport to the launch site. Soong is there trying to kill Renée. Tallin turns out to be Romulan. She tells Picard that it's not his destiny to save her. He must allow himself to love. Tallinn reveals herself to Renée. She has been her "guardian angel." Tallinn disguises herself as Renée. She tricks Soong into poisoning her. Tallinn dies as the real Renée launches into space. Rios, Raffi, and Seven destroy attack drones that Soong had for a back-up plan. He returns home to find that Kore has erased all of his research. A dejected Soong opens a folder titled "Project Khan".
Wesley Crusher (Will Wheaton) meets with Kore. He explains that he is a "Traveler" that watches and guides the universe. They sent the "Watcher" and her antidote. Kore joins him as a "Traveler".
Related: Star Trek: Strange New Worlds Premiere Recap & Review: Set Phasers to Awesome
At the château, the La Sirena crew prepares to live on 2024 Earth. Picard puts back the key that will lead to his mother's suicide. Q congratulates him for not changing the future. A dying Q offers to return the crew to their timeline. Rios chooses to stay with Teresa and her son. Q admits that Picard was his favorite. He would die alone but did not want the same fate for his friend. Picard embraces Q. He uses his remaining power to send them home.
Picard, Raffi, and Seven return to the Star Gazer at the moment they left. Picard turns off the self-destruct. The new Borg Queen is Jurati. The anomaly in space-time is about to explode. It will destroy half of the quadrant. Picard promotes Seven to captain of the Star Gazer. They allow Jurati to take control of the armada. She uses their collective shields to block the massive explosion. Jurati asks Picard for the new Borg to enter the Federation. The explosion has resulted in a trans-warp conduit. She doesn't know what enemy caused the incident. The friendly Borg will be the "guardians of the gate."
Picard, Seven, Raffi, and a living Elnor meet Guinan (Whoopi Goldberg) for celebratory drinks. She has a picture of Rios and Teresa. They did a lifetime of good. Teresa's son would eventually use Renée's microbe to cure Earth's pollution. Picard returns to the château. He expresses his feelings for Laris. They hold hands as the season concludes.
As the Credits Rolled
I wanted to vomit as the credits rolled. Q's mortality was never explained. How can an omnipotent and immortal being die? We'll never know. He saved Picard and the timeline because he liked him? Decades of Q messing with Picard led to best buddies? He engineered the whole situation, so Picard could let go of his mother's guilt and find love. Give… me… a… break… ridiculous.
Picard has an older brother, Robert; who was a pivotal character in Star Trek: The Next Generation. Robert and Picard's nephew, Renée, were killed in a fire at the château. This emotional devastation was critical to Picard's character arc in the film Star Trek: Generations. Robert is nowhere to be found in Star Trek: Picard. That's an unforgivable oversight. Having Tallinn be an ancestor of Laris makes zero sense. Bringing in Wesley Crusher as a finale cameo to recruit Kore was beyond ludicrous. Star Trek: Picard has already shot its third and final season. I pray it's not any dumber and self-serving.
Star Trek: Picard is a production of CBS Studios, Secret Hideout, Weed Road Pictures, and Roddenberry Entertainment. Both seasons are available to stream on Paramount+.
James Gunn Says Goodbye to the Guardians of the Galaxy Series
Read Next
About The Author
Julian Roman
(1523 Articles Published)

Julian Roman has been with Movieweb for nearly twenty years. An avid film buff, he feels lucky to have interviewed and written extensively about Hollywood's greatest talents. In his spare time he plays guitar, treasures good company, and always seeks new adventures.
You can view the original article HERE.