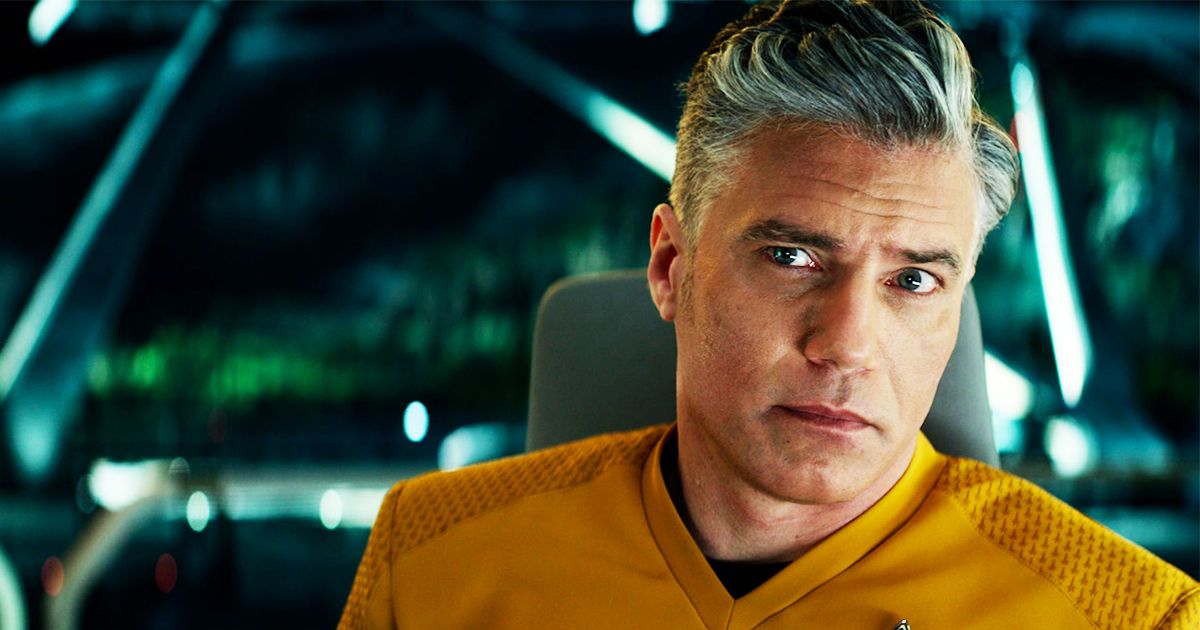 Star Trek: Strange New Worlds heralds a return to Gene Roddenberry's original vision. The Star Trek: Discovery spin-off has Captain Pike (Anson Mount) leading the Enterprise to encounter new life forms and "boldly go where no one has gone before." The self-titled premiere episode opens with a first contact scenario going wrong. Pike is forced to return to duty for a rescue mission. We see iconic characters in their youth learning from a troubled but admirable man. I was overjoyed on all fronts. A well-written script, good performances, and crisp pacing had me hooked. Let's hope this banner beginning stays true for the entire ten-episode first season.
MOVIEWEB VIDEO OF THE DAY
A new CGI intro of the Enterprise zipping around the Federation logo starts the show. A humanoid-like alien species in a bunker watches in amazement as a Federation ship, the USS Archer, appears on their satellites. The scene cuts to opening credits reminiscent of sixties Star Trek with an amped-up score. Captain Pike's voice-over narrates the legendary mission statement, "Space, the final frontier, these are the voyages of the Starship Enterprise."
Stardate 1738.12, a snowy Bear Creek, Montana, a bearded Captain Christoper Pike makes breakfast for a sleeping Captain Batel (Melanie Scrofano). The lovers eat while he ignores his beeping communicator. Batel wonders what happened to him on his previous mission. Pike candidly responds that's classified. He's been a recluse waiting for the Enterprise to be repaired. She leaves for a month. Captain Batel hopes he's gone and back on duty when she returns.
Pike rides through the snow and wind turbine covered landscape. A shuttlecraft lands in front of him. Admiral Robert April (Adrian Holmes) orders him back to duty immediately. His Number One, Commander Una Chin-Riley (Rebecca Romijn), and the USS Archer have gone missing while attempting first contact.
As he Gallivants Around the Galaxy
On Raal, Vulcan, Science Officer Spock (Ethan Peck), has dinner with T'Pring (Gia Sandhu). She proposes to him. They are asked to leave after kissing. Just as they are about to be intimate, a clean-shaven Pike calls Spock back to duty. T'Pring informs Spock she won't wait forever as he "gallivants around the galaxy."
Pike feels distress on the shuttle heading to the ship. He sees the melted face of his dying older self in a reflection. On the bridge, Pike is introduced to Cadet Nyota Uhura (Celia Rose Gooding), who has taken over communications. Starfleet assigns Lt. La'an Noonien-Singh (Christina Chong) to be his replacement first officer. Familiar faces Lt. Erica Ortegas (Melissa Navia) operates the helm with Dr. M'Benga (Babs Olusanmokun) and Nurse Christine Chapel (Jess Bush) in sick bay.
Pike momentarily falters while giving the command to leave space dock. Again he sees a reflection of his melted face from the future. In his quarters, Pike confesses to Spock that he's witnessed his death ten years from now. He struggles with its inevitability. Spock advises him not to doubt himself.
Related: Moon Knight Season One Recap & Review: Oscar Isaac's Dual Brilliance
The Enterprise arrives at Kiley 279.82, an M-class planet. The USS Archer is stable in orbit, but the crew is missing. Singh advises they raise shields but Spock disagrees as that could be seen as a provocative move. Pike raises shields seconds before they are hit with plasma torpedoes. An alarmed Spock recommends they go to red alert. The warp signature detected was not from a drive. The aliens have devised a warp bomb.
In conference with Spock and Singh, Pike doesn't understand how this species with 20th century Earth technology created a warp weapon. Pike wants to go down, investigate, and rescue the USS Archer crew. Singh reminds him they cannot break General Order One – No starship may interfere with the normal development of any alien life or society. Pike has Nurse Chapel genetically modify their faces to look like the aliens. The procedure is painful yet Singh refuses anesthesia. Pike, Spock, and Singh then beam down to the planet.
A World in Chaos
Paramount+
They arrive at a world in chaos. Protestors fill the streets. A civil war is brewing. Their scans reveal the location of the warp signature. Singh feigns injury and they incapacitate two alien scientists. Pike has them beamed to sick bay sedated. Chapel uses their DNA to help the away team pass a retinal scan to enter the secure base.
The alien scientists wake terrified in sick bay. One runs out into the ship. On the planet, Spock's Vulcan DNA is reverting to normal. Uhura encounters the scientist on the turbolift. She calms him down with banter about his planet's sports. Chapel sedates him and copies his retina in time for Spock to pass the scan.
Related: Doctor Strange in the Multiverse of Madness Review: A Creature Feature Loaded with Surprises
The away team finds Number One and her officers. They have been shot and beaten. Number One tells Pike that the aliens saw the USS Discovery make the time jump to the 32nd century with their telescopes. That's how they deduced warp technology. The group is intercepted as they escape. Spock's features return to normal. Pike orders everyone except for him and Spock to beam back. Pike allows himself to be captured, "Take me to your leader."
Pike tries to reason with the alien president. She wants to use the warp bomb to destroy a sedition that has lasted for centuries. He shows them the paradise of modern Earth. Compared to the nuclear devastation that killed billions in the 21st century. He then orders the Enterprise to drop from orbit and reveal itself to the stunned population. Pike gives them a choice: Hurtle towards destruction or join the Federation and embrace a peaceful future.
On a nearby star base, Admiral April has prevented them from being court-martialed. The USS Discovery was purged from all records and declared top secret. The Enterprise crew did not break General Order One, aka the Prime Directive, because the Federation can never reveal Discovery's existence. Lt. Singh admits her dark past as a survivor of an alien slaughter to Pike. He commissions her as the ship's security officer. Number One returns to duty as second-in-command. Lt. Sam Kirk (Dan Jeannotte) joins the crew as a junior science officer. A confident Captain Pike orders the ship to "go boldly where no one has gone before."
The Premiere is Near Perfect
Paramount+
Set phasers to awesome. The premiere episode was near perfect. I'm a huge fan of Anson Mount. He's got a tremendous screen presence. Captain Pike was replaced by James T. Kirk in the classic Star Trek two-part episode, "The Menagerie". On Star Trek: Discovery's, "Through the Valley of Shadows", Pike travels to a Klingon monastery where he sees his awful fate. It'll be fascinating to see if Pike tries to change his future; or heed Spock's advice and do the most good with the time he has left.
Ethan Peck has a much stronger physical profile than previous portrayals of Spock. The premiere has Spock missing his human sister, Michael Burnham (Sonequa Martin-Green), who took the USS Discovery into the future and became its captain. His engagement to T'Pring is certainly doomed. The new characters are promising. Lt. Singh is the cousin of the villainous Khan. I wonder if she's also a product of genetic modification.
Recent Star Trek series have a serialized format. Star Trek: Strange New Worlds focuses on different episodic adventures. I hope the series doesn't get too breezy. The producers need to build on the characters and develop complex relationships. Then put them in situations that require teamwork. Gene Roddenberry wanted Star Trek to represent the best aspects of a unified humanity. Strange New Worlds is off to a great start.
Strange New Worlds is a production of CBS Studios, Secret Hideout, Weed Road Pictures, HMRX Productions, and Roddenberry Entertainment. New episodes will premiere every Thursday until July 7th on Paramount+. The show has already been renewed for a second season.
Doctor Strange 2 Obliterates Weekend Box Office, Earns $450 Million Worldwide
Read Next
About The Author
Julian Roman
(1523 Articles Published)

Julian Roman has been with Movieweb for nearly twenty years. An avid film buff, he feels lucky to have interviewed and written extensively about Hollywood's greatest talents. In his spare time he plays guitar, treasures good company, and always seeks new adventures.
You can view the original article HERE.