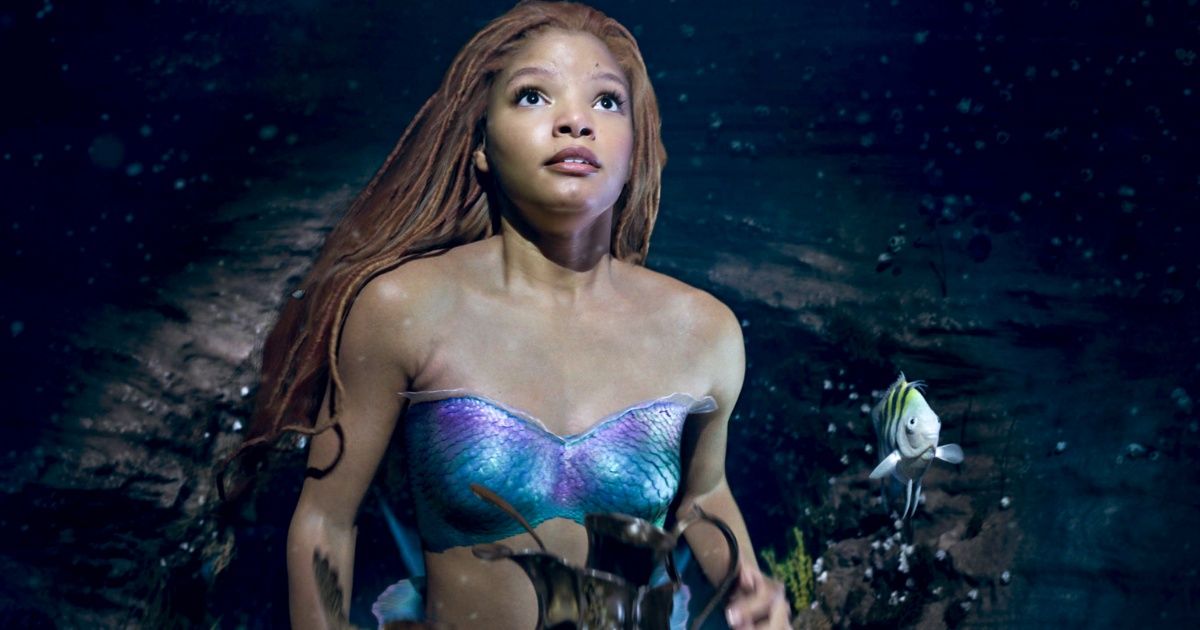 Audiences are loving The Little Mermaid. A live-action remake of the animated Disney film, The Little Mermaid made its premiere in movie theaters this weekend, and a look at the audience scores show that filmgoers are loving it. Upon its debut, the remake has been given a grade of A on CinemaScore, which polls filmgoers on opening night to calculate a letter grade for any given film. It's very rare for any movie to score that perfect A+, but an A is pretty close, matching fellow animated film The Super Mario Bros. Movie, which audiences have also been giving high praise.
Over at Rotten Tomatoes, reviews from the critics are fairly mixed but more on the positive side. The film has an approval rating of 67% on the Tomatometer, making it fresh but not without its complaints. Meanwhile, the audience score is much higher, ranking at 95%, which suggests that almost everyone who watched the film and graded it was pretty satisfied. That is also reminiscent of The Super Mario Bros. Movie, which technically has a rotten score of 59% while its audience score is 96%.
MOVIEWEB VIDEO OF THE DAYSCROLL TO CONTINUE WITH CONTENT
"With Halle Bailey making a major splash in the title role, Disney's live-action Little Mermaid ranks among the studio's most enjoyable reimaginings," Rotten Tomatoes' critics consensus reads.
Related: The Little Mermaid Hair Department Head Reveals the High Cost of Halle Bailey's Ariel Hair
The Little Mermaid Is Swimming to Box Office Success
Disney
There's a lot of financial success achieved by The Little Mermaid as well. It is eyeing an opening of a whopping $125 million over the four-day holiday weekend, pulling in $38 million on Friday. That follows over $10 million in previews with filmgoers expected to keep the theaters filled for screenings of the movie throughout the weekend and into Memorial Day. When we couple this with the high audience scores, it's clear that The Little Mermaid is a hit. A closer look at the reviews also suggests that star Halle Bailey is who shines most brightly with the reviewers and audiences, as she has garnered some very high praise for her performance and singing abilities.
"The thing about Ariel that's so tricky is that you're asking for so many things," director Rob Marshall has said of casting Bailey in that role. "You're asking for innocence and vulnerability, but strength at the same time. Strong-willed, almost bullheaded kind of character who sees what they want and goes to get it. But there had to be joy from her, and Halle had all of that."
Marshall added, "She was the first actor we saw for the film, the first one. And then we saw everybody else. She set the bar so high, and nobody surpassed that bar. We did a screen test with her, and it was just, well, this is it. I went immediately to Bob Iger with the screen test, and within minutes he said, yes, of course. She's Ariel."
The Little Mermaid is now playing in movie theaters. Along with Bailey, the film stars Melissa McCarthy, Jonah Hauer-King, Javier Bardem, Awkwafina, Jacob Tremblay, and Daveed Diggs.
You can view the original article HERE.