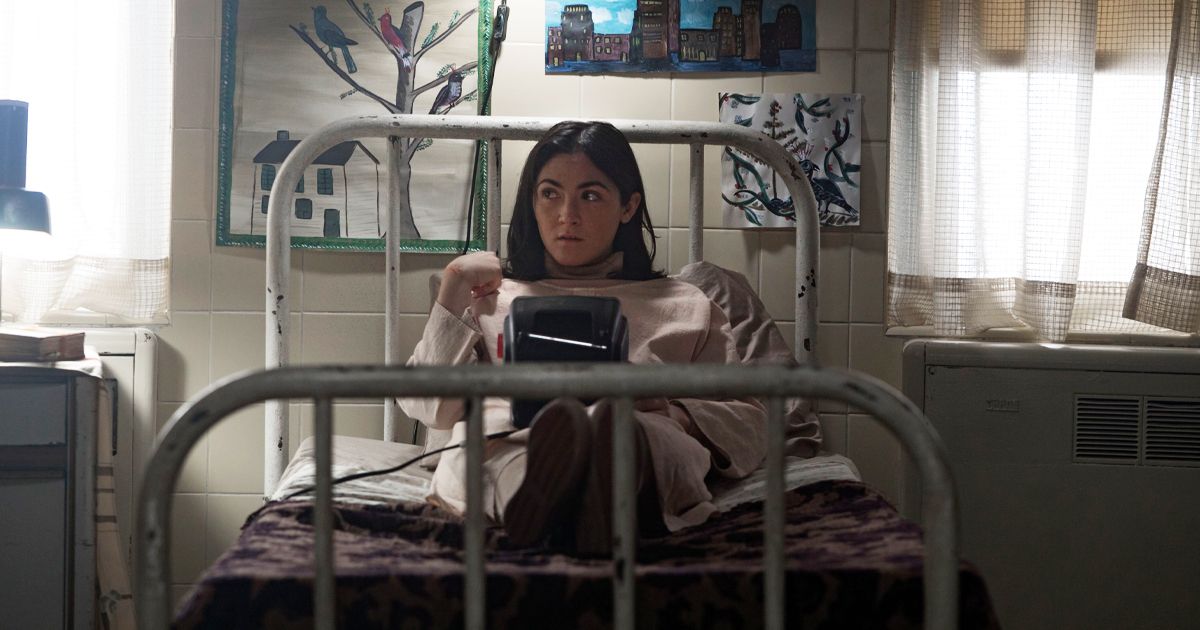 Spoiler WarningPsychotic murderer Leena Klammer, who suffers from a hormone disorder that makes her appear young, impersonates Esther in Orphan: First Kill, this time with Isabelle Fuhrman over a decade older than when she initially played the role in the original 2009 Orphan movie. The original has become a cult classic since, despite some negative reviews from critics, and so the prequel has been highly anticipated on both sides.
Orphan: First Kill begins with Leena Klammer murderously breaking out of an Estonian psychiatric facility and using the internet to discover Esther, the missing 9-year-old daughter of a wealthy family. She begins her impersonation and allows herself to be found by police. The mother (Julia Stiles), father (Rossif Sutherland), and brother (Matthew Finlan), all awkwardly pick her up from the airport. She now has a Russian accent and unrecognizable behavior. Her brother Gunnar is hesitant, Tricia encourages him to welcome back his sister to their family, and Allen is just happy to see his daughter return as he hasn't been the same since her disappearance.
MOVIEWEB VIDEO OF THE DAY
A family that loses a child will surely be mourning and desperate but not enough so that they'd ever believe Leena Klammer is their missing daughter. This works well with the movie's twist, being that Esther wasn't ever missing in the first place. Matthew accidentally killed her, and Tricia hid her body from the police and Allen. And so, despite the unbelievability that Leena is Esther, both Matthew and Tricia are now forced to play along while Allen is unwise to the entire situation.
As they continue the facade, Esther falls in love with Allen who sees her as nothing more than his daughter. This causes further turmoil in the family that eventually descends into some pretty on-brand kill scenes.
Related: Exclusive: Director William Brent Bell on Twist in Orphan: First Kill, Says 'Trilogy Can Tell a Full Story'
Orphan: First Kill Needed to be Sooner
Orphan: First Kill will please its cult following (including myself) but it needed to happen sooner. Plenty of camera, lighting, and various other tricks were employed during its filming, such as having Stiles wear platforms or having Fuhrman roll around in chairs to appear shorter, though Leena Klammer does not look 9 years old. This becomes compounded and somewhat trying when Allen, along with a detective and a therapist who keep in contact, are unable to see that Esther is being impersonated by a psychopath.
The development of Leena Klammer as a character brings narrative strength to the prequel. In the 2009 Orphan, she is seen as "just a bad seed," as director Bell had put it in a previous interview with MovieWeb. In First Kill, we see a bit more about why she is the way she is, how others see her, and that she is capable of human emotions such as love. This opens the door to explore a lot more about the character in a potential Orphan 3, which both Bell and Fuhrman expressed interest in doing.
Despite any unbelievability in Orphan: First Kill, it's a capable horror movie. I just wish that they made this prequel sooner or utilized CGI for the greatest outcome possible.
Orphan: First Kill comes to us from Paramount Pictures and is in theaters as of August 19, on demand, and streaming on Paramount+.
You can view the original article HERE.