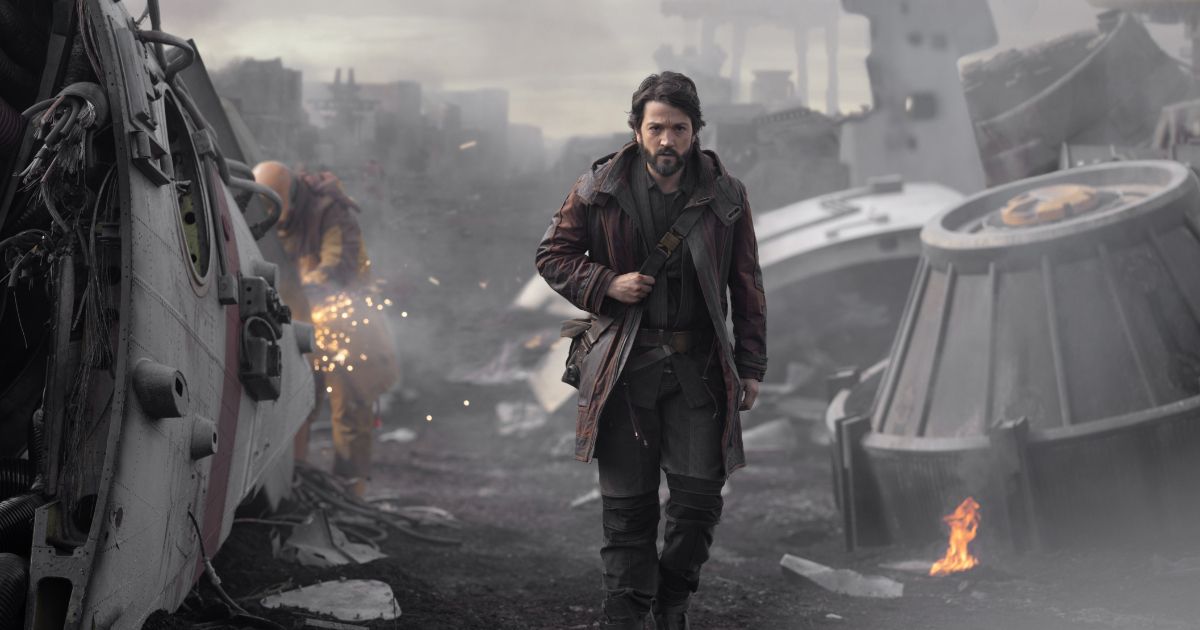 Andor reaches its season one finale as the most complex and well-written television show of the Star Wars universe. Episode twelve, "Rix Road", weaves all threads together in an explosive confrontation with the Empire. The primary characters descend on Ferrix for a funeral that has different objectives. The death of Cassian's (Diego Luna) beloved mother, Maarva (Fiona Shaw), ensures his return. The ISB will use her funeral to capture him and discover the true identity of Axis. Conversely, Luthen (Stellan Skarsgård), Vel (Faye Marsay), and Cinta (Varada Sethu) have the perfect opportunity to kill Cassian and end his possible security threat. As Bix (Adria Arjona) rots in the ISB's hotel prison, her comrades and fellow citizens seethe at the Empire's oppression. The fuel for insurrection has soaked the ground. All that's needed is a spark.
MOVIEWEB VIDEO OF THE DAY
Andor Season Finale Recap
"Rix Road" opens with Wilmon (Muhannad Bhaier) soldering a device. Meero's (Denise Gough) shuttle lands in the dark Ferrix night. She's accompanied by a pair of black-armored Death Troopers. Bix sits on a dirty mattress with a security camera watching. Wilmon continues his work while looking at a holo of his dead father. Brasso (Joplin Sibtain) tells Xanwan (Zubin Varla) that he's spoken to Cassian. Brasso warns him to keep the information secret. Corv (Noof Ousellam) leads a disguised Meero through the streets of Ferrix, but Cinta watches them closely. Wilmon completes his bomb.
At a bar, Nurchi (Raymond Anum) plies Xanwan with drinks. He gets a clue that Cassian is indeed attending the funeral. Wilmon activates the explosive and sets a timer. On Coruscant, Mon Mothma (Genevieve O'Reilly) waits in her speeder limo for Perrin (Alastair Mackenzie). She asks her driver, Kloris (Lee Ross), for privacy. The Imperial spy listens as Mon Mothma accuses her husband of losing money gambling; a feint meant to throw the ISB off their financial investigation.
Related: Strange World Review: Multicultural Embrace in an Exotic Environment
Vel joins Cinta at her station. She updates her that an ISB agent has been watching Maarva's house and his supervisor is now with him. The lovers have a brief moment of warmth. Meanwhile, a cloaked Cassian goes to a brick with Clem's (Gary Beadle) ashes. He sadly remembers Clem training him to make money from scrap equipment. Cassian goes to Pegla's (Kieran O'Brien) shipyard. He learns that Bix has been captured. A shivering Bix looks out of her cell as Nemik's (Alex Lawther) heard reciting his manifesto. Luthen overlooks Ferrix while Cassian reads Nemik's powerful words. He looks into the rainy night as Nemik reminds him to "try."
Captain Tigo (Wilf Scolding) briefs Meero with a holo of the ISB plan the following morning. They'll allow the funeral but have it secretly surrounded. She's told the Daughters of Ferrix have requested more people to attend. Meero tells her subordinates that Andor must be taken alive. At ISB headquarters, Kloris updates Supervisor Blevin (Ben Bailey Smith) of Mon Mothma's husband's gambling debts. Her subterfuge has worked. Blevin is then informed that the ISB has thwarted Anto Kreegyr's attack on the power station. Every rebel was killed. Meero is furious that no prisoners were taken.
Lucasfilm
Luthen drives his speeder bike towards the city. Corv realizes that Brasso has escaped his surveillance. He meets Cassian in the sewer. Brasso recounts Maarva's last message to her son. She loved him and encouraged Cassian to do right. Cassian cocks his weapon. He's going to save Bix.
Syril (Kyle Soller) and Mosk (Alex Ferns) arrive on Ferrix. Cassian makes his way underground to the hotel. Nurchi goes to sell his information. Luthen meets Vel. He's happy Meero is personally commanding the operation. They'll find Cassian and take him to the hotel. Luthen can kill him there. A bell tolls throughout Ferrix. It captures the Imperials and Luthen by surprise. The Daughters of Ferrix marching band start their somber music. They march slowly to Rix Road. Citizens fall in behind them. Wilmon joins the procession. Cinta keeps tabs on Corv. Cassian spies on everything from a high vantage point. He's stunned to see Luthen. Nurchi asks Corv to pretend and arrest him. He wants double the money.
Syril and Mosk join the crowd. Meero's troops think they've spotted Cassian in a tower. Bix listens to the music from her cell. Brasso carries the brick with Maarva's ashes. The band picks up pace and plays faster. The crowd surges towards the barrier of stormtroopers. Syril sees Meero searching for Cassian.
Related: The Walking Dead Series Finale Recap & Review: A Hopeful Ending as the Universe Grows
The citizens start chanting "stone and sky" in front of the worried troops. Cassian enters the hotel through the kitchen. B2EMO rolls between the troops and funeral procession. A hushed silence overtakes everyone as a giant holo of Maarva appears. She delivers her own eulogy. Maarva is honored to have a funerary stone. Ferrix can no longer accept the Empire's presence. "There is a wound at the center of the galaxy. The Empire is a disease that thrives in darkness. Fight these bastards! Fight the Empire!"
An angry officer throws his jacket over the holo and kicks B2EMO. Brasso kicks him in the chest. The crowd rages and attacks the Imperial line. It's chaos in the street as the bell tower continues to chime. Meanwhile, Cassian finds Bix in the hotel. She cowers on the ground. He begs her to leave with him. Meero is startled by the sudden turn of events. Wilmon hurtles his bomb over the Imperial troops. It explodes under a vehicle holding grenades.
A Cascade of Explosions Rock Ferrix
Disney+
A cascade of explosions rock Ferrix. The hotel's facade takes the brunt of the impact. Cassian shields Bix as glass and debris rain down. Black smoke clouds everything. Vel races into the aftermath. The Imperials regroup and target Wilmon. They open fire on the rioting crowd. Wilmon is beaten and dragged by stormtroopers. He's rescued by a pipe swinging Brasso. The stormtroopers kill Xanwan. Corv notices Cinta following him. He confronts her. She stabs him in the stomach and rips the knife up to his heart.
Pegla drags B2EMO through the raging fracas. Cassian leads Bix out of the hotel. Shooting the Death Troopers during the escape. He sees Nurchi's dead body in the lobby. The stormtroopers are overtaken by the crowd. Meero is punched and thrown to the ground. She screams while being trampled. The bell tower relentlessly tolls. The crowd tears at a terrified Meero. Syril grabs a blaster and pulls her to safety. She's shocked to see him. Meero breathes heavily as she locks eyes with Syril.
Luthen watches the insurrection as he gets away. Vel and Cinta hurriedly pack their gear. Cinta tells Vel the blood on her clothes isn't hers. Pegla readies his old ship. Brasso, Wilmon, and B2EMO are on board. Cassian brings Bix. He orders them to leave immediately. Cassian is not coming with them. He tells B2EMO to care for Bix. She knows that Cassian will find them. The ship lifts off and rockets into the sky.
Related: Exclusive: Kathryn Hahn Peels Back the Layers of Glass Onion: A Knives Out Mystery and Her Love of Acting
At Mon Mothma's apartment on Coruscant, she and Perrin present Leida (Bronte Carmichael) to Davo Sculdun's (Richard Dillane) family for the Chandrillan betrothal. On Ferrix, Mosk drinks in the bloody street. Luthen speeds back to his ship. Cassian is waiting for him, "You came here to kill me didn't you?" An unarmed Cassian left his blaster by Luthen's side, "Kill me. Or take me in." Luthen lowers the weapon and smiles. Cassian looks ahead with new purpose.
Rix Road lights the fire against the Empire. Saving Maarva's last words to stoke resistance had a powerful impact. It was also great to see the Imperial goons finally get some comeuppance. Syril is obviously enamored by Meero. He's the perfect tool for her ruthless machinations. She still doesn't have a clue that Luthen is Axis. I surmise that season two will still have her hot on Cassian's trail. It's impossible to believe that Mon Mothma would really allow Leida to be married. She's buying time to keep the ISB at bay.
Star Wars Finally Embraced Adult Themes
Disney+
Andor told a mature, sophisticated story from the start. Star Wars finally embraced adult themes. Creator Tony Gilroy succeeds in showing the nascent rebellion from multiple viewpoints. Mon Mothma funneled money from her political high perch as an influential senator. She skillfully deceived her husband and the ISB in plain sight at great risk. Luthen was the shadow puppet master. Recruiting operatives across the galaxy to orchestrate strikes against the Empire. Meero and Syril, fanatics for domineering control, were the only Imperials to recognize that a coordinated movement was taking place under the Empire's arrogant nose. Cassian is the asset that Luthen recognizes as critical to the growing cause. His leadership, ability to infiltrate, and kill when needed results in significant damage to a formidable enemy.
Cassian's journey to rebel spy was brilliantly plotted. The robbery on Aldhani made him a fortune. He returned to Maarva but she refused to leave. His brutal imprisonment made him feel the dire stakes. Cassian had to personally experience the Empire's evil to understand their diabolical threat. Maarva's death solidified his resolve to destroy the authoritarian regime. It will be fascinating to see what he learns from Luthen before his ultimate sacrifice in Rogue One.
Andor is a production of Lucasfilm. Season one is available in its entirety on Disney+.
You can view the original article HERE.