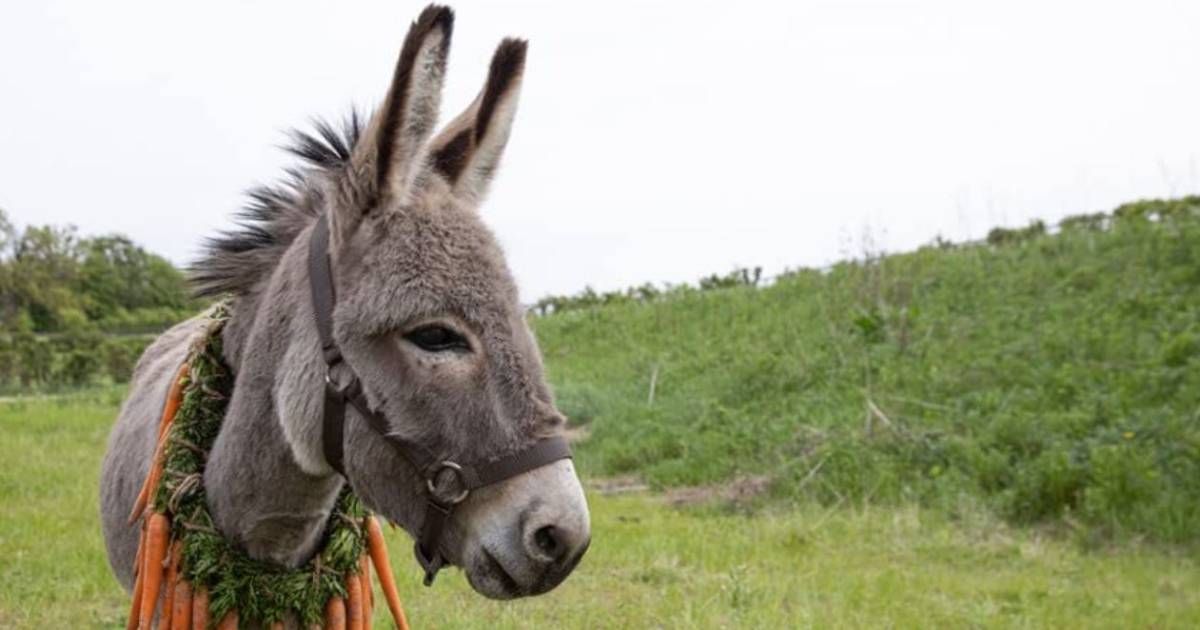 If your favorite Winnie the Pooh character was Eeyore, then EO might be just the movie for you. Those two names sound a bit similar, don't they? Regardless, the new Polish film — accurately described as "meditative" — is not to be missed. A French cinematic icon even makes a cameo appearance in the third act — and I won't spoil the surprise. That's reason enough to see this groundbreaking effort that's so impressive, you'll find yourself asking "how'd they pull that off?" throughout your viewing experience.
The world is a mysterious place when seen through the eyes of an animal. EO, a grey donkey with melancholic eyes, meets good and bad people on his life's path during the film's tight 88-minute run. He experiences joy and pain while enduring the wheel of fortune turning his luck into disaster and his despair into unexpected bliss. But not even for a moment does he lose his innocence. Here's our take on this extremely impressive drama.
MOVIEWEB VIDEO OF THE DAY
How Did They Film EO?
After being removed from the traveling circus, the only life he's ever known, the donkey known as EO begins a trek across the Polish and Italian countryside, experiencing cruelty and kindness in equal measure, all the while observing the follies and triumphs of humankind. During his travels, EO is both helped and hindered by a cast of characters that includes a young Italian priest (Lorenzo Zurzolo), a Countess (wait and see who plays her), and a rowdy Polish soccer team. Loosely inspired by Robert Bresson's Au hasard Balthazar and featuring immersive, stunning cinematography by Michal Dymek, the film puts the viewer in the perspective of its four-legged protagonist — sometimes quite literally, with some shocking POV angles. Seeing this film in theaters is ideal.
And now a word about the director: With more than 20 films to his name, Jerzy Skolimowski's work includes the Berlin Golden Bear winner The Departure and Cannes Grand Prix winner The Shout. He's also a Golden Lion recipient for Lifetime Achievement from the Venice Film Festival. He even collaborated with Rosemary's Baby director Roman Polanski on the screenplays for Knife in the Water and The Palace.
So how exactly did Skolimowski pull off those graceful, extended shots of EO going exactly where he needed to go? "There was more than one donkey on set, of course," co-writer Ewa Piaskowska once told Screen Daily. "We worked with Marietta, Taco, Holla, Hettore, Rocco and Maya. None disappointed us in any way. All were patient, tactful and considerate. Stubborn, sometimes — always for a reason. Quite a few members of our Polish crew decided to stop eating meat during the making of this film."
Still, from the moment we see EO's character in safe hands to the many times he finds himself in perilous, anxiety-stricken situations, we are simply mesmerized by the animal's grace and ability to convey so much thought and emotion through those telling eyes of his. You will be floored by the character's unbelievable journey through modern Europe.
Related: The Peripheral Review: Epic Sci-Fi From the Makers of Westworld
Elevating A Unique Subgenre
Skopia Film
Ten minutes into EO, I realized I was sorely mistaken in thinking it was an animal documentary. In fact, EO is a narrative film, successfully bringing the same range of emotions that a powerful documentary might — perhaps even more so. Fans of hit films like Life of Pi and even Ice Age will particularly enjoy this film — along with all the cinephiles out there, of course. Impactful, non-cheesy movies about animals are few and far between these days, but EO successfully breathes life back into the subgenre. It certainly reignited my desire to search out more films centered on animals that don't "speak" on camera.
For those who argue EO might not be for everyone due to its long stretches without dialogue, I'd argue that's not an accurate recounting of the film. There are plenty of scenes with humans interacting with each other, particularly that telling scene between the young priest and the Countess. This subdued, dramatic exchange draws a neat parallel between the "lost" priest and EO's feeling of "not belonging" to certain communities that he's often forced into throughout his epic journey. And how about that chaotic bar scene? Here we see humans acting "like animals" as they argue, fight and assault one another, while EO the donkey stands proud and avoids the madness (as best he can). There's something in the film for everyone, I'd say.
"The popular opinion [is] that donkeys are stubborn and stupid, but I disagree. Stubborn? Yes, sometimes very stubborn. But not stupid. I found them extremely intelligent animals," Skolimowski recently told Variety. "The whole film is dedicated to the idea of changing people's attitude towards animals, to actually make people aware that animals, like humans, are full of feelings and sentiments and shouldn't be treated like objects. They need interest and sensitivity in handling, a feeling of safety and compassion."
Just in time for award season, EO hits U.S. theaters on November 18.
You can view the original article HERE.