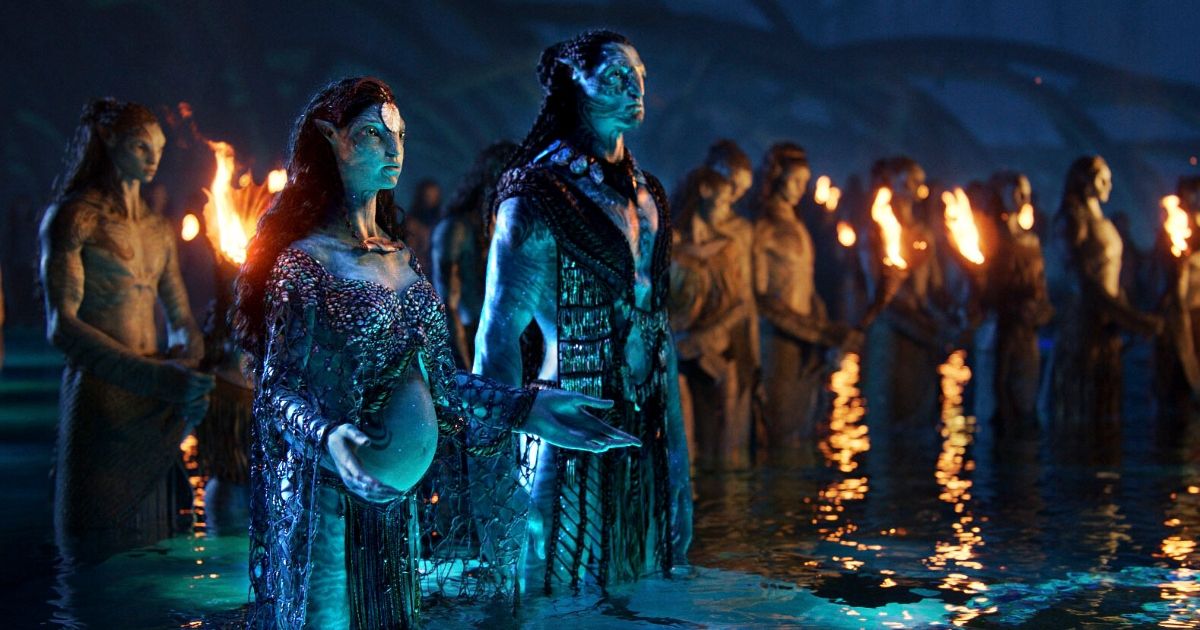 The road to Avatar: The Way of Water's release begins here as tickets go on sale, and a new trailer drops with more new footage.
20th Century Studios
Tickets are now on sale for Avatar: The Way of Water, and fans have been given a new trailer to celebrate. The movie is already expected to be one of the year's biggest movies, and exactly how big will become apparent as advance ticket sale numbers begin to roll in. For those wanted to see more from James Cameron's return to Pandora, the new trailer gives another glimpse into what is heading our way next month.
James Cameron's Avatar sequel comes 13 years after the original movie shattered box office records and seemed to be ushering in a new level of filmmaking, with astounding 3D technology the likes of which had never been seen. While the same 3D heights have never been seen since, with many trying and failing to jump on the bandwagon without going to the lengths of Cameron to make it happen, his new Avatar movie looks like it isn't planning on disappointing fans.
MOVIEWEB VIDEO OF THE DAY
As part of his lengthy interview for the new edition of Total Film via GamesRadar, Cameron explained that his emphasis is on character, and making sure that all of the characters get the story they deserve takes time to do right. He said:
"The goal is to tell an extremely compelling story on an emotional basis. I would say the emphasis in the new film is more on character, more on story, more on relationships, more on emotion. We didn't spend as much time on relationship and emotion in the first film as we do in the second film, and it's a longer film, because there's more characters to service. There's more story to service."
Related: Avatar: The Way of Water Cast: Who's Returning & Who's New?
Will Avatar: The Way of Water Challenge Other Box Office Hits?
20th Century Studios
Sequels are usually the stuff of diminishing returns, but Avatar: The Way of Water is looking to buck the trend in more ways than one. Coming more than a decade after Avatar arrived in cinemas, there was every chance the sequel could be coming far too late for anyone still interested in the franchise. With several more sequels already in development, Avatar: The Way of Water needs to prove that there is plenty of mileage in Cameron's magnum opus to warrant so many additional movies. However, in the improbable event of the film failing to make waves at the box office, Cameron is already willing to contract his plans. He previously said:
"The market could be telling us we're done in three months, or we might be semi-done, meaning: 'Okay, let's complete the story within movie three, and not go on endlessly,' if it's just not profitable … We're in a different world now than we were when I wrote this stuff, even. It's the one-two punch – the pandemic and streaming. Or, conversely, maybe we'll remind people what going to the theater is all about. This film definitely does that. The question is: how many people give a s*** now?"
Avatar: The Way of Water tickets are on sale now, with the movie hitting cinemas on December 16.
You can view the original article HERE.