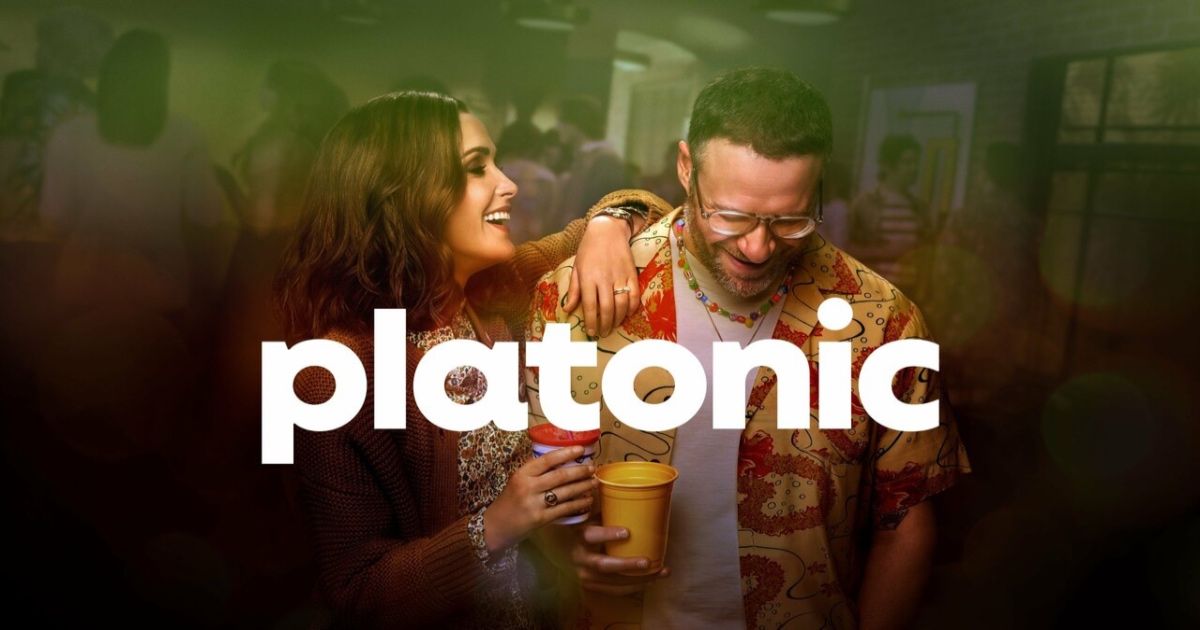 Neighbors director Nicholas Stoller reunites with Rose Byrne and Seth Rogen in Platonic, the engaging new Apple TV+ series that's bound to deliver yet another hit for the popular streamer. Stoller brings along other stand-out performers he's collaborated with before, too, for this must-see romp, Luke Macfarlane and Guy Branum (both from Bros) among them. The result is refreshing and delightful in the vein of Will & Grace and a latter-day When Harry Met Sally romantic-comedy, yet thought-provoking to be sure.
You see, middle-age is the biggest star of Stoller's tale as two old friends, Sylvia and Will (Byrne and Rogen), suddenly find themselves back in each other's lives more than 15 years after they parted ways. It's 40-something time for this duo, and both of their lives have changed considerably since they last bonded. In the hands of less skilled directors and showrunners, this story could simply fall flat.
MOVIEWEB VIDEO OF THE DAYSCROLL TO CONTINUE WITH CONTENT
Not here. Francesca Delbanco (Friends From College, Forgetting Sarah Marshall) co-created Platonic with Stoller. The duo veers away from the will they/won't they hook up trope — a strong thread that weaved throughout When Harry Met Sally — and thankfully opt to explore more universal ideas about friendships, relationships, midlife career reboots, and how people tend to distract themselves from managing their own lives when it all feels just too overwhelming. Fun. And in Platonic, it really is.
Welcome to Your Middle-Age Meltdown
Sylvia and Will are vastly different characters. Their strong buddy bond of yore swerved horribly off track after Sylvia was too "honest" about Will's relationship, and ultimately marriage, to a woman she didn't feel was a good fit for him. In present day, Will is licking the wounds of his recent divorce, and after Sylvia spots an Instagram post from Will's now ex, she decides to reach out to him. Their first meet-up should strike a universal chord. Time and life circumstances have fractured their once great connection and in its place, awkwardness took up camp. Most noticeable is their vastly different lifestyles.
Sylvia set aside her law career to raise a family with Charlie, her husband (Luke Macfarlane delivering another great performance). Charlie just made partner at his law firm and gay work buddy Stewart (Branum) keeps him in check. Meanwhile, Sylvia totes the kids to and from school, enjoying bonds with other worn-out moms. Life is good. It's steady, but… she feels something is missing.
Related: Seth Rogen Writing Credits Everyone Forgot About
Will, on the other hand, grieving his divorce, is part owner of a hip L.A. brewery with his now former brother-in-law. In between holding a bold vision for the new venture and crafting new brews, he braves his ever watchful bro-buds, who always weigh in on the mess he's made of his life. Then along comes Sylvia.
A few days after they reconnect, Sylvia drags a friend to Will's brewery launch, only to bemoan the fact that they could be enjoying fine sips at a nearby wine bar and be home by 10 p.m. Hello middle-age. That doesn't happen, of course, and as the night's events play out, Sylvia and Will, like it or not, suddenly find themselves reconnected on a deeper level. It's as if they were never apart, their free-flowing, often spitfire dialogue key. Something is happening here.
Connected Because They're Disconnected
Apple TV+
To be sure, Sylvia and Will, while in vastly different places in their lives and personal development, do share something in common: their sudden lack of purpose. Oh, it used to be there, but lately, the inner light has dimmed. Somehow, their rekindled friendship is the very thing they need — but don't need. Because the more enmeshed they become, the more they lose themselves in each other, and that only means they'll be spending less time confronting the real changes they need to make in their own lives.
And with that, creators Stoller and Delbanco take the series in an inventive direction because ultimately these two must face it all, as trying as that might be. To that end, this show slightly mirrors another Apple TV+ winner, Shrinking, in which a protagonist must face his biggest fears. Like that show, Platonic does a fine job extending out from its core players, creating a TV world we enjoy dipping into.
Related: Best Rose Byrne Movies, Ranked
It's great fun to see all this play out. Byrne and Rogen are on the mark. If you enjoyed them in Neighbors and its sequel, you'll relish them here in a more grounded outing, which, even when it goes over the top, never feels quite so "over the top." It's real. And these fine actors create believable characters to root for.
As for the supporting cast, it sure would be great to see and learn more about them. The screen time they're given, however, is effective. Macfarlane continues to impress as both a leading man and team player. As Charlie, he elevates an otherwise predictable breadwinner role to give us a man/husband open to change, even if he doesn't understand how to maneuver his way through it, mainly confronting the feelings that arise when Sylvia and Will go into full buddy mode. Best line: "I know that Will and Sylvia are not f**king, but it almost feels like they're getting off on the fact that they could be f**king."
Guy Branum, always a delight, delivers on all fronts here, and Tre Hale (Love and Monsters, Lethal Weapon) offers a fine turn as Will's brew bud/coworker Andy. Subplots filter in here and there, too, but they never weigh this show down. A nice touch: The vivid glimpses of the L.A. scene — from its vibrant art and nightlife to its hipster culture.
Ultimately, Platonic's solid writing and inventive beats give you something to care about. And laugh at. And with. It certainly gives you something to ponder. It's all there: life in all of its messy unpredictable glory. Fun. Funny. Tragic. Full of opportunity. Dive in. It's one of the best new shows of the season.
Platonic premieres May 24 on Apple TV+
You can view the original article HERE.