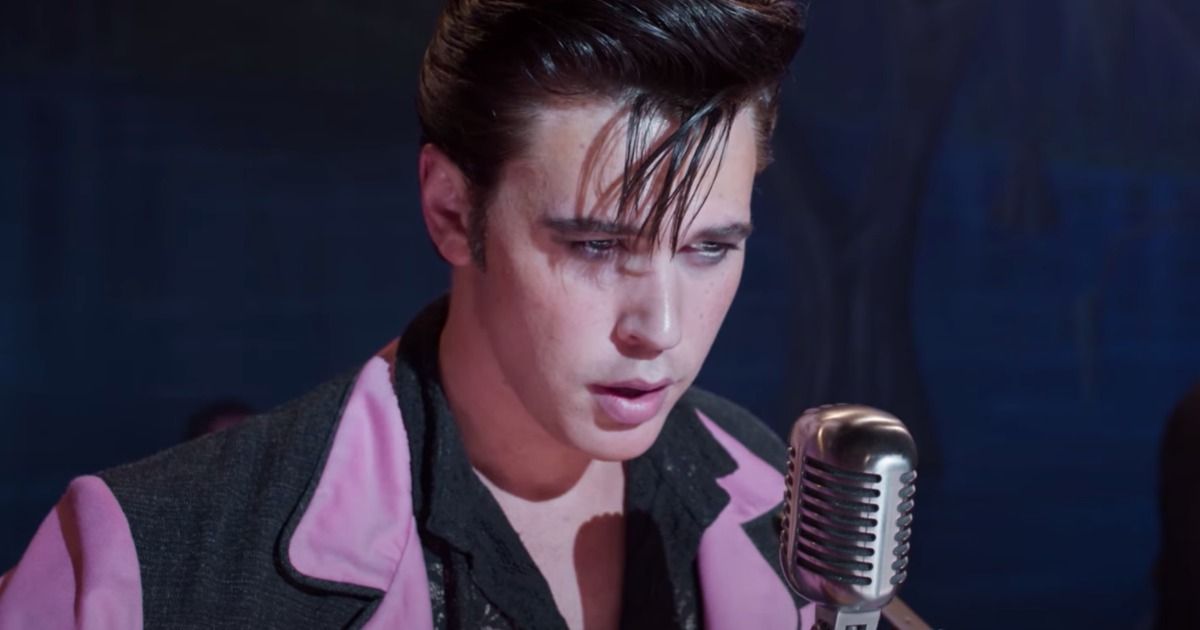 Baz Luhrmann brings Elvis to the big screen in a glitter bomb explosion of sequins, swaying, and of course, music. The King of Rock 'n' Roll's electrifying energy and stage presence is gloriously captured at a breathtaking pace. Austin Butler catapults to stardom with a lightning in a bottle performance. He shimmies and shakes while dripping sensual rivers of sweat. If only Elvis were the star of his own biopic. A fat suit and prosthetics clad Tom Hanks takes center stage as the lecherous Colonel Tom Parker. Elvis's thieving manager and promoter narrates the story while gobbling up most of the screen time.
The film begins with an aged and obese Parker (Hanks) in the hospital on a morphine drip. He laments being wrongly blamed for Elvis's death. He was responsible for the greatest carnival show ever created. Parker prided himself on being a "Snowman". He would siphon every dime out of your pocket but leave you with a smile.
MOVIEWEB VIDEO OF THE DAY
Parker recalls running a country music tour in the early fifties. Everyone was playing a "white boy" singing "colored" songs. Parker had to see this unheard of act. A nervous Elvis Presley (Butler) is given confidence by his doting mother (Helen Thomson) before taking the stage. Elvis sets knickers on fire with his wailing vocals and suggestive thrusting. Teen girls leap to their feet in raucous applause. An astounded Parker watches as every woman falls under Elvis's spell.
The film flashes back to Elvis's (Chaydon Jay) poor childhood in Mississippi. He and his mother were forced to live among black sharecroppers while his father (Richard Roxburgh) was in prison. Elvis became transfixed by gospel preachers and their spirited sermons. As a teen in Memphis, he frequented juke joints on Beale Street to watch blues musicians. He idolized their flashy suits and slick pompadours. Elvis embraced their music, style, and theatrics. Parker couldn't miss this golden opportunity. He resolves to sign Elvis and take over his career.
Related: Flux Gourmet Review: Peter Strickland Succeeds Where David Cronenberg Stumbled
Told With Frenetic Flourish
Elvis is told with the frenetic flourish expected from Baz Luhrmann (Moulin Rouge!, The Great Gatsby). The film is a non-stop barrage of quick edits, split-screens, swooping camera angles, and flashy visual cues. Parker sets up each scene with a voice-over intro followed by blasts of music and dancing. Luhrmann mixes blues, gospel, and modern R&B tracks with the Elvis hits. He pays a long overdue homage to the black artists who inspired Elvis. They never saw his wealth, fame, and riches. A great exchange has B.B. King (Kelvin Harrison Jr.) encouraging Elvis to stay true to his black roots. He would achieve heights that King could never reach in segregationist America.
Luhrmann keeps the Allegro tempo for the first two acts. He slows down in the sixties with Elvis established as a world-famous actor and singer. Parker's iron grip has been loosened by Elvis's marriage to young Priscilla Wagner (Olivia DeJonge). Austin Butler gets a chance to step off the stage and exhibit his dramatic chops. Elvis becomes deeply troubled by the racial unrest and violence of the time. He takes stock of his commercialized image as an artist. Elvis finally sees Parker as the Devil on his shoulder. This epiphany came late and at a tremendous cost. Elvis was hopelessly addicted to pills and the adoration of his fawning fans.
Tom Hanks Drives the Story
Warner Bros. Pictures
Luhrmann makes a mistake with Tom Hanks driving the story. Parker and Elvis are inexorably linked, but he's overrepresented here. I would have loved more of Elvis behind the facade. Instead, we see Elvis through Parker's eyes from start to finish. It's almost as if Luhrmann was afraid of giving Austin Butler narrative control.
Elvis rouses despite running long at two and a half hours. The musical numbers are superb. You'll want to jump and dance like the groupies. The recognition of Elvis's influences is also well-done. Tom Hanks will be divisive to audiences. He steals Austin Butler's thunder. No one wants to see a Col. Tom Parker movie.
Elvis is a production of Bazmark Films and The Jackal Group. It will be released theatrically on June 24th by Warner Bros.
You can view the original article HERE.