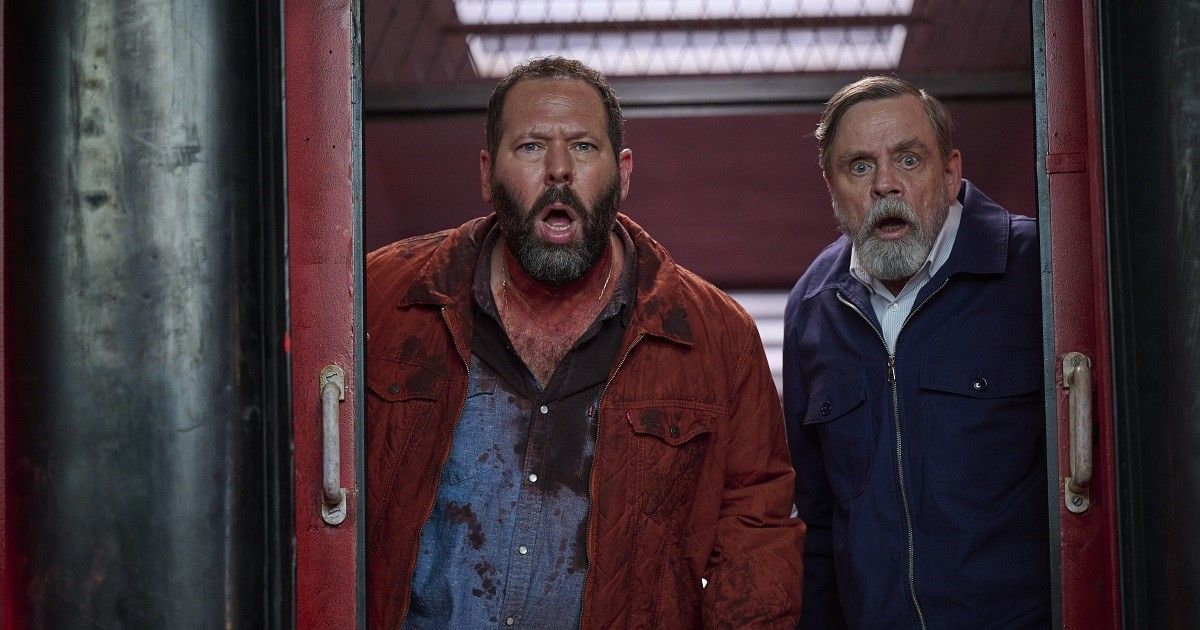 Comedian Bert Kreischer is known for many things throughout his lifetime. One may know him by his nickname of "The Machine," or another might recognize him as the comedian who somehow always manages to perform shirtless. Kreischer has become popular throughout recent years, especially in 2019. In 2023, the world is being gifted with a cinematic version of one of his stand-up routines, and it's called The Machine. With a fictionalized touch, the film draws on his particular brand of humor and style to elevate this story beyond where it has already gone.
Directed by Peter Atencio, The Machine found its origins in a stand-up routine from several years ago. The premise behind the movie was invented by Kreischer, a Florida comedian who had his start after gaining attention for his stand-up routines in Tallahassee. The Machine is based on a skit that Kreischer had made that goes by the same name. Inspired by his life and a very specific time Kreischer once had, the rights for a movie were acquired back in 2019 by Legendary Entertainment. A film adaptation was set and, four years after the rights were bought, the movie is finally coming to American theaters after several trailer releases.
MOVIEWEB VIDEO OF THE DAYSCROLL TO CONTINUE WITH CONTENT
The main cast of The Machine consists of Bert Kreischer, who plays himself in the movie, Mark Hamill, Jimmy Tatro, Stephanie Kurtzuba, Iva Babić, and Jessica Gabor. Kevin Biegel and Scotty Landes were both involved with the screenplay and writing process of the film. The comedy movie was filmed abroad in Serbia. Released among some heavy hitters of Memorial Day Weekend in 2023, especially Disney's The Little Mermaid, The Machine has some tough competition, especially for those who don't lean into this kind of humor for entertainment.
A College Study Abroad Comes Back to Haunt Us
Screen Gems
If audiences were not already familiar with Kreischer and the kind of work he does, The Machine's opening montage does the crash course in all things Kreischer; a compilation of magazine covers, Tweets, and social media posts serve as a reminder of his career as a comedian, but, most importantly, it provides the gist that his popularity blew up because of his Russian train story where he claims he helped Russian gangsters steal from an entire train full of people. But when the clip of him telling that stand-up routine reaches Russia and is subtitled for the local audience, a high-ranking gangster immediately wants Kreischer's head after he mentions he took a watch from someone in the bit.
Meanwhile, back in the United States, the movie's version of Kreischer is struggling with his home life. He has just started therapy and there is a big divide between him and his eldest daughter: as it turns out, he caused something that led the police to punish him and his daughter. A failed family therapy session proves that Kreischer still has many issues, despite him denying it, and his wife brings up the fact he has issues with his father – something that hasn't come up before in the therapy session.
Related: Exclusive: Bert Kreischer on The Machine, Mark Hamill, and Finding Himself
Their situation becomes even more tense when Bert throws a massive sweet 16 for his daughter, which isn't what she wanted from him. Things get even worse when his father shows up and immediately unearths all of Bert's trauma when his father criticizes his skills in making hamburgers on the grill. After a shouting match with Georgia, a member of the Russian mafia, Irina, kidnaps him, his daughter, and his father whisks them away to Russia. Irina is in search of her father's watch, and is angry when Bert has no idea where it is, nor can he recollect the moment of actually taking that watch.
The vast majority of The Machine takes place in Russia, where, many years ago, Bert studied and gained the reputation of being "The Machine." While it is sort of a homecoming, he is stuck with his father, who he isn't on the best terms with, and people are amazed that he of all people is the legendary Machine. Although people expect him to have a taste for violence because of his reputation, the course of the movie shows that he is vastly unprepared for what is ahead of him, and with that comes many revelations as well.
Incorporating Humor into Bad Situations
Screen Gems
It would be a massive disservice to make a movie about a comedic retelling of a story without incorporating humor, so The Machine does just that. The classic elements of some of Kreischer's routines are incorporated into the film itself; in one climatic action scene, he pulls off his shirt and begins to fight against Russian mob members shirtless while downing vodka like he used to as a young college student. It's in these moments that it becomes increasingly obvious certain scenes are pandering towards Kreischer's fanbase that is supposed to come and see the movie.
Comically intense gore also plays a key role when Bert and his father, Albert, land in Russia. These Russian crime families take their roles seriously, and with that comes quite a few flashy scenes with guns, fist fights, and knives. At one point, a guy is even beheaded, his blood spurting all over Bert as he screams about it. The comedic absurdity is leaned into through the situation Albert and Bert find themselves in; the fact they were randomly kidnapped at his daughter's sweet 16, surrounded by at least 100 party guests, and taken to Russia by a crime lord's daughter is pretty out there, to begin with.
Related: The 8 Funniest Movies Starring Stand-Up Comedians
Some of the jokes and gags land well, but some may find them quite distasteful and masculine. There are several jokes about feminism scattered throughout the movie, but they're done in poor taste. At one point, Bert makes an off-hand joke about Irina being autistic because how she's bad in social settings. Many jokes about Kreischer's weight and calling him fat are thrown into the narrative as well, especially when the Russians compare him to the idolized version of The Machine they had in their head. In 2023, some of these gags might not land as well as they used to.
In an hour and 52 minutes, there's no denying that some aspects of The Machine are funny. The pacing is good, and there aren't any specific scenes that feel like they go on forever. However, despite all the wisecracks and jokes going on in the background, the best parts of the movie shine through when they feel authentic. Although it's a fictional story based on a real story, there are hints of Kreischer's genuine real-life experiences poking through, and those don't feel odd or too out there.
Well Intended, but Not Quite There Yet
Screen Gems
There are some key messages scattered throughout the movie that could be wholesome, such as how Bert learns to live with his father again in a way that isn't completely destructive to everyone's collective mental health. A clear character arc can be mapped throughout The Machine that shows how this trip to Russia may have been more effective than therapy was in the first place, proving Bert's wife right when she says that going out and doing his thing might do more for Bert than sitting in front of his therapist. Will audiences walk away with the go-getter attitude that they should go seek help and heal all their broken relationships? Probably not, but it makes a good emotional story.
However, no matter how good the intentions of the movie might be with its emotional scenes and plot twists, it can't help the fact that the plot is scattered. Certain moments are simply too convenient, mere vehicles to keep the story progressing even if they might not make sense. Although the movie begins in the present day, when Kreischer has his family, we, as the viewers, are thrust back into the past when he starts to recall his life in Russia. His return to Russia is a homecoming, but how he pisses off the girl he likes on his study abroad trip in the past might be a red herring that implies something more is going to happen here despite Bert being married.
The Machine might be based on a real-life story, but it takes the elements of truth and bends them into something that is loosely based on the reality that happened in Bert's young adulthood. The acting is pretty well done throughout the movie, especially when it comes to the actor playing the younger version of Bert (a great Jimmy Tatro), and Iva Babić, who portrays Irina, the female daughter of a mafia boss. There might be too much going on at times, but The Machine is a wild ride, and some audiences might find it worth it to journey all the way through. Others, not so much.
The Machine is out in theaters on May 26, 2023.
You can view the original article HERE.