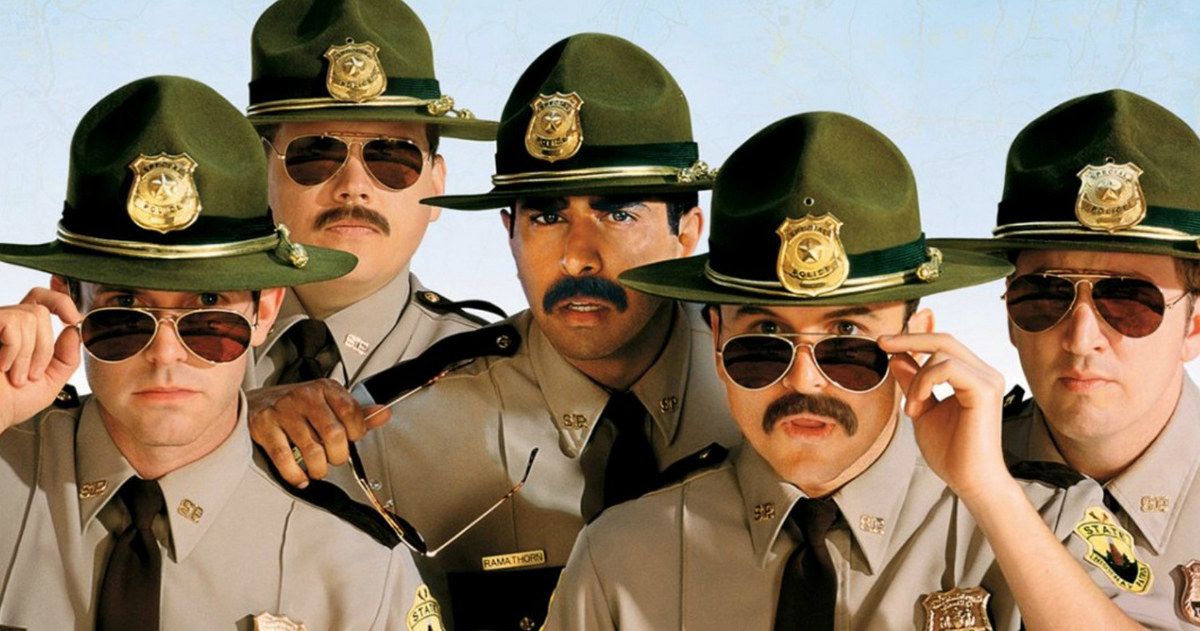 There haven't been many updates lately on the progress of Super Troopers 3: Winter Soldiers, but the comedy sequel is still in gestation. From the Broken Lizard comedy troupe, the first Super Troopers movie was a big success when it was released in theaters in 2001. It was directed by Jay Chandrasekhar, who later returned to the director's chair for the first sequel Super Troopers 2 in 2018. That same year, Chandrasekhar Super Troopers 3, but progress on the project has since been rather slow.
In a new interview with Collider, Chandrasekhar reveals the current progress of the long-gestating sequel. Chandrasekhar explains that the movie has had seven drafts of the screenplay written at this point, but that means that it's still quite a ways from getting finalized. For comparison, the director reveals how the previous two films each had at least 30 drafts, and Chandrasekhar suggests the same process will happen with part three.
MOVIEWEB VIDEO OF THE DAY
"We have written draft seven and so when we get to about draft twenty, we'll start the machine up. […] I mean, we wrote thirty-two drafts of 'Super Troopers 1', and we wrote thirty drafts of 'Super Troopers 2'. It's just our process. […] We'll throw out entire plot lines and reorganize everything and bring back plot lines. And it's a process, but eventually, we get there."
Related: Broken Lizard's Next Movie Quasi Spoofs The Hunchback of Notre Dame
Saget
It seems like we are probably several years away from Super Troopers 3: Winter Soldiers getting released. The good news for Broken Lizard fans is that there will be other projects to anticipate in the meantime. Up next from the group is a movie called Quasi, a comedy that parodies The Hunchback of Notre Dame. In his Collider interview, Chandrasekhar teases that the comedy will be especially enjoyable for fans of Monty Python-style humor.
"I will tell you this, we have a movie called Quasi, which we made. It's going to come out in December on Hulu, and it's a 13th-century French … It's like murder, assassination, mystery. I play the King of France, Paul Soter plays the Pope, and Steve Lemme plays a hunchback. And it's a big international sort of … It's a Monty Python movie."
Quasi will specifically follow a hunchback looking for love who finds himself caught up in a feud between the Pope and the king of France with each ordering the hunchbcak to kill the other. Broken Lizard's Kevin Heffernan is directing and co-wrote the script with Chandrasekhar, Steve Lemme, Paul Soter, and Erik Stolhanske. All of them will also appear in the film alongside Adrianne Palicki (The Orville).
"We love Broken Lizard and are always thrilled to collaborate," Searchlight Pictures' DanTram Nguyen and Katie Goodson-Thomas said in a joint statement when Quasi was first announced. "Kevin, Steve, Jay, Paul, and Erik are a boisterous, talented, and hysterical group. We look forward to seeing them bring their raunchy charm to this satirical take on The Hunchback of Notre Dame."
Quasi comes to Hulu in December 2022. Super Troopers 3: Winter Soldiers doesn't have an official release date at this time.
You can view the original article HERE.