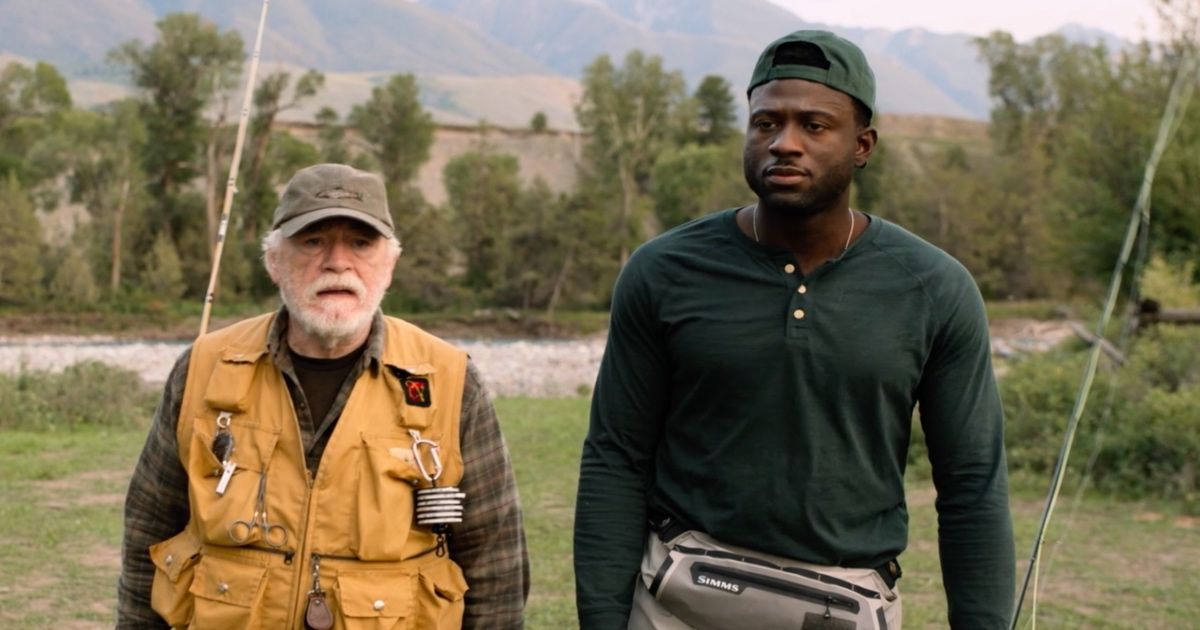 It's a bit of a surreal head-scratcher watching the first hour of director Joshua Caldwell's Mending the Line, mostly because of Brian Cox. That's not a bad thing at all, and undoubtedly, Cox's presence works in this film's favor. But the more you find yourself engaged in this endearing film, you realize several things: Sure, Cox is a sublime actor, but my oh my… it's hard to shake off Logan Roy, the steely corporate giant Cox brought to life on HBO's Succession, and a character that will go down as one of television's finest. Cox is Cox here. Good all around, but that enormous shadow of Logan Roy covers him, especially because Succession's finale aired just a few weeks ago.
MOVIEWEB VIDEO OF THE DAYSCROLL TO CONTINUE WITH CONTENT
That said, Mending the Line, a film about two unlikely military gents forced together to work things out — bring on the fly-fishing, folks! — somehow generates enough interest to keep you invested until its final scenes. Cox has a good acting partner here with Sinqua Walls. The actor has a commanding presence, and he turned heads in Friday Night Lights and The 15:17 to Paris. Walls will also be seen in The Blackening. Familiar tropes aside, Mending the Line is worthy of our attention. Here's why.
Brian Cox and Sinqua Walls Are Sublime
Mending the Line also stars Perry Mattfeld (In the Dark, Shameless), Patricia Heaton (Carol's Second Act), and Wed Studi. Sinqua Walls plays Colter here, a determined if not fatigued Marine who is ready for one last battle in Afghanistan to end. That doesn't go as planned, of course. That one last battle turns into a life-and-death situation and in the aftermath, Colter finds himself experiencing painstaking guilt and anger. Immediately, one may recall Jake Gyllenhaal experiencing similar in The Covenant. Other films have tackled this premise, too. What to do?
Related: The Best Movies About PTSD From the Vietnam War
In director Joshua Caldwell's film, he leans deeply into screenwriter Stephen Camelio's story, entices with stunning cinematography in Montana from Eve Cohen, and delivers the goods. Camelio wrote Colter as a tough-as-nails career Marine. Imagine the man's frustration over being injured in battle then having his doctor (Heaton) send him over to another one of her patients, Ike, an elder military gent who is experiencing health concerns of his own. Neither Ike nor Colter want to be paired up, but for some reason their doctor believes Ike's joy of fly-fishing will temper Colter's PTSD and help ease Ike's rattled nerves. Logan Roy fly-fishing? Well, it's not quite like that, because Cox is an exceptional actor who can lose himself in any role.
Again, here we find a familiar set-up of two unlikely souls coming together who otherwise would have no business ever meeting. It's dazzling nonetheless because Cox and Walls are so believable in their roles. As is Perry Mattfeld, who plays Lucy, somebody also grieving loss. Colter and Lucy generate a spark, however how that unravels is a refreshing surprise.
Gone Fly-Fishing in Montana
Blue Fox Entertainment
There's so much happening behind the scenes of Mending the Line that should be noted. Screenwriter Stephen Camelio, who wrote for Field & Stream and EPSN The Magazine, happens to be a fly fisherman, as does Caldwell. Their knowledge of fly-fishing shows here and the scenes in which Ike and Colter hit the stream are some of the finest moments. Think of as a kind of sweet moving meditation of sorts. These images ground the film, balancing Ike and Colter's personal dilemmas. 'Of course!', we might find ourselves saying to ourselves…. Maybe nature is the best remedy.
Related: Brian Cox's Best Performances, Ranked
Other things stand out in Mending in the Line. Sinqua Walls (Nanny) reportedly met and spoke with veterans whose real-life experiences mirrored Colter's in the film—war, battle, injury, rehabilitation. You see that in Walls' performance. Truth is, there's something undoubtedly unique about Walls as an actor. I never felt as if I was watching him. It feels as if we're experiencing Colter's powerful journey.
Sobering facts come to mind while watching this film. Recent reports note that up to 22 veterans die by suicide every day. Some reports note that the suicide rate is more than 40. War, veterans, and PTSD all come to mind while watching Mending the Line. And the film's title, of course, refers to both fly-fishing and psychological care. Camelio weaves all of this into the story with mindfulness and purpose, and the combination of Cox, Walls, and picturesque Montana, make Mending the Line a standout film experience. Take note, too, of several truly deep moments in the film, particularly when Lucy is reading to Colter or Ike. There's a sweetness there, with metaphors about life and moving through transition that should strike a universal chord. The filmmakers may cast a familiar creative line in this tale, but you can't help but get hooked.
Mending the Line, from Blue Fox Entertainment, hits theaters June 9, and you can find more information here.
You can view the original article HERE.