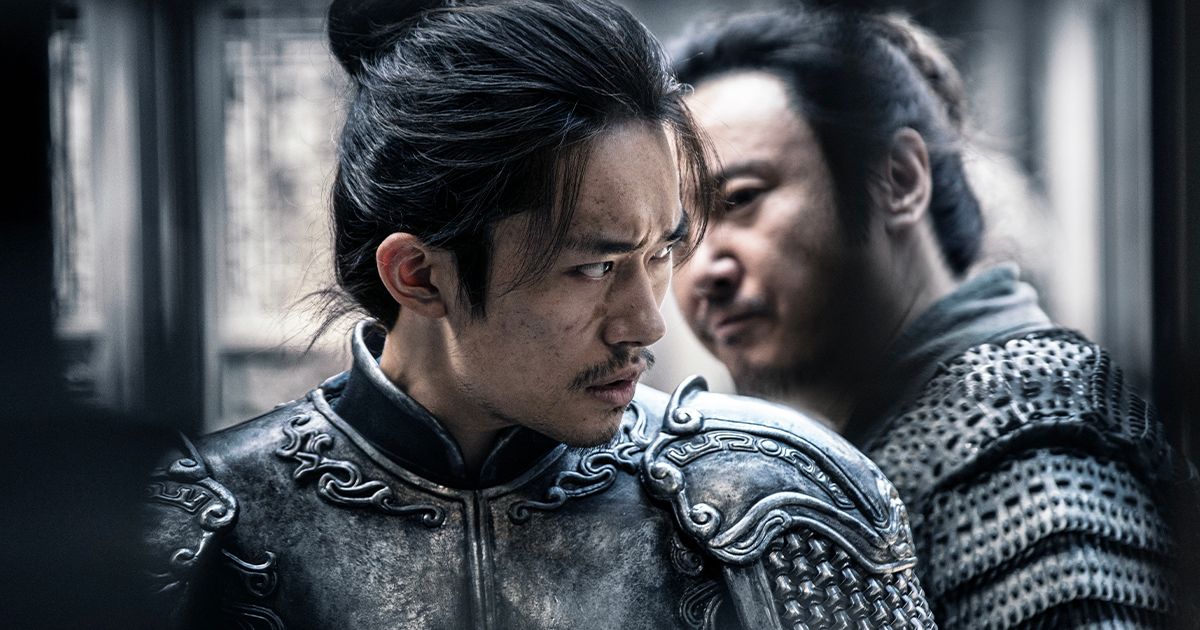 Chinese auteur Zhang Yimou keeps you guessing with a convoluted period murder mystery that hooks until the final frame. Full River Red tells the origins of a famous poem from the Song Dynasty; where general and national hero, Yue Fei, was betrayed by a traitorous politician who rose to powerful prominence. The film blends dark humor, suspense, and Machiavellian deceptions in a labyrinthine whodunit. There's enough backstabbing here to warrant an extra order of knives. Slick camera work and cinematography keeps the adrenaline pumping when duplicity treads long.
Set eight hundred years ago, and shorty after Yue's execution, a Jin delegation is set to meet Song Prime Minister Qin Hui (Lei Jiayin) for an important meeting. The palace goes into lockdown when the Jin diplomat is found stabbed to death the night before. The paranoid Qin Hui, who only allows a pair of deaf and mute maids in his presence, orders the killer to be found.
Deputy Commander Sun Jun (Jackson Yee) rounds up every security guard. He starts cutting throats until the lowly Zhang Da (Shen Teng), who also happens to be Sun's despised nephew, speaks up. He has an important clue to save his life. Sun brings Zhang before Qin Hui and his vile counsels, Lords He Li (Zhang Yi) and Wu Yichun (Yue Yunpeng).
Dire Consequences
Niu Vision Media
Zhang knows that Zither (Wang Jiayi), a dancer and consort, was brought to entertain the Jin diplomat. The fearful Zither, after seeing the merciless Lord He in action, admits the diplomat had a letter meant for the prime minister. This information is presented to Qin Hui, who issues a decree to Zhang and a surprised Sun. Zhang has two hours before dawn. He must uncover the murderer and retrieve the letter or risk dire consequences for failure.
Related: Shazam! Fury of the Gods Review: A Fun Sequel Loaded with Big Surprises
Full River Red twists and turns as agendas are revealed. Everyone has something to hide or a reason for wanting the letter. Qin Hui knows his grip is tenuous. A ruthless ascent has many questioning his loyalty to the Song Dynasty and Emperor. Lords He and Wu would own Qin if they got the incriminating letter first. Zhang must stay one step ahead to stay alive. That's not easy with Sun breathing down his neck. Their uneasy alliance flips suspects to allies and vice versa when the true scope of the conspiracy comes into focus.
To say there's a lot going on is an understatement. Yimou (House of Flying Daggers, Curse of the Golden Flower), who also co-wrote the script, methodically peels layers from his characters. Subterfuge spins certain doom in one moment to cunning opportunity the next. No one is who they appear to be. There's always another card to play. The constant feints grow weary as you wonder what's actually going on? Where is the plot leading?
A Chinese Blockbuster
Yimou stokes the curiosity fire with masterful filmmaking techniques and sharp violence. He uses overhead tracking shots to follow action through the gray night. Clever asides divulge whopper secrets in a bloody climax with emotional heft. You'll snap to attention when the body count rises. Full River Red has been a blockbuster at the Chinese box office where the story lifts national pride. Global audiences won't feel the heritage impact but will appreciate the film's better aspects.
Full River Red (滿江紅), a production of Huanxi Media Group, has Mandarin dialogue with English subtitles. It is currently in limited theatrical release from Niu Vision Media.
You can view the original article HERE.