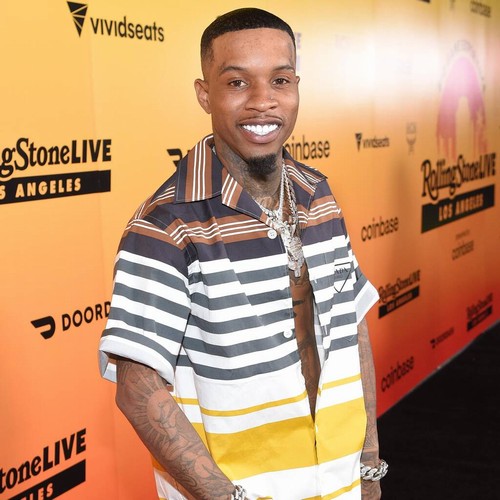 Tory Lanez's lawyers have filed a motion calling for a new trial following his conviction in the Megan Thee Stallion shooting case.
The rapper, real name Daystar Peterson, was found guilty of assault with a semiautomatic firearm, carrying a loaded, unregistered firearm in a vehicle, and discharging a firearm with gross negligence in December for shooting Megan in both feet in July 2020.
On Wednesday, his lawyers Jose Baez and Matthew Barhoma filed paperwork in which they appealed for a retrial, claiming that he wasn't given a fair trial due to the inclusion of certain evidence.
They argued that the judge "erroneously allowed" jurors to view a comment Lanez purportedly made on an Instagram post from The Shade Room in September 2020. The Shade Room's post claimed that Megan was shot by her friend Kelsey Harris and Lanez reportedly commented, "That's not true."
This comment contradicted the rapper's main defence during the trial; his lawyers maintained Harris was the shooter and not Lanez.
In the new motion, the lawyers alleged prosecutors surprised them with the post and they didn't have enough time to ascertain who wrote that reply. They now claim it was written by the rapper's content creator Joshua Farias.
"The court erred on numerous questions of law in allowing the People to introduce this post, depriving defendant of a fair trial," the new motion reads, reports Rolling Stone. "The only acceptable remedy for this miscarriage of justice is a new trial."
Elsewhere in the paperwork, the attorneys argued that the 30-year-old was unfairly "painted defendant as a gun-wielding career criminal" by the prosecution showing a shirtless Instagram photo that revealed he had a tattoo of a gun on his chest.
Lanez is due to be sentenced on 10 April.
You can view the original article HERE.