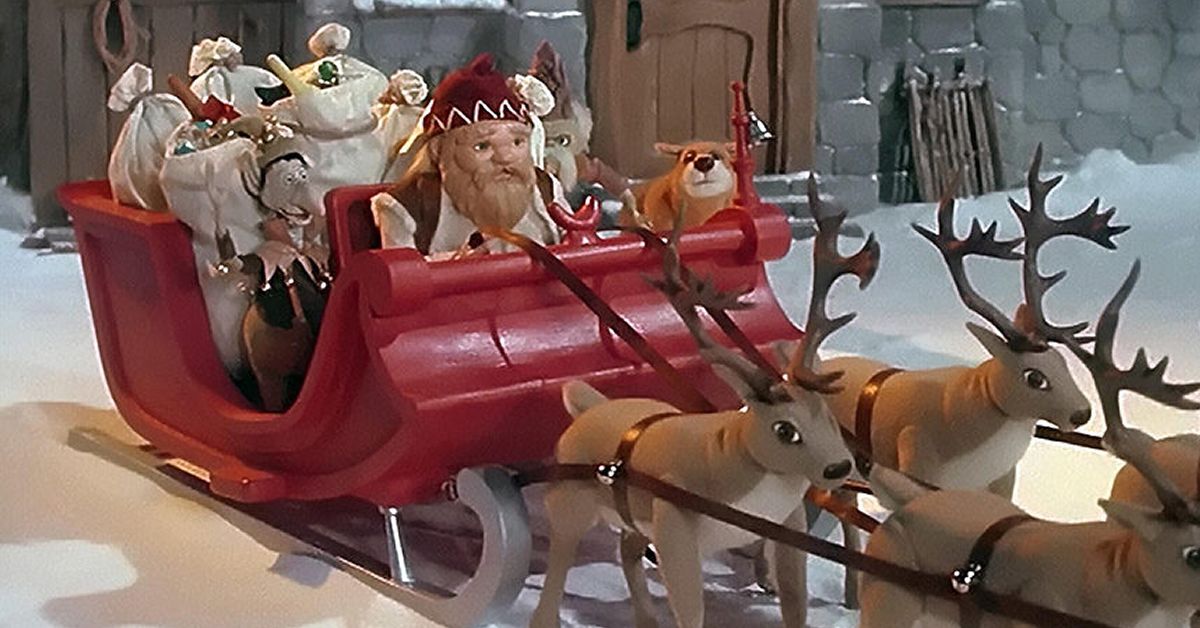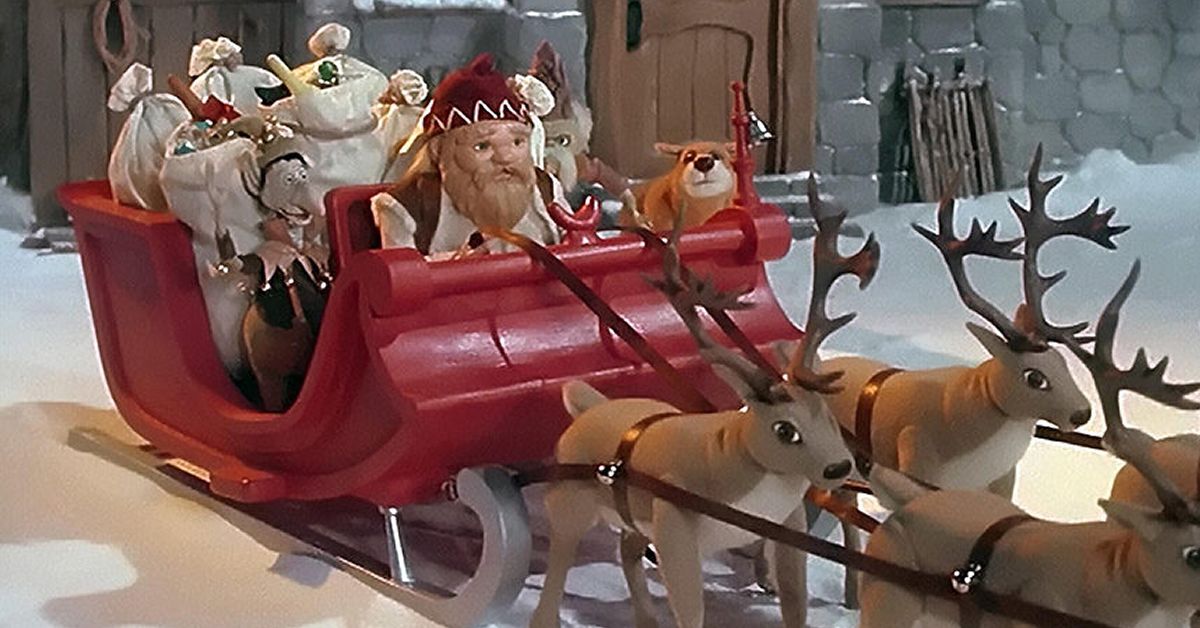 In 1964, Rankin/Bass (then known as Videocraft International, Ltd.) premiered to the world a little special titled Rudolph the Red Nosed Reindeer. Nobody could have expected the special to make such a lasting mark in the world. Now, it is quite hard to think of the holiday season without including the many stop motion "Animagic" specials that has since come from the studio. They continue to be broadcast yearly on television for new generations to find, and many see multiple new releases on home media. But there is one particular special that is not been given the same level of attention as Rudolph or Frosty. It is the story of Santa Claus, but not the one voiced by Mickey Rooney, and it also marked the end of an era for the studio.
MOVIEWEB VIDEO OF THE DAY
The Life and Adventures of Santa Claus tells the story of Santa's upbringing, but cheer and merriment take some time to be established. While most Rankin/Bass specials play their opening credits with a cheerful suite of the movie's soundtrack, The Life and Adventures of Santa Claus opens with an almost dirge-like chorus. Meanwhile a parade of immortal figureheads make their introduction to the Great Ak, who has called them for an important meeting. This meeting is used as a framework, for Ak has summoned the other immortals to tell the story of his friend.
It turns out Claus was an abandoned baby who ended up in the forest of Burzee, the home of immortal beings such as fairies and nooks. Ak himself found the child, and set him to be raised first by the lioness Shiegra, then Necile the Wood Nymph. The young Claus grew up in happiness and peace, surrounded by friends and nature. When the boy became a young man, Ak summoned him for a visit to the world of men. During the trip, Ak showed the boy the hardships and cruelty of men. Claus was shown starving children on the streets, children being trained to become soldiers, children who were already put through hard labor for scraps. This exposure caused Claus to dedicate himself to helping his fellow mortal men, particularly children. After he grew into a man, Claus set off on his own and built a house in the snowy Laughing Valley of Hoahaho. One night, he finds a boy almost frozen in the snow and shelters him in his home. During the night, Claus carves his very first toy for the child, a little wooden cat. After the toy becomes a big hit with the other children in the village, Claus finds his purpose.
It is not long before Claus finds enemies with his toy-making. His acts of generosity have upset the Awgwas, who walk invisible amongst the mortals and encourage children to misbehave. Over and over they confront Claus as he attempts to bring gifts to children, stealing the toys and stowing them away in their caverns. Ak and the immortals of the forest declare war on the Awgwas, spurred on by the love of their mortal friend.
Life and Adventures of Santa Claus owned by Warner Bros. Television
Already this story certainly stands out amongst the more traditional presentations of the character of Santa Claus. No red cap, no jingle bells, and the arctic themes are comparatively toned down. Among fans, the story is more often compared to The Lord of the Rings with its imagery of forest beings battling monstrous beings. But at the center of it all is the story of a man who wanted to make the children of the world feel as loved as he did.
The Life and Adventures of Santa Claus started with L. Frank Baum, who is most well known as the author of The Wizard of Oz series, who wrote and published the book in 1902. While he did not write the book as a volume of his Oz series, it did introduce The Gnome King, who later appeared in Ozma of Oz. Santa Claus himself would also travel to Oz in The Road to Oz.
Life and Adventures of Santa Claus owned by Warner Bros. Television
Rankin/Bass were the first to attempt an adaptation of Oz's original story. After decades of delighting the world through their "Animagic" specials (which were animated in Japan by Dentsu Studios), they decided to end on something of a grander scale. The Life and Adventures of Santa Claus was the first of their holiday specials that did not feature a narrator played by a major celebrity. Much of the voice cast are played by veteran voice actors, many of whom also performed on other Rankin/Bass shows like Thundercats and Silverhawks. The special starred Earl Hammond as Santa Claus, Alfred Drake as Great Ak, Lesley Miller as Necile, J.D. Roth as the Young Claus, Lynne Lipton as Queen Zurline, Larry kenney as The Commander of Wind Demons, and Robert McFadden as Claus's friend Tingler. The special premiered on December 17th, 1985 on CBS.
Since Rankin/Bass made their attempt, the story has been adapted again in 2000 by Mike Young Productions. This adaptation features the voice of Jim Cummings as Santa and Hal Holbrook as The Great Ak. There was also a graphic novel adaptation illustrated by Mike Ploog, which was released in 1992. There were also several attempts at a theatrically released adaptation. One animated feature that would have been co-produced by Hyde Park Entertainment and Toonz Entertainment, this project was cancelled. There was also a script titled Winter's Knight, which was inspired by The Life and Adventures of Santa Claus, purchased by Sony in 2014. As of now there is no news of this project heading to production.
The Life and Adventures of Santa Claus owned by Warner Bros. Television
While Rankin/Bass's more landmark specials have had multiple releases throughout the years; through VHS, DVD and even Blu-ray, some have gotten considerably less attention than others. The Life and Adventures of Santa Claus as of now has only had two significant home media releases, one VHS in 1990 and a DVD in 2009 where it was paired with Nestor, The Long-Eared Christmas Donkey. The special continues to be aired every holiday season, initially on ABC Family and Freeform. Since 2018, AMC has taken up broadcasting it and the other Rankin/Bass specials.
If you consider the specials of Rankin/Bass part of your holiday tradition, you might owe yourself to check this one out if you haven't already. It manages to stand out among the others, be they the more candy coated like Rudolph, or the more religiously toned like The Little Drummer Boy. But despite all the fantastical and strange, it shows the potential of the true power of a figurehead such as Santa Claus. It is the power of giving, and of compassion for your fellow mortals. In special's final scene, Claus meets with Ak outside of his house, next to a newly decorated Christmas tree. "I have devoted myself to the children, Great Ak, for in all this world there is nothing so beautiful as a happy child." These were the last lines from an Animagic character in a Rankin/Bass special, and they couldn't have been a more appropriate sendoff. These specials continue to entertain children all around the world, starting with a misfit reindeer, and ending with the one mortal deserving of true immortality. The Life and Adventures of Santa Claus may have been the end of an era, but it continues to remain a story worth retelling and re-visiting.
Die Hard Is a Christmas Movie Whether You Like It or Not
A deep dive into the beloved action film, Die Hard proves it's also a Christmas classic.
Read Next
About The Author
Caroline Miller
(35 Articles Published)

Caroline is a longtime admirer of film, music and the arts. She's been giving movie opinions online (warranted or not) for over a decade, and putting those thoughts to Movieweb since early 2021.
You can view the original article HERE.