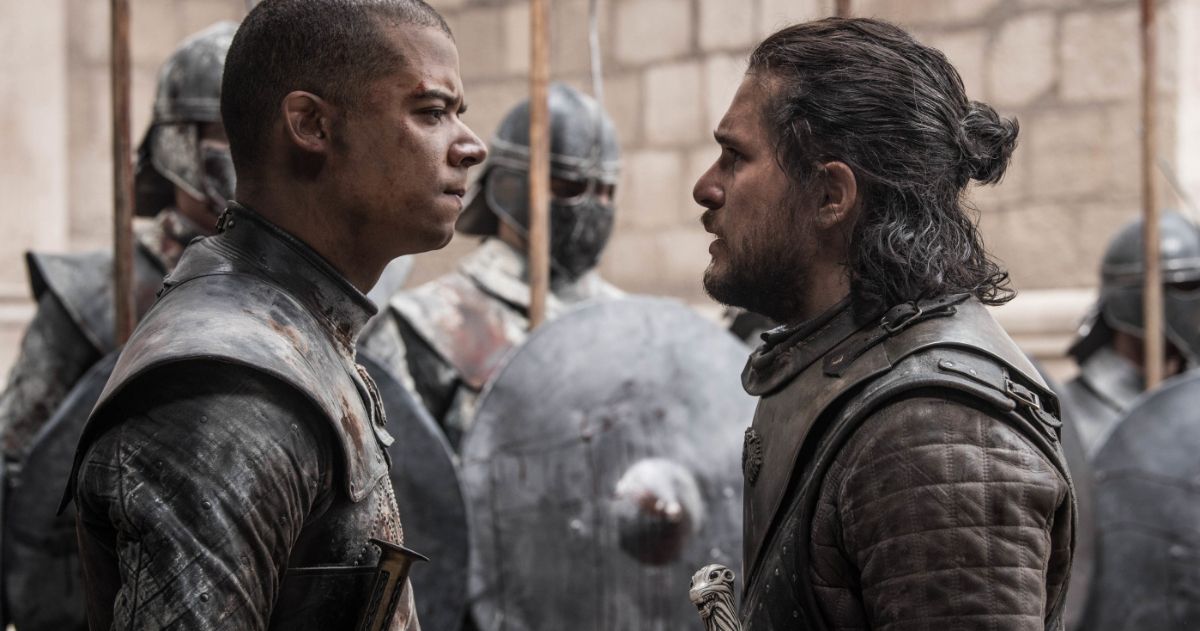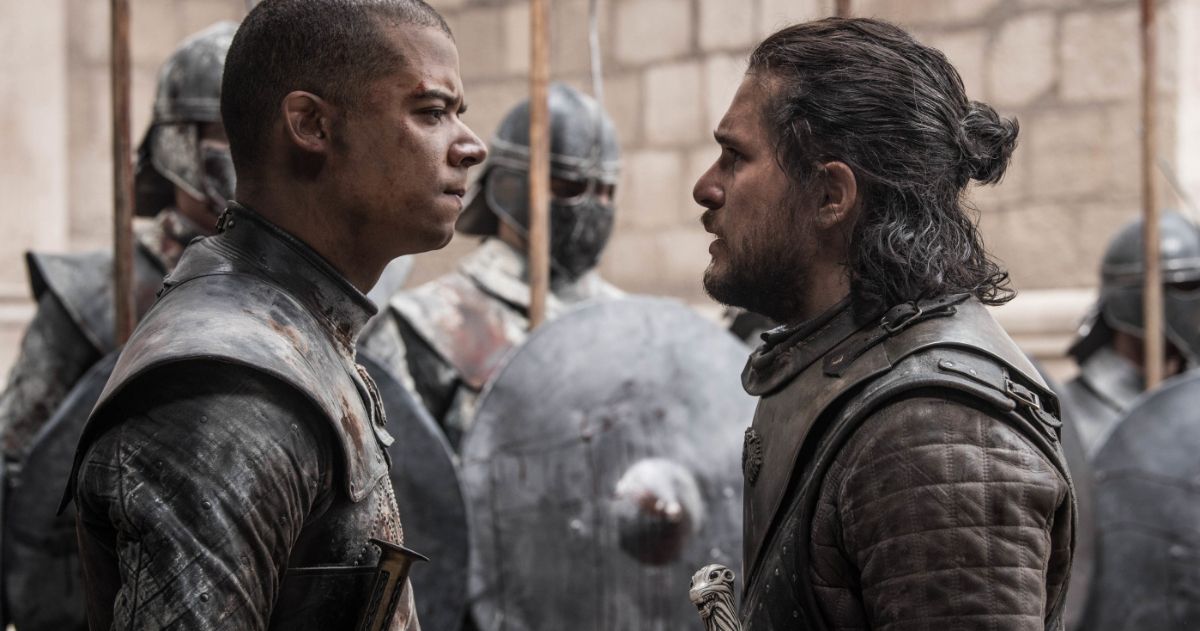 Grey Worm might be one of the few characters to survive Game of Thrones, but that doesn't mean he's guaranteed to show up in the sequel series. Previously, it was reported that a new spinoff following Kit Harington's Jon Snow is in development at HBO. Details are scarce, and at this time, there are no other cast members attached to the project, making it currently unknown if there's any other familiar faces fans should expect to see.
In the original series, Interview with the Vampire star Jacob Anderson played Grey Worm, a loyal confidante to Daenerys Targaryen (Emilia Clarke). It was Jon Snow who ultimately put a stop to the mad queen's reign, and though he may have had his reasons, the killing is not something Grey Worm would take lightly. For that reason, Anderson doesn't foresee Grey Worm being a part of the sequel show unless he's there to get revenge for Daenerys. As he says in a new interview with E! News:
MOVIEWEB VIDEO OF THE DAY
"I think it'd be pretty tense if he did. I think the only way that Grey Worm would show up in that show is to kill Jon Snow."
Those "tense" feelings aside, it's also geographically unlikely for Grey Worm to stumble across Jon Snow anytime soon after we last saw the characters. Jon went back to the wall while Grey Worm returned to Naath, leaving Westeros behind. Anderson doesn't think it's likely that Grey Worm would have any reason to go up near the wall and would probably prefer to never see Jon Snow's face again.
"That was quite a significant condition of [Jon] living… was that I don't ever want to see your face again. I'm gonna go my way. And you're gonna go your way… I'd be very surprised if we saw Grey Worm again."
Related: Game of Thrones: Every Character on Arya's Kill List and Their Deaths, Explained
The Jon Snow Spinoff Could Feature Other Fan Favorites
HBO
There are other characters who could possibly appear in a Jon Snow spinoff series, as the actors appear more open to that idea. Arya Stark seems like someone who'd have more reason to want to see Jon Snow again at some point in the future, and on a potential return, Maisie Williams is keeping a "never say never" attitude. But she's not jumping at the chance until she is happy with where her character could be taken next.
"It's obviously a very exciting prospect, so never say never," Williams told People. "I'm still kind of piecing together what I think it should be, what I think would make people happy, and what I think would be fulfilling as well, as an actor, to do some kind of transition. We can't just do the same thing that we did — it's got to be new."
Gwendoline Christie also told Collider she'd be happy to return as Brienne of Tarth, given how much she loved playing that character. She says that even though she's trying to pursue different kinds of work these days, such as with her casting as Lucifer in The Sandman, Christie will always have a special place for Brienne of Tarth, never closing that door for a potential return to the beloved role.
"I love the sound of the Jon Snow spinoff. I really do," Christie said. "There are so many directors I would love to work with, and I want to create different kinds of work. That is my focus. However, I will never stop loving Brienne of Tarth, and I will never stop being interested by her."
You can view the original article HERE.