Who else but hosts Wendy Stuart and Tym Moss could "spill the tea"  on their weekly show "If These Walls Could Talk" live from Pangea Restaurant on the Lower Eastside of NYC, with their unique style of honest, and emotional interviews, sharing the fascinating backstory of celebrities, entertainers, recording artists, writers and artists and bringing their audience along for a fantastic  ride.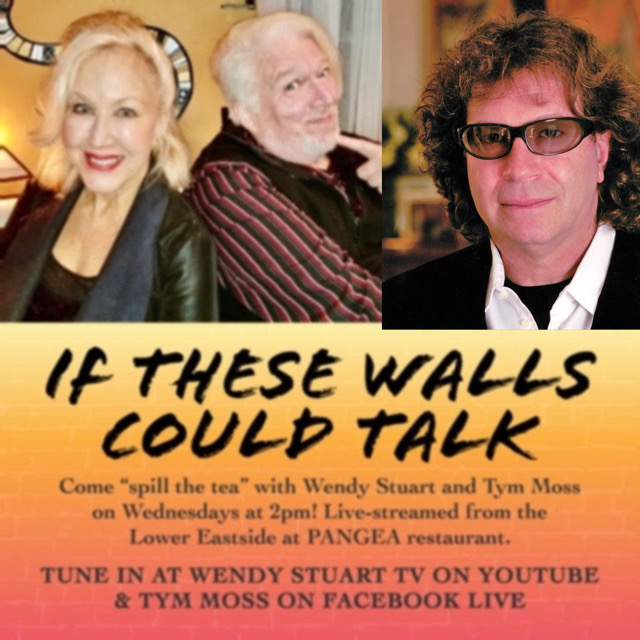 Randy Edelman will be a featured guest on "If These Walls Could Talk" with hosts Wendy Stuart and Tym Moss on Wednesday, July 21st, 2021 at 2 PM ET live from the infamous Pangea Restaurant.
Wendy Stuart is an author, celebrity interviewer, model, filmmaker and hosts "Pandemic Cooking With Wendy," a popular Youtube comedic cooking show born in the era of Covid-19, and TriVersity Talk, a weekly web series with featured guests discussing their lives, activism and pressing issues in the LGBTQ Community.
Tym Moss is a popular NYC singer, actor, and radio/tv host who recently starred in the hit indie film "JUNK" to critical acclaim.
Randy Edelman, the grand composer, producer and musician recognized for creating the soundtracks for some of the greatest films, television shows and sports events in history, has just released his highly anticipated anthemic song of hope and inspiration titled "Comin' Out the Other Side." The single is now available worldwide via Tribeca Records, a SohoJohnny Enterprise. The song promotes an epidemic of joy and happiness as a grand finale to a time best forgotten….
Randy Edelman is responsible for creating the soundtracks to legendary films including: "27 Dresses", "While You Were Sleeping", "The Last of the Mohicans", " Kindergarten Cop", "Dragonheart", "XXX", "Twins", "My Cousin Vinny", "The Mask", "Beethoven", " Dragon: The Bruce Lee Story", "Anaconda", "Mummy 3", "Ghost Busters 2", "Gettysburg", "Billy Madison", "Leap Year", " The Whole Nine Yards", and an endless array of others. Some of the Television shows and series he scored include: "MacGyver", "Mr. Sunshine", "Backdraft 2" for Netflix, and "Citizen X" for HBO. These are just touches upon his credits. He also created the music for "Dare Mighty Things" for NASA's final Shuttle launch, "Wimbledon, Grand Slam Tennis Series" for ESPN, "ESPN Sports Century", and even the NBC "Olympic Opening."

The artists who have covered Randy's original songs include: Barry Manilow, "Weekend in New England", The Carpenters, "I Can't Make Music", Nelly, "My Place", Willy Nelson, "Down in the Everglades", Patti LaBelle, "Isn't it a Shame", Olivia Newton John, "If Love is Real", Blood, Sweat and Tears, "Blue Street, Royal Philharmonic, "Grey", and once again another limitless list. Randy has also opened for artists such as Frank Zappa, and The Carpenters. He has received some of the most prestigious awards including BMI Top Grossing Film Awards, an Emmy, a Golden Globe nomination a Los Angeles film Awards for Best Score, BMI Top TV Series, Honorary Doctorate of Fine Arts, as well as many others.
Watch Randy Edelman on "If These Walls Could Talk" with hosts Wendy Stuart and Tym Moss on YouTube here:
Subscribe and listen to "If These Walls Could Talk" on Apple Podcasts/iTunes here:
https://podcasts.apple.com/us/podcast/if-these-walls-could-talk/id1561221158