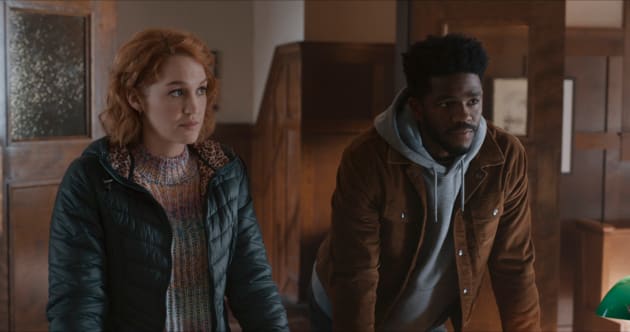 If it's not one thing, it's another for the fledgling nation of Greylock.

After Sarah outmaneuvered New Hampshire Gov. Taggert on The Republic of Sarah Season 1 Episode 3, the banks attacked on The Republic of Sarah Season 1 Episode 4.

Of course, they did, with those hidden fees that are their specialties. It's hard to blame that on Sarah.

Especially since she came up with an ingenious solution: Have Greylock print their own currency, backed by coltan, the resource that got them in this situation, to begin with.

The most enjoyable portion of this was developing the look of the bills, including all of Sarah's research. 

All Sarah has to do is sell that to her citizenry, who are taking their business down the road to New Hampshire.

That was certainly easier said than done when convincing citizens who didn't understand the mechanics behind what Sarah was attempting to do.

After all, Greylockians have had a lot thrown at them in recent weeks, so they're bound to feel a little leery about any changes.

So, it was only natural that the residents made a run on the local banks to withdraw their American funds rather than bet on the new Greylock bills.

If only Sarah just had this one problem with which to deal. But life is never that simple for her.

In the midst of this currency crisis, Ellen came to her with a proposal. AA wasn't intensive enough for her, so she found a rehab program that she wanted to attend. She needed Sarah to be her sobriety support, dropping her off and picking her up.

But Sarah couldn't leave well enough alone, being the control freak that she is. 

First, she got into it with Danny, who suggested that Sarah would have no one left to take care of if Ellen got sober. She appeared overly sensitive about that accusation.

Then she decided that the program Ellen had chosen was run by hippies and proceeded to research other programs against the advice of Corinne.

Yes, she eventually folded and went along with Ellen's choice, going against her controlling tendencies.

But that was only the start of Sarah's scheduling conflict. The same day that she planned a town meeting to address the importance of having Greylock's own currency, she was scheduled to drop off Ellen.

This meant she had to leave the sales pitch in the hands of her best friends: Corinne, A.J., and Grover.

It was great to see that Grover had largely forgiven Sarah for the eminent-domain seizure of his property so that Lydon could mine coltan on that site.

 Hell, Grover even forgave Danny, his new neighbor at the motel, eventually.

Granted, at first, Grover blasted his TV after Danny asked him to turn it down. But later, they were drinking beers while watching a hockey game like the old buds they likely were.

It was a perfectly Sarah move for her to continually be checking her cell signal in the boonies, trying to check in on how things were going in Greylock.

Ellen calmed down Sarah by reminding her how often that trio had come through for her in the past. Sarah returned the favor at the rehab facility, bucking up the suddenly tentative Ellen and helping her to get checked in.

Sarah was shocked when she returned to Greylock to discover all the businesses shut down on Main Street.

Fortunately, that was only a ploy dreamed up by Grover to make citizens realize what they had to lose if Greylock shut down. That led to all the first batch of currency being snatched up. Sarah's cute new town motto, "In Us We Trust," can only help.

It was surprising that Corinne and A.J. had time to help out as much as they did since both had their own dramas with which to deal.

Corinne had a couple of problems, the first of which was her odd son, Josh, who eventually brought his teammates around to the plight of the bees by wearing a bee costume for several days despite ridicule.

Josh ran into Danny, literally, who was being nice to him when Corinne snapped at him. Later, Grover straightened out Danny as to why Corinne was still pissed at him. But Danny continued putting his foot in his mouth on that front when they talked again later.

An intriguing storyline, the affair between A.J. and Alexis, the ex-mayor's wife and Bella's mother, finally came to the forefront.

When they almost got caught by a deliveryman, Alexis got cold feet and snubbed A.J. later. They appeared to be on the rocks until Alexis took the receptionist job at the police station, so she had an excuse to see A.J. daily.

Alexis had more time on her hands because William shipped off Bella to boarding school to get her away from the town's radicals, including that Indian boy she was dating.

Bella and Tyler were uncertain about how to keep their relationship going.

It didn't help that Tyler fumblingly rejected her offer of sex on the day before she was to leave.

Fortunately, they found a way back to each other before Bella left. The hard work is yet to come.

To revisit Sarah's governmental policies, watch The Republic of Sarah online.

Will Ellen get sober in rehab?

Besides Sarah, who will Danny repair relationships with?

How can A.J. and Alexis keep their affair quiet in such a small town?

Comment below.
Edit Delete
Dale McGarrigle is a staff writer for TV Fanatic. Follow him on Twitter.
You can view the original article HERE.