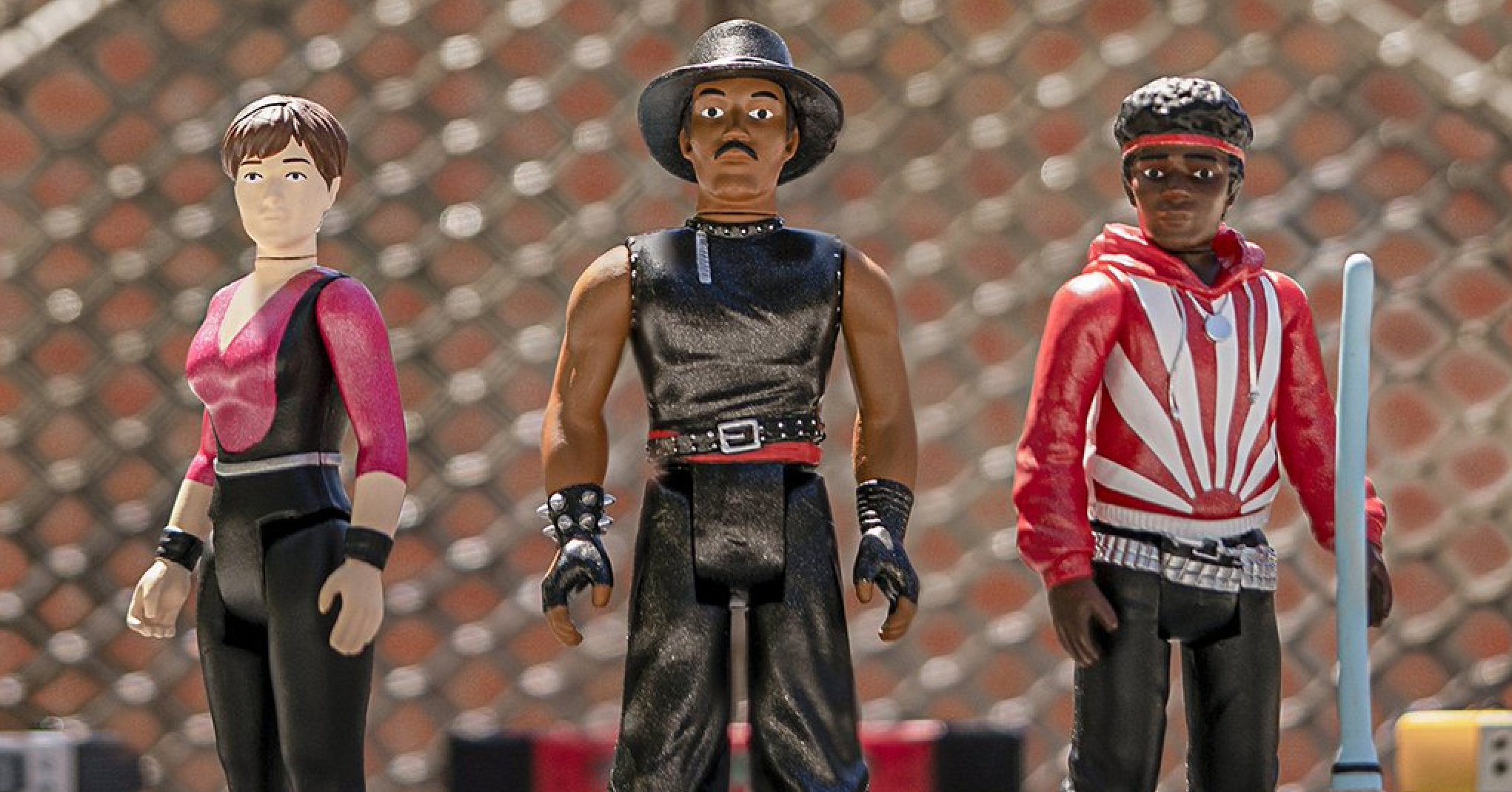 Well, we can all scrap and start our letter to Santa over again. Top of the list? Why the Breakin' ReAction Figures – 3-Pack from Super7, obviously! The 1984 film Breakin', starring Adolfo Quinones, Michael Chambers and Lucinda Dickey has gotten the Super7 treatment, and they pulled out all the stops! If you've already started poppin' and lockin', you're not alone! Check our street dancing trio out!
Super7 describes this must-have, saying, "Show those uptight Broadway-types that some dancers have so much heart and soul that it can't always be contained by a stuffy dance studio! This Breakin' Boombox 3-pack features slipcase packaging that resembles an old-school boombox and includes special edition metallic ReAction figures of Ozone, Turbo (with broom accessory), and Special K. The Breakin' Boombox 3-pack will have you poppin' and lockin' and breakin' your way to a giant dose of 80's nostalgia. If you want your collection to be truly Fresh, then you should order the Breakin' Boombox ReAction 3-pack!"
MOVIEWEB VIDEO OF THE DAY
Joel Silberg's Breakin' capitalized on and catapulted the dance movement, bringing it to the forefront of fashion, music, and, of course, the moves on the dance floor. Backspins, poppin' and lockin', breakin', headspins, handspins, they permeated the the clubs and school dances and the lexicon of even the squarest parent. The soundtrack was dynamite! We all suddenly needed parachute pants! Some of us definitely sustained injuries attempting moves that seeminlgy defied gravity. It was worth it! Breakin' united the world through dance.
Adolfo Quiñones agreed, explaining, "When I first met Lucinda Dickey, I was certainly not game for Lucinda Dickey to be that counterpart because I felt like, 'Well, why do you have to put a white person in our world to validate us?' I was taken aback by it, and I resented it on many levels," he says. "But then when I got to meet Lucinda Dickey, and I got to work with Lucinda Dickey, and I got to see the success that we did together, I realized it was the best move that ever happened, and I'm happy that it happened. At the end of the day, Lucinda Dickey brought an aspect to hip-hop, to street dance, that wasn't afforded before. It made it so that everyone could do it, and it was accessible to everyone."
The trailer will make you pop in your VHS that you recorded off of HBO to experience the movement all over again. Look at that little whipper-snapper Ice-T MC-ing! Who is that dancing in the background? Why that's a young, up-and-coming martial artist that goes by the name of Jean-Claude Van Damme. Christopher McDonald, currently portraying Bob Bennett in American Crime Story, played Kelly's agent. He'll always be Goose in Grease 2 for me.
So now you can check that special person's gift off the list. This Breakin' Boombox 3-pack has got you covered. Be warned, if you decide to head over to Super7, you might need to block some time out of your day. That walk down memory lane could take all night!
James Bond Favorite Henry Golding Responds to the Idea of 007 Diversity Casting
Henry Golding doesn't think diversity should be a factor when casting the next James Bond, they simply need the substance that fans expect.
Read Next
About The Author
Brandy Lynn Sebren
(418 Articles Published)

I'm the one that speaks in random movie dialogue. I almost always miss contact on high-fives. For years, I have been writing, speaking at length, and thanking the gods that my shocking encyclopedic knowledge of music, film and TV has proven valuable. Most commonly asked question? "Why do you know that?"
You can view the original article HERE.