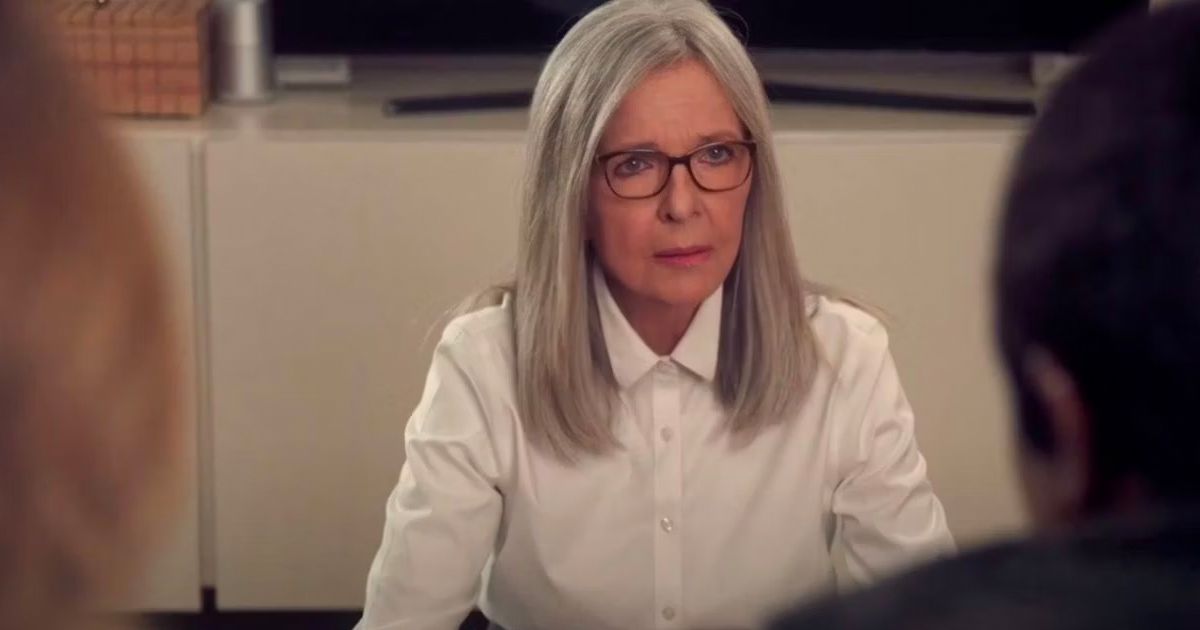 A millennial writer (Elizabeth Lail) instantly ages forty years and pretends to be her aunt (Diane Keaton) in Mack & Rita.
Gravitas Ventures
A thirty-year-old writer with an older soul and sensibility is magically aged forty years. Mack & Rita takes the concept from the classic Big and fumbles it with a scattered approach. The bubbly, montage-driven narrative has streaks of romance and melodrama that make little sense. Themes of empowerment and being true to yourself are spoon-fed with a syrupy delivery. There's never a moment of real tension. You know exactly where the plot is going from the first act. The always likable Diane Keaton gets a few chuckles from an exuberant lead performance.
Mack Martin (Elizabeth Lail) feels like an "old gal in a young girl's body." She's always struggled to fit in with her peers. Mack only felt comfortable being with her grandmother (Catherine Carlen). She's suffering from writer's block while working on her second novel. Her rude and terse agent (Lauren Beveridge) tries to get her paid as an influencer; which goes poorly as Mack doesn't like the pretentiousness of social media. She also doesn't recognize that Jack (Dustin Milligan), her hunky neighbor and dog sitter, has a serious crush.
MOVIEWEB VIDEO OF THE DAY
Mack goes to Palm Springs for her best friend Carla's (Taylour Paige) bachelorette party. The other women want to drink and attend a Bad Bunny pop-up event. Mack skips the partying to check out a "past life regression" tent. She enters Luka's (Simon Rex) bedazzled tanning bed in frustration. He mumbles a goofy incantation with astonishing results. Mack exits the tanning bed as her seventy-year-old self. She and Carla freak out at the shocking transformation. They return to find the tent gone. Mack pretends to be her aunt, Rita (Keaton), while they search for Luka. Rita becomes everything that Mack wanted to be. She achieves social media fame and connects with Jack, but soon realizes that she must reclaim those lost years.
Fall Review: Vertigo-Inducing Thriller Nails a Whopper Climax
Mack & Rita wants to show that older women are vibrant and attractive. Jack falls head over heels in a May–December romance. Everyone that thought Mack was a total buzzkill absolutely adores Rita. She's an internet sensation with followers flocking in droves. Paid influencer money raining down as the likes skyrocket. The film drives over a fantasy cliff. Rita's immediate success is ridiculous and laughable. I can understand the desire for wish fulfillment but there had to be more restraint here.
Veteran actress and director Katie Aselton (Black Rock) relies heavily on montages. This is a sign of a weak script. Some are meant to be humorous with trippy visual effects but fall flat. I think that Aselton was trying to recreate a teenage cinema vibe à la Clueless. It's hyperactive to a fault. Again we go back to less is more.
Keaton gives it her all with lots of yelling and jumping around. Mack's character was never this outgoing. It's puzzling that Rita has so much energy. That said, a lesser actress would have looked foolish. Mack & Rita gives Keaton an outlet to prove her continued capability. It's not enough to save a frivolous and forgettable film.
Mack & Rita is a production of Page Fifty-Four Pictures, Rhea Films, Hercules Film Fund, Hungry Bull Productions, and CaliWood Pictures. It will be released theatrically on August 12th from Gravitas Ventures.
You can view the original article HERE.