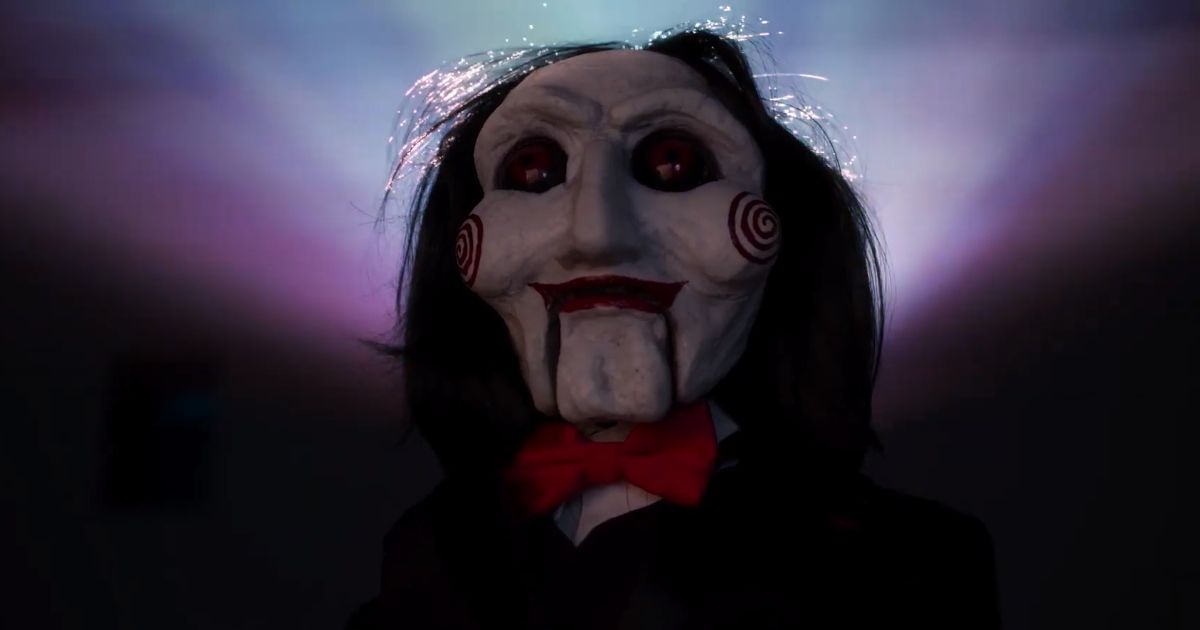 Summary
Fans of AMC cinemas are familiar with their repetitive and annoying "We Make Movies Better" ad, which features Nicole Kidman and plays before movies start.
The parody ad by Lionsgate for Saw X, featuring the Jigsaw puppet, is receiving positive feedback on social media from those who are tired of the original AMC ad.
Other parodies of the AMC ad, such as one from Saturday Night Live, have also gained attention, showing that the ad campaign has become a subject of ridicule.
If fans go see Saw X at AMC, they know what to expect: arguably the most annoying in-theater ads of all time. Cinephiles who frequent AMC cinemas realize what's coming after they've stood in line for their popcorn, drinks and treats. Once the trailers conclude, and just when movie fans think their film is about to start, that's when AMC's We Make Movies Better advertisement pops up on the screen. Featuring Nicole Kidman, the ad reminds everyone just how much they all should love the AMC experience… when those customers are already sitting in an AMC auditorium. And now, as a part of Saw X's marketing campaign, Jigsaw himself is taking a playful stab at the repetitious advertisement. Check out the Lionsgate parody below:
The Lionsgate We Come to This Place… ad seems to be striking a chord with those who have already seen it on social media. In the YouTube video's comments, @garretthegamer3318 and @inthebasement1592 recommend that Saw X's marketing team receives a raise for coming up with the clever promotion. For those who don't frequent AMC theaters, or haven't seen it before, check out one variation of the Nicole Kidman AMC ad, at the end of this story.
AMC Stubs A-List members can see up to three movies each week, with their premium subscription plan, so they are constantly inundated with the repetitious nature of the Kidman commercials. And some people have already expressed their appreciation for the Saw X version, as the parody playfully replaces Lionsgate for the theater chain, and Kidman is swapped out for the tricycle-riding Jigsaw puppet, Billy. @ihartTSwift says:
I have AMC A-List. So I can't tell you how many times I've seen Nicole Kidman. I f—ing love this and wish it plays before Saw X!
@novaphoenixx4049 adds:
"This needs to play in place of the Nicole Kidman version for Saw. Like, it has to."
Related: Saw 10: Plot, Cast, Release Date, and Everything Else We Know
AMC — No, 'Traps Make Movies Better'
Lionsgate's hilarious spoof of AMC Theatres' Nicole Kidman ads finds Billy trying to navigate the treacherous stairs of the darkened movie auditorium before he finally makes himself at home. The Jigsaw puppet watches some footage from his own film, and then he lets viewers know that traps are what make movies better, not AMC. And fans on social media are already responding to the parody. @miyuamano8501 wrote in the YouTube video's comments:
Best intro for any movie theaters. And Billy definitely beat Nicole in that department. 😏
@frankiefriedman6158 added:
I would be very impressed if AMC theaters actually played this instead of the Nicole Kidman AMC 'We Come To This Place' message.
Lionsgate is not the first to make fun of AMC's ad campaign featuring Kidman. Saturday Night Live's Chloe Fineman did her own impression of Kidman as all kinds of madness breaks loose inside SNL's warped version of AMC Theatres. Kenan Thompson sits down near Kidman (Fineman) to enjoy a movie. But Thompson's character is so creeped out by her that he gets up and leaves! At the end of the skit, Thompson exclaims, "What the f— just happened?"
Saw X opens in theaters — yes, including AMC locations — on September 29. The horror sequel is currently tracking to make between $10 million and $15 million over its opening weekend (per Boxoffice Pro). And don't forget to check out the Nicole Kidman AMC ad that inspired Lionsgate's We Come to this Place… promotion below — because AMC Stubs A-List members haven't seen it enough already:
You can view the original article HERE.