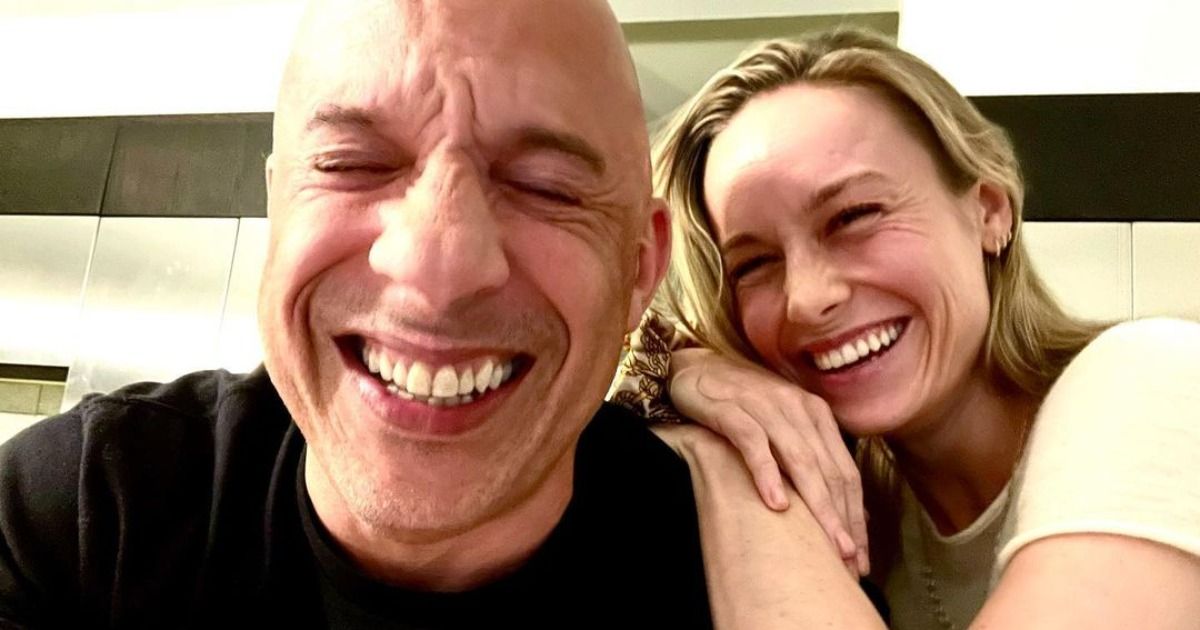 Fast X just released a trailer that featured Jason Momoa and Brie Larson's characters in the film. The trailer saw what the pair would look like joining the Fast and the Furious franchise. While many details about their characters are still under wraps, Vin Diesel shared some details about Brie Larson's character in the film.
In the recent Harpers Bazaar interview of the Oscar-winning actress and Vin Diesel, the actor revealed the cute inspiration behind her character. He spilled that Larson's character was based on his 8-year-old daughter. During the film's production, his daughter wore a jacket with words printed on its back with "Good Vibes Only." Diesel shared what Larson did next, saying:
"Brie went to the wardrobe department and had them recreate the jacket. She wore it throughout the movie."
While Larson didn't comment on Vin Diesel's story, her representative told EW that Diesel's account was in fact accurate.
RELATED: Michelle Rodriguez Teases What to Expect from Fast X
Stepping Away From the Limelight
While the actress is busy with different projects at the moment, she once stepped back from the limelight. During the height of the pandemic, Brie Larson deliberately pulled away from Hollywood and started a YouTube channel. Her channel, Brie Is Online, was an attempt to let people know her better. Brie Is Online, which was made in her garage, currently has 700,000 subscribers and has accumulated millions of views.
The channel has videos of the actress' adventures off-screen, where she tries things such as working out, baking, playing video games, air frying, crafting, and even composting. Larson admits she loves crafts, and her passion can be seen on her channel. Aside from her vlogging, she also started her own podcast with her friend, actress Jessie Ennis. On the podcast, they tackle different topics and dive deep into the conversation about interesting subjects.
Rather than capitalizing on her fame and extending her brand, she simply wants to do things she enjoys. She wanted to freely express herself without holding back, saying:
"I wanted to prove that I could put stuff out and it wasn't going to be like, 'Oh, my God, I can't believe she said that' or 'I can't believe she did that.' " The past three years have given her perspective. She was grappling with big questions rooted in deep feelings, like "Am I allowed to exist? Am I allowed to just be lovable as I am? Am I worthy of just being here?"
Fast X lands in movie theaters on May 19.
You can view the original article HERE.