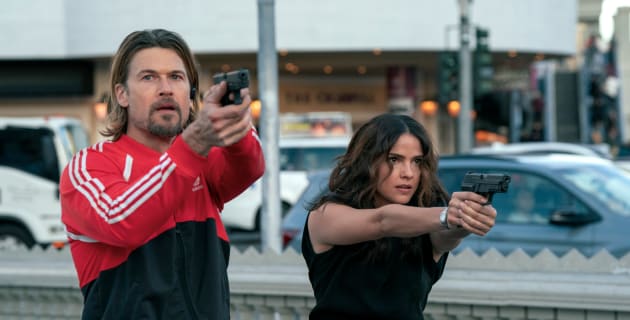 Here is a wrap-up of all the news you need to know from Wednesday, September 27, 2023.

Netflix has unveiled the official trailer for Obliterated, its upcoming comedy-drama starring Shelley Hennig and Nick Zano.

"Obliterated is a high octane action-comedy that tells the story of an elite special forces team who thwarts a deadly threat to Las Vegas," Netflix teases in the logline. 

"After their celebratory party, filled with booze, drugs and sex, the team discovers that the bomb they deactivated was a fake."

"The now intoxicated team has to fight through their impairments, overcome their personal issues, find the real bomb, and save the world.

In addition to Zano and Hennig, Obliterated also stars C. Thomas Howell (SEAL Team), Kimi Rutledge (Shrill), Paola Lázaro (The Walking Dead), Terrence Terrell (B Positive), Alyson Gorske (Shrinking), and Eugene Kim (The Lincoln Lawyer).

The series comes from writers Jon Hurwitz, Hayden Schlossberg, and Josh Heald, who serve as co-showrunners, executive-producing alongside Dina Hillier.

Heald, Hurwitz, and Schlossberg are also directors.

The promo teases action similar to Arnold Schwarzenegger's FUBAR.

After the conclusion of the WGA strike, there have been questions about when late-night TV would get back underway.

CBS' The Late Show With Stephen Colbert, ABC's Jimmy Kimmel Live, NBC's The Tonight Show Starring Jimmy Fallon and NBC's Late Night With Seth Meyers will all return with new episodes on Monday, October 2, 2023.

That's a fast turnaround.

Scripted TV won't be as fortunate, with many broadcast shows probably unable to be back until summer at the earliest.

Yikes, right?

Real Time With Bill Maher will likely be the first late-night series back on the air, with an episode scheduled on HBO for Friday, September 29, 2023.

Meanwhile, Joe Manganiello is moving into the world of unscripted TV.

Deal or No Deal is returning to NBC with an adventurous twist.

The new spin on the game finds 13 players transported to the elusive Banker's private island to compete for cash in a season-long, fully immersive competition.

The series will combine thrilling challenges, mind-bending dilemmas, and the classic game of Deal or No Deal as contestants try to beat the banker.

Manganiello will guide them throughout – leading the gameplay, relaying the banker's tempting offers, and helping them through the toughest decisions of their lives.

"The role of 'Deal or No Deal' host has always been held by someone charming, hilarious and devastatingly handsome," said Corie Henson, Executive Vice President, of Unscripted Content, NBC Universal Entertainment.

"When we took the show out of the studio and transported the game to the Banker's island, Joe was the obvious choice."

"He loves all kinds of games, lives for adventure and isn't afraid to stare down a snake or two to help players win a life-changing payday and, hopefully, beat the Banker at his own game."

Over in the world of Lifetime, the cabler is calling an assist from Theresa Caputo.

Theresa Caputo: Raising Spirits will premiere in 2024 on Lifetime, and no topic will go uncovered: from spending time as a devoted friend, mother, daughter, and grandma to many exciting first-time adventures.

She'll celebrate her son's wedding, help her daughter adjust to motherhood, visit with her parents next door…and channel her share of spirits for others.

Whether she's on the road or back home on Long Island, some people are put in Theresa's path for a reason, and she is known for her surprise readings.

Throughout the series, cameras will be there to capture these impromptu moments no matter if she's running an errand or at a drive-thru, and viewers will see as she often makes big impressions on skeptics time and again, leaving them stunned.

"It is an honor to help others reunite with loved ones who've passed and help so many people find closure while restoring their faith," said Caputo.

"I am thrilled to have the opportunity to share so many stories on Lifetime and excited to explore this new era with devoted fans and new audiences alike."
Edit Delete
Paul Dailly is the Associate Editor for TV Fanatic. Follow him on Twitter.
You can view the original article HERE.