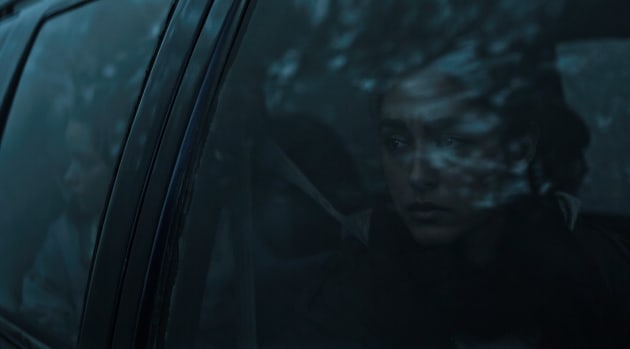 This has to be a breakthrough, right?

Several vital characters found ways to communicate with the invading aliens on Invasion Season 2 Episode 6.

So maybe soon we might get answers as to why the aliens are on Earth and what they want.

If humanity's leaders can get those answers, maybe, just maybe, they could act rather than react as they have so far. They can go on offense rather than continuing to play defense.

Man, it's taken a long time to get to this point. It's been a season and a half, and we still know little about the aliens.

They have to have more going on than just being mindless attacking machines, don't they?

Communication is going to be critical if humans are to survive. And at the forefront has been Mitsuki Yamato.

That's understandable, as she both feels guilty about and wants revenge on the aliens for the death of her lover, Hinata.

The alien entity hasn't allowed Hinata to rest in peace, using her memories to throw Mitsuki off-balance. But unlike the other scientists who have had their minds affected by their encounters with the entity, she has avoided such a trap.

That doesn't mean Mitsuki is above making suicidal moves. She allowed herself to be immersed in the entity on Invasion Season 2 Episode 5 in her search for answers.

She went even further in this episode, taking off her helmet in order to get in closer touch with the alien.

Fortunately, Mitsuki has Maya there to protect Mitsuki from herself. It's a good thing, too, since Nikhil appears more than willing to sacrifice her like all the unsuccessful researchers who came before her.

This makes little sense since Mitsuki has been the only one able to get in touch with the entity. If her mind gets fried, Nikhil's project returns to square one.

Mitsuki's gamble paid off this time, as she could sign a message in Morse code as she got close to being entranced by the entity in Hinata's childlike form. 

One of the brainiacs she works with picked up on that, and Maya flicked on the electromagnet, freeing Mitsuki.

A side benefit is that they were able to capture a sample of the aliens' language, bringing them closer to communicating with the invaders. It's hard to talk truce if you're speaking different languages.

This is the only concrete example of hard work leading to a breakthrough in the war against the aliens. Any other progress would qualify as dumb luck.

Take, for example, what's going on with Luke Malik.

It's been evident to everyone, except, of course, those around Luke, that he has some mental connection to the aliens. 

Luke hears voices every time aliens are near. It hasn't been established if that's a good or bad thing. But doesn't some advanced warning have to be a positive?

You would think his mother, Aneesha, the occasional doctor, might have looked further into this condition. But no. She just blew it off as a freaky one-time occurrence.

The alien ambush of the Movement rescue mission had to be one of those "wrong place at the wrong time" situations. It only makes sense that the aliens would set a trap on the road to the army base Camp Pierce.

Naturally, as the convoy crept through the fog, you knew nothing good was coming.

It's hard not to feel bad for Clark, the nice guy who has stood in Aneesha's corner. It figures he would be the one who got injured in that crash.

What wasn't clear was how many of Aneesha's detractors in the Movement got picked off by the creatures. That could have a bearing on what happens with the rescue of Sarah.

Aneesha deserves credit for returning to the woods to search for the missing Lucy. But she couldn't let another mother lose her daughter.

Also, that set up Luke's immobilization of that alien. The downside is that everyone saw him use his ability, whatever it was. So his secret is out now, for better or worse.

Finally, Jamila and her crew found another youth connected to the aliens: Casper Morrow.

Jamila has gone out on a real limb here, leaving behind her family and betting the bank on Casper's ability that she's seen him use once for a brief period.

But Casper represents hope to Jamila, as he's the only one she has seen who has put up much of a defense against the invaders.

Things looked pretty bleak in Paris. That wall of the missing drove home to the quartet how many were suffering because of the invasion, to the point where they left their names just in case.

It was good to see Jamila, who has been so strong in the face of adversity, falter when faced with the destruction and the possibility that Casper was gone.

Despite his personal setback, Monty came to her rescue, being there for her when she was at her lowest. But now Casper has been found, what role will there be in Jamila's life for the infatuated Monty?

How will Mitsuki's discovery help the war effort?

What will Luke's ability mean?

With Casper's mind foggy, can his abilities be useful?

Comment below.
Edit Delete
Dale McGarrigle is a staff writer for TV Fanatic. Follow him on Twitter.
You can view the original article HERE.