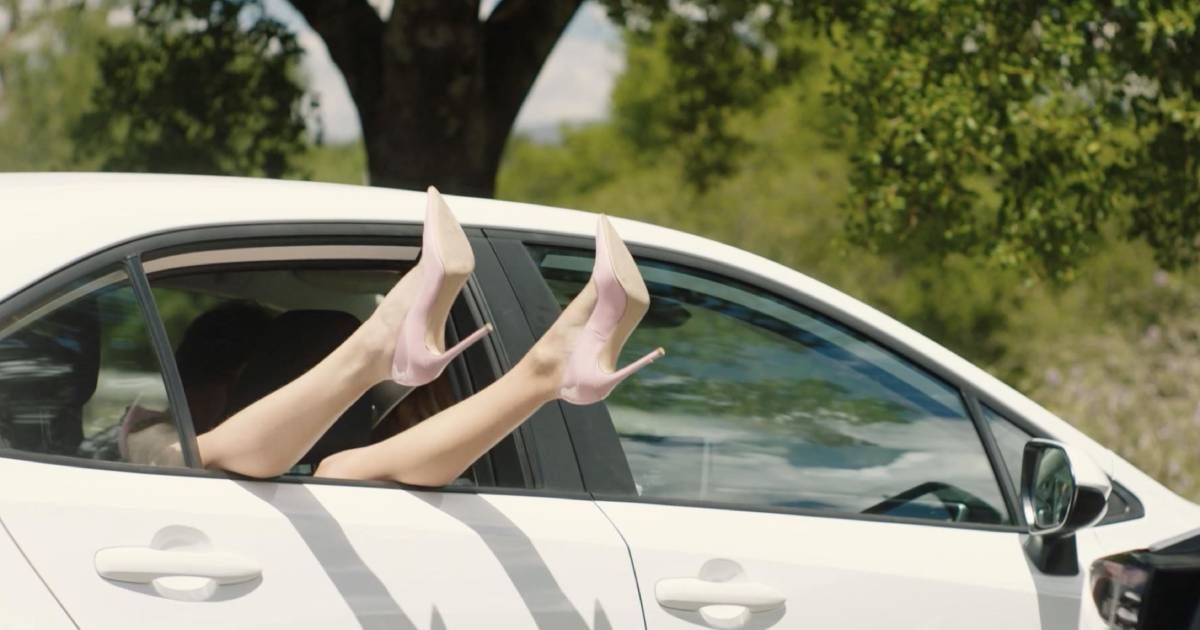 "Money doesn't solve your problems. It just makes them prettier." Well said, JJ Nolan — co-star of IFC's Pretty Problems, which hits select theaters and on-demand on October 7. Winner of both the Audience Award at this year's SXSW Film Festival and Best English Speaking Feature Film at the Sonoma International Film Festival, the film is a biting satire on the rich and/or famous. I'd say that's worth a tune-in — for adults only — even if the third act might fall victim to the suspected clichés that come with depicting the often-snooty upper-class lifestyle.
MOVIEWEB VIDEO OF THE DAY
The dry-humored, often cringe-worthy comedy follows a seemingly unhappily married couple, Lindsay (Britt Rentschler) and Jack (Michael Tennant), who also happens to be stuck in professional ruts. Through a chance meeting at Lindsay's dead-end retail job, they're ultimately invited to wine country for a long weekend by Cat Flax (Nolan), an ultra-wealthy housewife who always has a vape pen in one hand and a glass of wine in the other. Upon arrival at the big glass-box house on top of a hill, they're introduced to Matt Flax (Graham Outerbridge), a self-made billionaire who knows and owns how successful he is — and how privilege has provided for him. Along for the weekend are Carrie (Charlotte Ubben), an actress/model/dancer/whatever who's the arm candy of Matt's best friend Kerry (Alex Klein), a trust-fund kid whose grandfather invented — no joke — the tater tot.
The staff at the home includes Dan (Clayton Froning) an ex-Sea World trainer-turned-majordomo, Becca (Katarina Hughes), a Rhodes Scholar playwright who now plans parties, Georges (Tom Detrinis) a master sommelier, and Gigi (a standout Vanessa Chester) an on-call shaman ready to fix all the Flax's short-term problems. Lindsay and Jack's relationship is put to test over the weekend by the excess of wine and wealth that Lindsay wants — and Jack is afraid of. Here's a closer look at the new film overall.
Related: SXSW Exclusive Clip: Wine Tasting Escalates Quickly in Pretty Problems
Weekend Getaway Gone To Social-Status Hell
"We fall in love with potential and then are faced with the truth," said Pretty Problems writer Michael Tennant about the film in a statement. "I wanted to tell a story about a couple who had hit that ceiling and didn't know if they could get through it. I was also frustrated with my own career and waiting for the 'calvary to come.' I wanted to see if I could do what my heroes (Matt Damon, Jon Favreau, The Brothers Duplass, Jim Cummings) did. No one is handing me the career I want, so I'm just going to do it."
And it's a valiant effort, without a doubt. Pretty Problems looks bright, glossy, and picturesque throughout its duration — almost to a fault, which is surely what Tennant and the filmmakers intended: It's a lovely juxtaposition seeing these lovely visuals capture such passive aggression and awkwardness between the struggling couple and the group of wealthy misfits. After the film's opening sequence shows both Lindsay and Jack hating their day jobs and failing to be intimate at home, we quickly meet Cat, who brings them up to her "Sonoma" home in wine country.
It's hilariously symbolic, speaking of, when they arrive at the house and realize it's not actually in Sonoma, but rather in the "Sonoma region." Don't we all love to slap pretty labels on things to make them seem cooler than they actually are? Hey, anything to help us get a leg up on society…right? "This is a murder house," Jack quips when they pull up to the house for the first time. And when they learn the house is actually located in a town they've never heard of, the couple grows increasingly suspicious. And it's hilarious to watch.
From there, we see the expected tropes of working-class folks trying to blend into the outrageously wealthy scene at Cat's house — which is riddled with drugs and alcohol, mind you — such as an expensive trip to the local winery gone wrong and a silent disco in the basement that reveals a laugh-out-loud twist. Or maybe we saw the twist coming? You decide when you check it out.
Related: Exclusive: To the Moon Writer-Director-Star Scott Friend Talks Feature Debut
Casting A White-Collar Assembly
IFC FIlms
"We had to go through the process of taking it down to the study of the characters and their relationships and obstacles and amplify in some areas and shape their arcs, so we had a truly unique shape to the story, that pays off," said director Kestrin Pantera about the film. "It was really important to me that we empathize and truly get the POV of each character. Jaded Jack, Aspirational Lindz, Accomplished Matt, Depressed Cat, and the Kerries, who represent both ends of the wealth-dumb-bell-embodied as actual dumbbells."
And for the most part, the casting for these relatable, somewhat unique characters is spot on. The performance by JJ Nolan (S.W.A.T., Silicon Valley) takes the cake — we all know a "Cat" in our lives, don't we? And Britt Rentschler (Uncle Frank, The Detour) is pitch-perfect as Lindsay, the "working girl" trying to find the "in's" over the weekend in an effort to achieve her professional goals. Michael Tennant plays Jack we,ll as a character perpetually on edge — which may or may not have to do with his court-mandated probation. Otherwise, a couple of the wealthy side characters ultimately become a bit too caricature-ish to a fault — but the portrayals certainly highlight the story's mission to shed light on the ridiculousness that wealth brings. And for the rest of us, the working-class folk, sometimes wealth is just out of our hands, no matter how hard we try. After all, it seems to be a doomed mission for folks like Lindsay and Jack — but that's why we grow to love them by the end of Pretty Problems.
You can view the original article HERE.