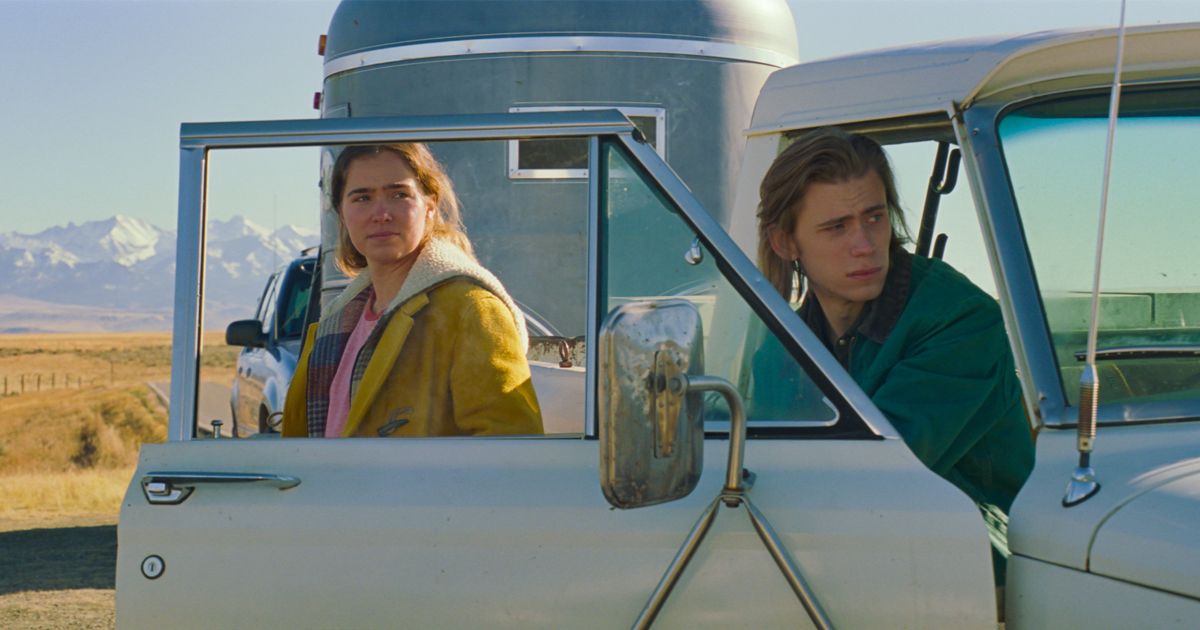 An estranged brother and sister come to terms over their abusive father in Big Sky Country. Montana Story is a powerfully dramatic tale of reconciliation. The narrative moves at a deliberative pace that feels meandering at times. The filmmakers use these intermittent lulls to gorge the audience on a picturesque setting. Montana's snow-capped mountains, its inclement weather, and Native people provide a rich backdrop to heavy themes. A noticeable fault centers on a supporting character that serves as a plot tool for simple exposition. Montana Story could have been more impactful if the leads were directly confrontational about their significant issues.
MOVIEWEB VIDEO OF THE DAY
Owen Teague stars as Cal, a reserved young man returning to his family's Montana ranch for a somber duty. His nearly brain-dead father lies at their home in hospice care. Ace (Gilbert Owuor), a Kenyan nurse, has been hired for death's transition. Valentina (Kimberly Guerrero), a long-term ranch employee, and her son, Joey (Asivak Koostachin), help as much as possible. The ranch has been foreclosed by the bank. It needs to be sold to pay medical bills and outstanding debt.
Haley Lu Richardson co-stars as Erin, Cal's temperamental older sister who vanished seven years ago. Cal, who loves his sister dearly, is astonished by her return. The bitter and angry Erin wanted to see her hated father "one last time" before his death. She's upset to learn that Cal plans to euthanize Mr. T, the family's beloved twenty-five-year-old horse. Erin decides to take Mr. T back home with her to upstate New York. The siblings are forced to address the ugly and violent events that caused their separation.
Related: Exclusive: Haley Lu Richardson Talks Montana Story
Quiet Realism in Montana Story
Montana Story is told with a quiet realism. Ace requests that anyone who enters their father's room wear surgical masks. Cal has mundane duties like selling his deceased mother's car to raise money. Erin is frustrated by the ranch's cell phone service. She has to stand by the outside gate to make calls. Joey is upset that his mother can't find work. These are regular people struggling with life's minutiae as death hovers. There's no escaping to deal with grief.
The relationship between Erin and Cal drives the plot. The film dances around the divisive incident for the first act. Something terrible happened, Erin ran away, and Cal has been overcome by guilt ever since. Ace becomes the genteel sounding board for Cal's confession. He literally tells Ace why Erin had to leave. I found this pivotal scene to be an easy way out. Ace's character exists solely for the audience to gain critical insight. This robs the film of a key conflict during the rising action. Richardson and Teague, both superb here, have their showdown in an emotional climax. Incremental steps should have been taken to reach this point.
Bleecker Street
Montana Story fills the screen with majestic beauty. The state's tourism office could use the film as a promotional guide. The ranch sits in a valley with an epic mountain backdrop. Erin rides Mr. T through the sweeping landscape. Cal plays his mandolin while staring wistfully in the distance. The ranch's impending sale represents the tragic loss of family and nature.
The film's sluggish moments bounce back enough to keep your attention. Owen Teague's (Bloodline, The Stand) star continues to rise. I also liked that the Native characters were integral and believable. Montana Story works as a neo-western with heart.
Montana Story is a Big Creek production. It will be released theatrically on May 13th from Bleecker Street.
Avatar: The Way of Water Poster Puts the Focus on a Child of Pandora
Read Next
About The Author
Julian Roman
(1525 Articles Published)

Julian Roman has been with Movieweb for nearly twenty years. An avid film buff, he feels lucky to have interviewed and written extensively about Hollywood's greatest talents. In his spare time he plays guitar, treasures good company, and always seeks new adventures.
You can view the original article HERE.