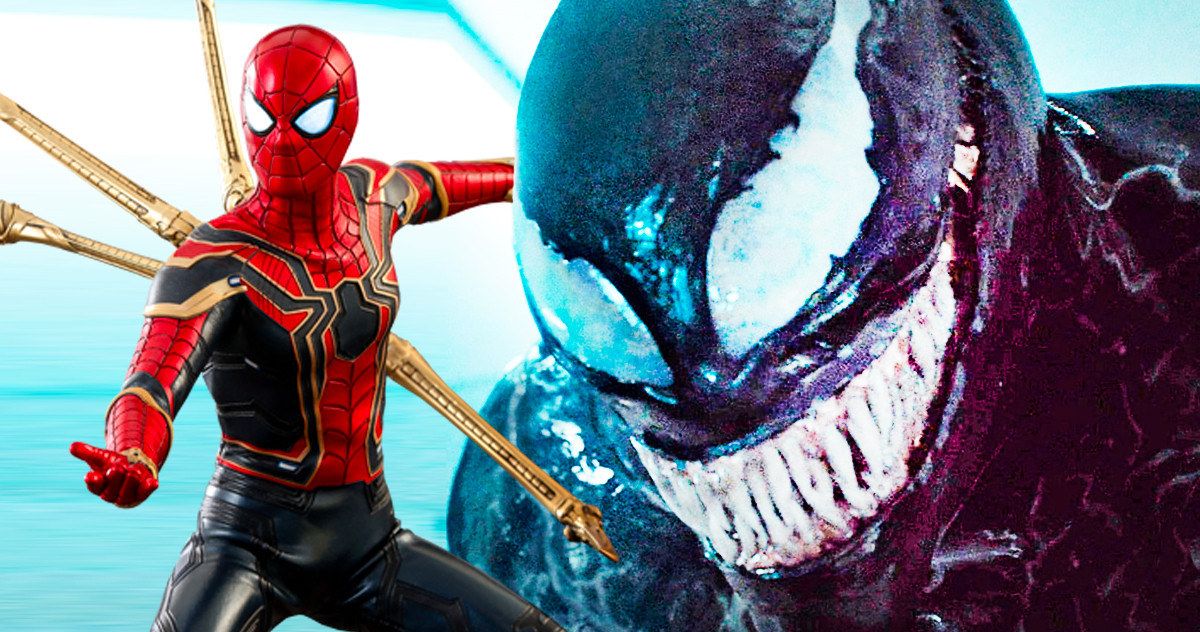 Venom mingling with Spider-Man on the big screen is imminent, and Kevin Feige has detailed the inspiration behind the crossover.
Tom Holland's web-slinger is going to have his hands full in Spider-Man: No Way Home, but he may not even have the time to catch his breath before meeting Tom Hardy's Venom. After the success of the first Venom, a Marvel Cinematic Universe crossover was teased with a post-credit scene from the sequel Venom: Let There Be Carnage. It's unclear if this means Eddie Brock will first appear in No Way Home or if Marvel and Sony are saving his meeting with Peter Parker for the next big movie.
What we know for sure is that the crossover is happening, even if it remains to be seen exactly how and when that happens. In a recent interview with Collider, Kevin Feige addressed the crossover and the inspiration that went into making it happen. As Feige explains, he was impressed with the positive response from fans for the first Venom, and given the character's comic book history with Spider-Man, he knew that now was the time to make these characters meet.
MOVIEWEB VIDEO OF THE DAY
"You look at the obvious comic connotations between Venom and Spider-Man and it is inherent. So the minute Sony made their Venom movie and it worked as well as it did, and Tom Hardy became as iconic as he has become as Venom, then the obvious question is then, 'How do we start to merge them?'"
Something which might work against Venom showing up in Spider-Man: No Way Home is that the movie only seems to be bringing in the supervillains who've perished fighting Spider-Man. Tom Hardy's Venom has not even met Peter Parker or Spider-Man, so if he's involved, it may not be for a confrontation with Spidey. With that said, his inclusion in the movie is still definitely possible. Various superheroes are also rumored to appear, most notably Andrew Garfield and Tobey Maguire, along with other favorites like Daredevil star Charlie Cox.
Venom and Spidey will still be going their own ways in the future as well. Venom 2 director Andy Serkis just recently said he hopes to return to work on Venom 3, which is in the early stages of development. Producer Amy Pascal has said that the third Venom is in the works but the major focus right now is getting everyone to first see Spider-Man: No Way Home, which can also be taken as a subtle tease that Tom Hardy's Venom might be involved.
There are also reports of Tom Holland starring in another trio of movies as Spider-Man following the release of No Way Home. The actor has teased that he could take on Kraven the Hunter in a future movie, revealing that Jon Watts had considered that villain as the antagonist in Holland's third Spider-Man movie before the multiverse storyline was locked down. There have also been rumors of the Sinister Six banding together on the big screen to take on Spider-Man and that's another possible direction Holland's next trilogy could find itself heading toward.
As far as Spider-Man: No Way Home, the truth of those rumors will finally be revealed when the movie is released on Dec. 17.
Kevin Feige Comments on That Venom 2 Post-Credit Bombshell
At the Eternals premiere, Kevin Feige took a moment to reveal some small details about the Venom moment that took everyone by surprise.
Read Next
About The Author
Jeremy Dick
(4538 Articles Published)

Jeremy Dick has been writing for MovieWeb and Horror Geek Life for years, is the self-proclaimed biggest fan of Bob Saget, and doesn't particularly like talking about himself in the third person.
You can view the original article HERE.