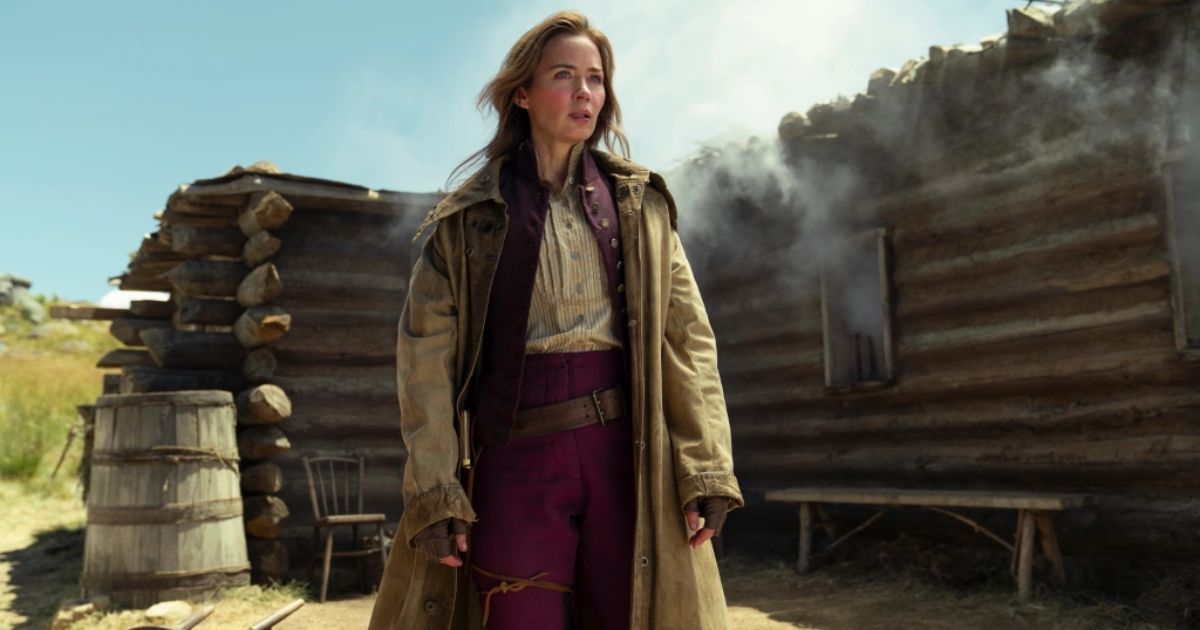 Two beleaguered souls meet as if by chance while braving the western frontier. "Can you shoot?" asks a Pawnee ex-cavalry scout, Eli Whipp (Chaske Spencer). Lady Cornelia Locke (Emily Blunt)—aristocratic, English, fish out of water, disheveled—replies: "If I have to."
Eli doesn't miss a beat. "Oh, you'll have to."
Welcome to 1890 middle America, a violent landscape inspired by big dreams and filled with plenty of bloodshed. It's the captivating setting of The English, the new Amazon Studios epic chase Western from award-winning writer and director Hugo Blick (The Honourable Woman, Black Earth Rising, The Shadow Line). The six-episode limited series, which hits Amazon Prime on November 11, also happens to be one of the most captivating Westerns to hit the small screen in some time—that's code for "temporarily pause what you're currently streaming, folks, and dive into this exceptional experience."
MOVIEWEB VIDEO OF THE DAY
The English follows Cornelia's entry into the daunting and dangerous new landscape of the West. She's determined to get revenge on an unruly gent she blames for the death of her son. Fate bumps her into Eli, a member of the Pawnee Nation by birth and a guy with his own dilemmas. It takes a lot to survive the treacherous souls occupying the West, after all. This series spares no details in showing how gruesome the late-1800s were, in fact. Suddenly joined together, Cornelia and Eli discover a shared history that they must defeat if either of them is to survive.
The stellar cast includes Rafe Spall (The Salisbury Poisonings, Trying) and Nichola McAuliffe (Tomorrow Never Dies, Doctor Who) in standout roles. Tom Hughes (A Discovery of Witches, Victoria), Stephen Rea (The Shadow Line, The Honourable Woman), Valerie Pachner (A Hidden Life, The Kingsman), Toby Jones (Marvellous, Detectorists), Ciaran Hinds (The Terror, The Woman in Black), Malcolm Storry (The Princess Bride, Doc Martin), Steve Wall (Raised by Wolves, The Witcher), Sule Rimi (Black Earth Rising, Strike Back), and Cristian Solimeno (Avenue 5, Guilt) are also on board.
When the series was being prepped for production, Blick noted: "The chance to make a Western with Emily Blunt and the cast is so delicious I'm still wondering if it's one of those weird dreams we were all having during lockdown. If not, a thrilling, romantic, epic horse-opera is heading to your screen… and I couldn't be more excited."
Related: The Fabelmans Review: Steven Spielberg's Heartfelt Memoir of Family & Filmmaking
The Acting in The English
Blick has a good reason to be jazzed about Blunt (A Quiet Place, Jungle Cruise, Mary Poppins Returns.) Always a joy to watch, the actress delivers a powerhouse performance as Cornelia, balancing the character's vulnerability with her fierce determination to right a horrible wrong, even though she's not fully equipped—at least in the beginning—to do so. An Emmy nod is in order for Blunt next year. The same can be said for Spencer (Blindspot, Barkskins), a rare on-screen presence—deep, grounded, often hypnotic. You don't experience many actors like Spencer and together, he and Blunt give viewers two memorable characters worthy of our investment. What on-screen magic they create.
Cornelia arrives at a Kansas outpost circa 1890 carrying far too much—literally and figuratively. She's got trunks galore and frothy gowns, and perhaps way too much cash for an English lady to be toting around out on the frontier. But avenge her son's death she must. So onward she goes even though a gaggle of bad fellas have anticipated her arrival.
Eli, Pawnee-born and now a defunct U.S. Army calvary, is a lone wolf. Natives raise their eyebrows over his Calvary involvement. White folks discriminate based on his skin color. Eli's wish? To grab a couple of acres somewhere safe.
But Cornelia and Eli's futures are connected. And so are their pasts. "You and I have met," Cornelia tells Eli. "It was in the stars."
The first three episodes of The English do well in creating the vast landscape and wicked danger of the Western world. The cinematography here is wonderful eye-candy—the series was shot overseas so Spain fills in for the Wild West.
Mostly, viewers will be intrigued by some of the characters in this Western territory. Anybody that knows much about the period realizes that getting hanged or shot over a simple misunderstanding isn't that far-fetched. More gruesome, perhaps, is the havoc white men inflicted, particularly on entire Native communities. Spall's David Melmont comes to mind. His character is, literally, the heart of darkness. Still, it gives Spall plenty of scene-stealing opportunities and his bone-chilling performance in The English is one for the books.
McAuliffe's Black Eyed Mog, a hardened frontier woman, appears less frequently, but she's bound to give you the spooks. Collectively, Blick and the creative team have introduced a fascinating array of characters and the actors embodying them are pitch-perfect. But what about the actual story of The English? Does it get the job done?
Related: Exclusive: Charlotte Nicdao, Jessie Ennis, and Ashley Burch on Season Three of Mythic Quest
Is The English Worth the Investment?
Prime Video
The short answer is: Yes. Episode 4 takes place 15 years before the events we're initially introduced to in Episode 1, and it does a fine job of connecting the creative dots. This backstory helps us understand what's really at stake for Cornelia. And Eli, for that matter. It also introduces an evil force that will be hard to reckon with.
Artistically and thematically, I couldn't get enough of The English. I wanted more. In that respect, Blick did his job. Core themes of identity and revenge interweave themselves in a fascinating parable that also touches on race, power, and love. The middle episodes tend to droop just a bit. Like bullets ricocheting off wooden porches or barns, you wonder where things may land and there's a fear—because the front half was so good—that the story may have lost its footing. Like roping cattle, though, Blick steers things back in the right direction. This comes to light during an investigation by the local sheriff Robert Marshall (played by Rea) and the young widow, Martha Myers (Valerie Pachner) into a series of bizarre and macabre unsolved murders. Here we realize the full extent of Cornelia and Eli's intertwined history. The passion found in the latter half of Episodes 5 and 6 are, by far, something of the best things we've experienced in a Western.
Much is at stake as Cornelia and Eli's precarious, often violent, journey unravels, and in the hands of another writer, producer, and director—Blick is all three—I sense we'd experience a much choppier ride overall. There's depth and tenderness, too, when we learn more about Cornelia's emotional plight. Her bond with Eli is visceral as past traumas come to light. These truly are expectational characters.
The English is one of the most passionate Western tales to hit the screen. Blunt and Spencer are cinematic gold. The cast shines. The acting is powerful, effective, and, to a degree, a bit soul-stirring. Aside from its midway dip—easily forgivable—Blick's big dive into Westerns is one hell of a—to coin his term—"horse opera."
The English hits Amazon Prime Video on November 11.
You can view the original article HERE.