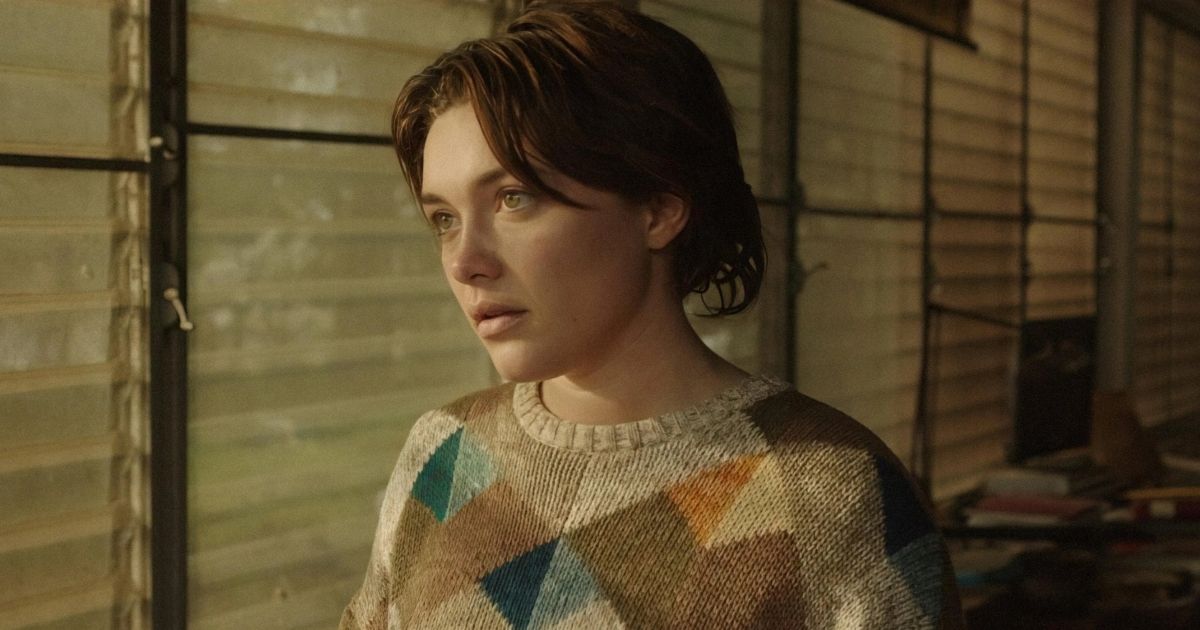 Zach Braff writes and directs a well-acted but overdramatic story that squeezes your eyeballs like oranges. A Good Person will have audiences crying buckets of tears. Florence Pugh stars as a promising young woman whose life is destroyed by a tragic accident. She descends into painkiller addiction and suicidal thoughts after accidentally killing her beloved fiancé's sister and husband. Eventually, she finds an unexpected friend and supportive ally in his father, who's left to care for their orphaned daughter. Fleeting moments of levity somewhat alleviates heavy themes, but the characters' crushing sadness takes an emotional toll during a long runtime.
A Good Person introduces us to Allison (Pugh), who sings and plays the piano at her joyous engagement party. Nathan (Chinaza Uche) embraces his future bride in front of their friends and family. They are the picture of happiness. The following day, Allison drives his sister (Nichelle Hines) and her husband (Toby Onwumere) to help choose a wedding dress. They're stuck in highway traffic. She darts forward to an open lane but doesn't see a backhoe reversing.
A year later, a shattered Allison lives with her mother in South Orange, New Jersey, her engagement having fallen apart. Diane (Molly Shannon) begs her daughter to try and leave the house and get a job. Allison becomes enraged when Diane refuses to give her Oxycontin. Diane knows Allison's grief has spiraled into addiction. She flushes her last prescription bottle, and Allison runs outside in desperate need of a fix.
Troubling News
MGM
Meanwhile, Daniel (Morgan Freeman) gets troubling news at his granddaughter's high school. Ryan (Celeste O'Connor) faces expulsion. She fights, curses at her teachers, and doesn't do her schoolwork. The promising student and athlete she once was vanished when her mother died. He admits to not having a clue how to deal with her. Daniel, an ex-cop and recovering alcoholic, attends an AA meeting at the local church. He's surprised when a sweaty and disheveled Allison enters. She freezes in fear and turns to leave once seeing him, but Daniel begs her to stay. He knows she needs help.
A Good Person pulls no punches. The characters are intertwined in significant states of distress. Allison cannot forgive herself. Opiates numbed the torment of her actions and terrible loss; she's hanging on by a thread in every moment. Nathan hates his father for abuse suffered during childhood. He refuses to help Daniel raise his niece. Nathan loves Ryan but still hasn't recovered from the accident's aftermath. Allison's sudden return to his family's life throws a wrench in the turmoil. No one can hide from their pain any longer. They must all confront the past together.
Related: Best Morgan Freeman Movies, Ranked
Braff (who also directed the similarly melodramatic Garden State and Wish I Was Here) shows the extent of his ensemble's despair in every scene. Allison begging for drugs at a local bar will break your heart. Ryan puts Daniel through the ringer with her promiscuous behavior. Nathan and Allison, still fiercely in love, have no idea what to do in each other's presence after all the tragedy and absence. These scenes cascade like an avalanche of sorrow. They're exhausting but necessary for the characters' growth.
Superb Lead Performances
A Good Person uses contrivance as a tool for resolution. Complex problems come to a head in a manufactured finale. There are some real issues with the third act, but it's impossible to discount the film's superb lead performances. Pugh and Freeman are damn good. They breathe life into these sympathetic people struggling to find peace.
A Good Person is a production of Killer Films and Elevation Pictures. It will have a theatrical release on March 24th from MGM.
You can view the original article HERE.