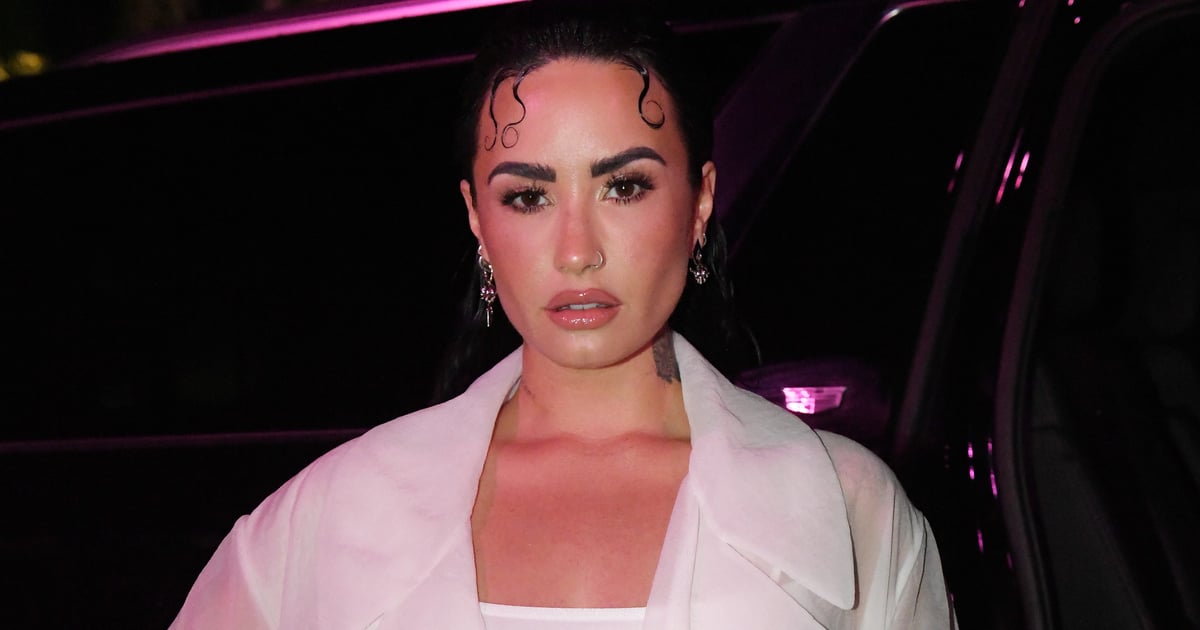 Demi Lovato sat front row at the Hugo Boss fashion show in Miami, where the brand debuted its see-now-buy-now Spring 2023 collection. The "Skin of My Teeth" singer looked stunning in a bridal-white look that was sleek and skin-baring, with a slight 1990s edge to it. Dressed in all white, Lovato chose a bralette and a high-waisted slip skirt that reached her ankles. On top, she layered on a sheer white chiffon trench coat that billowed in the wind. With her hair pulled back in a half-ponytail, you could make out her statement earrings and huggie hoops, as well as her nose ring that shone as the cameras flashed. Her makeup was classic but heavy, with a strong black brow and mascara-defined lashes.
The collection matched Lovato's outfit, as models marched down the catwalk in romantic tailoring. In a press release, the brand shared, "The overall assortment presented a sleek and sophisticated idea of what it means to become and embrace the spirit of self-determined individuality in an ever-changing world." Pamela Anderson opened the show, wearing a neutral-toned suit and minimal makeup. What followed was more of the same: tailored mix-and-match sets, tube dresses, and sheer skirts in a color palette of white, tan, army green, and black.
DJ Khaled and Naomi Campbell closed the show, both hitting the runway in all-black looks that wowed. Another celeb who participated in the lineup was Law Roach, who just days prior announced his retirement from styling.
While Lovato's look was the most sultry of the bunch, it fit perfectly into the mix. It was a far cry from her last red-carpet moment, at a pre-Grammys party in February. For that, she wore a voluminous black strapless dress with cascading ruffles. A few months prior, she hit the stage for a surprise performance of "La La" with Ashlee Simpson in Los Angeles wearing a black leather set with allover metal detailing.
Could this latest Hugo Boss look be a harbinger of what is to come? Or a one-time departure from her edgier outfits? Only time will tell.
Check out Lovato's look ahead, as well as some standout moments from the show itself.
You can view the original article HERE.