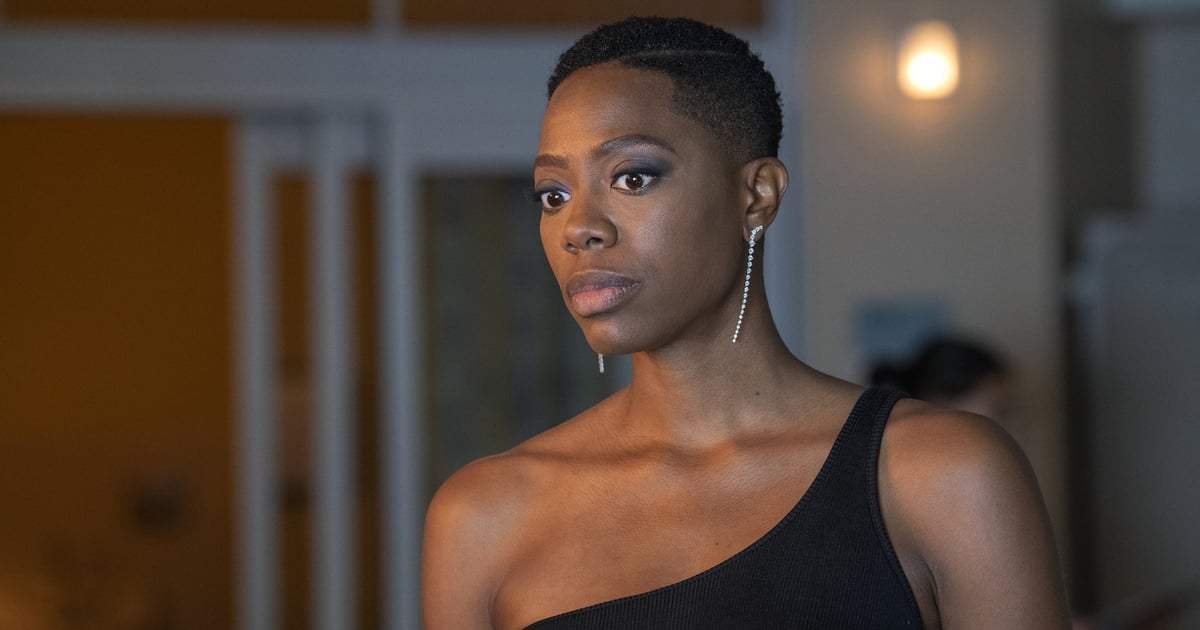 Insecure's final season has been delivering all the drama we've craved on account of its shocking moments so far. Between Issa (Issa Rae) and Lawrence's (Jay Ellis) inevitable breakup in the first episode and their awkward run-in with Condola (Christina Elmore) and baby Elijah, the final season is keeping us on our toes. But the latest shocker of the season may come from a possible romance that's blossoming between Molly and . . . Taurean (Leonard Robinson).
Yes, you remember Taurean: Molly's hard-ass co-worker from the law firm who loves giving her a tough time. After her rough breakup with Andrew (Alexander Hodge) in Insecure's season four finale, Molly's trek back into the dating pool has been an uphill battle. Her complicated love life has been the subject of the show since the very beginning, but now it looks like she may be finding stability in a very unexpected place.
"I guess in season three, they were kind of planting the seeds for that potentially happening."
Robinson was just as shocked to learn that his character would be spending more time with Molly this season, but he's excited for fans to see where this next step in their relationship takes them. "I guess in season three, they were kind of planting the seeds for that potentially happening," Robinson told POPSUGAR. "The great thing about the writers in the show is that every season they played with different forms of storytelling and they've tweaked it a little bit. So at [one point], I was like, I guess it could go that way. But at the same time, I realized they could equally just drop this whole storyline and pick up somewhere new."
Unbeknownst to viewers, Molly's personal relationships draw a lot of parallels between her and Taurean's work one — which has been slowly (slowly) growing since they first met in season three. According to Robinson, the turning point in their relationship came in season four when they finally addressed their obvious tension, which prompted Molly to recognize some of her toxic traits in other areas of her life.
"She starts seeing things differently and is like, 'I'm going to approach all my relationships a little bit differently moving forward,'" he said. "So [Insecure has] used Taurean and Molly's relationship as a way to try and work some of that stuff out. As you see in episode six [this season] at the work retreat, we find out part of the reason Taurean was the way he was in season three was because he was dealing with some personal things that trickled over into his work life. Now that he's past that, he's a little bit more open and receptive to relationships and seeing people in a different light. So that lines up perfectly with Molly, who's also in that space in her life."
Seeing the spark between these two in episode six was a huge surprise, but Robinson is among the bunch that's happy to see his character finally show up in a new way. "I actually joked with one of the writers this season and was like, 'Thank you for finding ways and reasons for me to be smiling, because I don't really think I smiled much season three,'" he shared. "It's funny, because I spent so much time invested in being the office antagonist, but then you have all this personal stuff outside of work. I really had to ask myself these questions. How does Taurean smile? How does he relax? I really tried to put some work into that and think about it."
"I think what's a turning point for Molly and when she decides to take Taurean seriously is when things actually get serious."
With all the ups and downs of Molly's failed relationships, the show's final season seems like the perfect time for her to apply her new attitude toward love — with the one person she least expected to get involved with. "I think what's a turning point for Molly and when she decides to take Taurean seriously is when things actually get serious," Robinson said. "Dealing with her mother and coming clean at the retreat that she's stressed out and seeing somebody actually be there for her with no ulterior motives. Then you start seeing those things pop up on other episodes, and she's like, 'This guy is really just supportive and into me and moving at the speed I want to [without] any demands or pressure."
Despite Molly and Taurean butting heads all the time, the two have a lot more in common than we originally thought. Both are very career-driven with a strong work ethic, so in a way, it makes sense for the two to explore the possibility of a relationship. At this point, they both deserve to get their happy endings. Plus, it's Insecure's last season, so why not go out with a bang?!
"I think when you start looking at what you want your life to look like, and if you really want to settle down and be serious, I think oftentimes it's not what you imagined it would be," Robinson said. "But if you open your eyes to what you want and what you actually need, you can find that in places you didn't expect, and I think that's what happens with Molly and Taurean. Neither were really checking for each other in that way, until it happened one day and it's like, 'Oh, well this does kind of work, doesn't it? Interesting.'"
You can view the original article HERE.