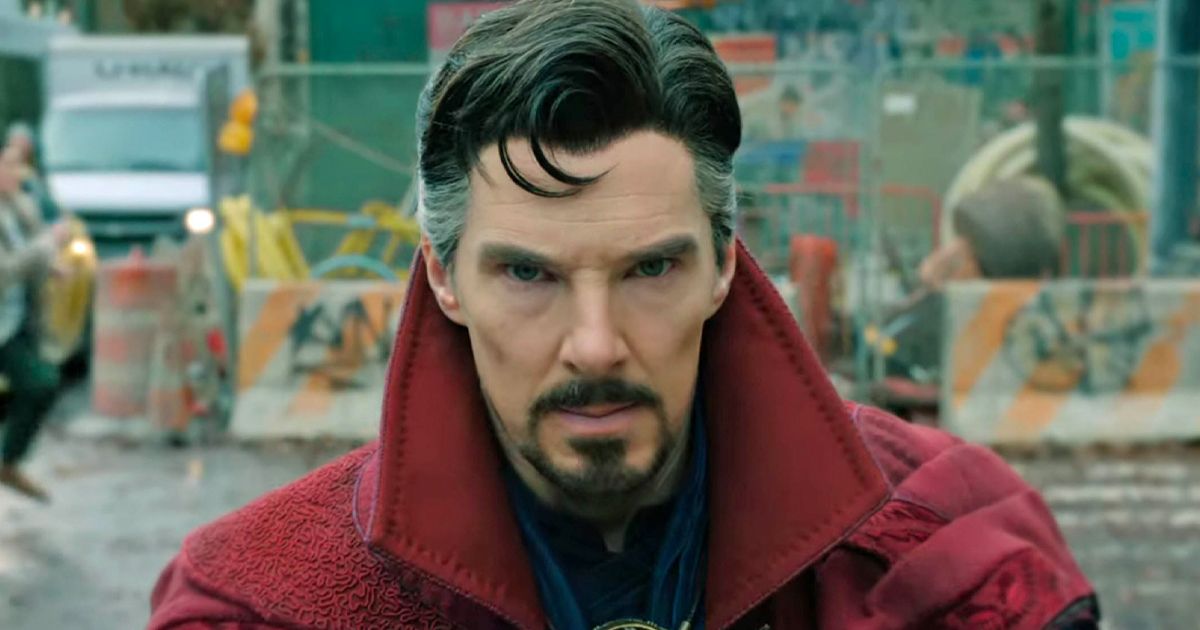 Director Sam Raimi returns to the Marvel Cinematic Universe with his indelible style and offbeat humor. Doctor Strange in the Multiverse of Madness is a creature feature loaded with surprises. The wildly uneven visual effects fuels nearly non-stop action in a brisk runtime. Tremendous lead performances aid a script with gaping plot holes. Several head-scratching moments are glossed over by the cinematic spectacle. The film draws heavily from the WandaVision and What If…? television series. Heroes become villains and vice versa in a narrative based on infinite possibilities. Not all of it works, but you're definitely glued to the screen.
MOVIEWEB VIDEO OF THE DAY
Dr. Stephen Strange (Benedict Cumberbatch) is haunted by a bizarre dream. He's being chased by a monster through a mind-bending void with a teenage girl (Xochitl Gomez). They're trying to reach an object of great importance when the situation takes a dramatic turn. He's deeply troubled by his actions.
Dr. Strange attends an event to celebrate a dear friend (Rachel McAdams). A former colleague (Michael Stuhlbarg) isn't impressed by Strange's superhero status. He wonders if the right decisions were made in the fight against Thanos. The Blip changed everyone's lives. Dr. Strange springs into action when an octopus-like monster appears out of nowhere. He's stunned to see the beast chasing the girl from his dream. The Sorcerer Supreme, Wong (Benedict Wong), helps him to subdue the magical creature.
The girl, America Chavez, tells him a seemingly impossible story about a danger to the multiverse. She's being pursued by a mysterious enemy powerful in the dark arts. Dr. Strange knows someone who can help them. Wanda Maximoff (Elizabeth Olsen) still grieves the loss of Vision and her children. Her transformation into the Scarlet Witch gives them a formidable ally.
Related: Randy Rhoads: Reflections of a Guitar Icon Review" A Virtuoso's Fond Remembrance
Doctor Strange in the Twisty Multiverse of Madness
Doctor Strange in the Multiverse of Madness has more twists than a bag of pretzels. Nothing you've seen in the trailers indicates the true storyline. The surprises are refreshing but with that said, some of them are hard to swallow. There are several huge logic gaps in the multiverse hopping adventures. The villain's goals could have easily been achieved without all the running around. Michael Waldron's script has the characters constantly explaining what they're doing. It's understandable that not everyone has seen the source materials but there needed to be a better vehicle for critical exposition.
The visual effects are hit or miss as some scenes look amazing. Dr. Strange and America Chavez crashing through different universes in slow motion is eye-popping. That luster is dimmed by huge CGI battles with poorly rendered digital characters. Dr. Strange, Wanda, and Wong wave their hands like musical conductors shooting light spells; the nature of their powers relies on exaggerated movements. Though the best action involves physical combat and a brutal showdown in the second act will have audiences cheering before gasping in horror.
Disney and Marvel Studios continue to focus on diversity. America Chavez has lesbian parents, speaks Spanish intermittently, and wears a pride pin prominently on her lapel. It'll be interesting to see how the film is received by conservative politicians. Their fight with Disney is utter nonsense. We sadly live in an era of ginned-up culture wars.
Elizabeth Olsen's Butt-Kicking Performance
Marvel
Elizabeth Olsen steals the show with a butt-kicking, emotionally complex performance. Wanda has suffered so much pain. Her character arc is quite intriguing. She has become immensely powerful. I highly recommend watching WandaVision before seeing this film.
Doctor Strange in the Multiverse of Madness is textbook Sam Raimi (The Evil Dead, Spider-Man Trilogy). He takes heavy themes and inserts sly campiness to soften the blows. Raimi's monster barrage and whopper cameos lessen the script's shortfalls. The film is too intense and violent for younger children. Stick around during the credits.
Doctor Strange in the Multiverse of Madness is a production of Marvel Studies. It will be released theatrically on May 6th from Walt Disney Pictures.
You can view the original article HERE.