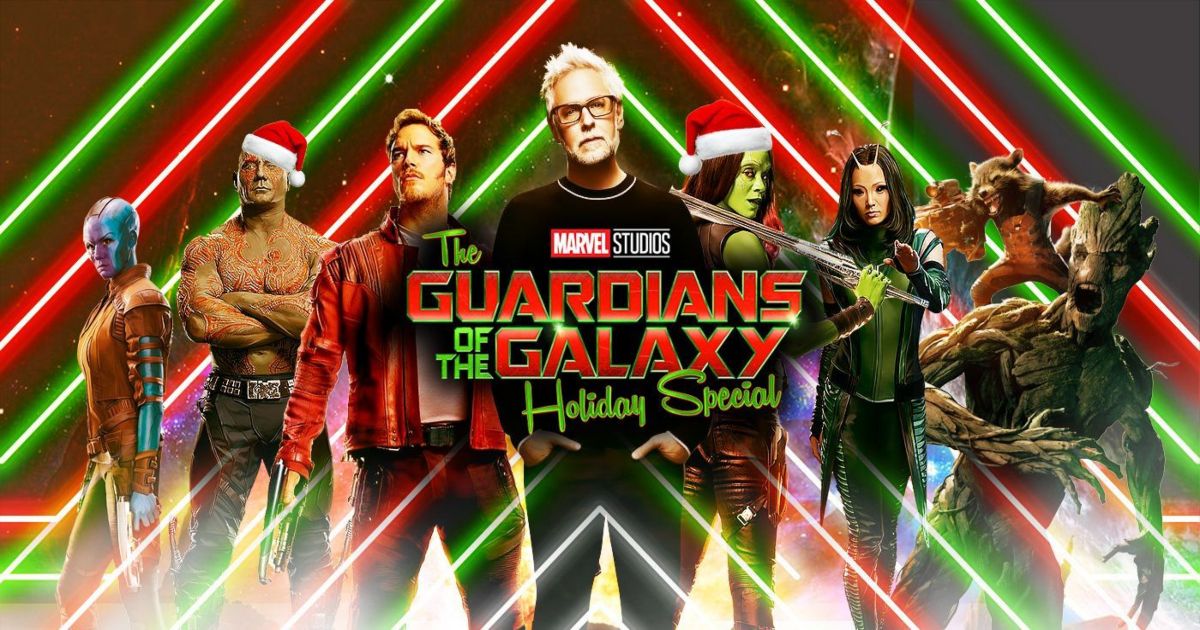 Marvel Studios
The Guardians of the Galaxy Holiday Special brings yuletide cheer in a fun and surprisingly heartwarming hour of television. Director/writer James Gunn captures the Christmas spirit by deepening personal connections between beloved characters. His motley crew of heroes have become a family through numerous adventures. They care for each other despite hilarious personality differences. Peter Quill's (Chris Pratt) holiday blues don't go unnoticed. Mantis (Pom Klementieff) recognizes their leader is missing a treasured remembrance of his childhood. Her efforts to boost his morale leads to a laugh-out-loud Hollywood abduction. Kevin Bacon and the rocking Old 97's are fantastic compliments to a vibrant narrative.
MOVIEWEB VIDEO OF THE DAY
The story picks up with the Guardians running the show on Knowhere. Peter spends his days managing problems in the floating head turned city. Mantis, who drops a major reveal to Drax (Dave Bautista), wonders why Peter's depressed. Kraglin (Sean Gunn), still sporting that sweet mechanical mohawk, gives them the reason. An animated aside flashes back to Peter as a boy on the Eclector. He decorates a Christmas tree with Kraglin and has gifts for the Ravagers. Needless to say, Yondu (Michael Rooker) doesn't take kindly to cuddly feelings or presents. Peter especially misses Gamora during Earth's holiday season.
Mantis recruits Drax for a bold idea. They will bring Christmas to Knowhere and surprise Peter with an amazing gift. What better than his dancing boyhood idol? Mantis and Drax shuttle to Earth. But where will they find this legendary figure that inspired Peter to greatness? A night of crazy partying in Los Angeles leads to the answer. Meanwhile, Kevin Bacon unloads presents while talking to his wife on the phone. He settles in on the couch for a quiet night watching Christmas movies. A ring at the gate has two weirdos on his security monitor. They urgently need his help, and won't take no for an answer.
Related: Exclusive: Jesse Bradford on Merry Kiss Cam and the Magic of Holiday Films
Mantis and Drax bumbling around LA is comedic gold. Their interactions with those annoying costumed shills charging tourists for pics had me rolling. The humor kicks into overdrive once they find Bacon. Imagine having a pair of freaky aliens break into your house for a Christmas kidnapping. Bacon running away in terror while they loot his ornaments may be the funniest scene of the season. You can't blame their fascination. Candy canes and elf figurines are pretty enticing.
Guardians of the Galaxy Holiday Special Meets Texas Alt-Rock
The special has a musical aspect that's great. The Old 97's, a Texas alt-rock band I highly recommend, co-star as Knowhere residents who acquire Earth instruments. They bug Peter with saucy interpretations of Christmas lore. You'll think of Mrs. Claus differently after hearing one of their riotous tunes. Bacon, also an established singer and musician, joins the jovial jam session in a rollicking climax.
Gunn teaches a message of kindness and giving in an MCU wrapper. Peter, after getting over the shock of "Kevin Bacon human trafficking", is overwhelmed by his dear friends' efforts. The Guardians have a Christmas to remember. Even the icy Nebula (Karen Gillan) cracks a smile and gets into the holiday spirit. Fans are going to absolutely love this special.
The Guardians of the Galaxy Holiday Special is a production of Marvel Studios. It premieres November 25th exclusively on Disney+.
You can view the original article HERE.