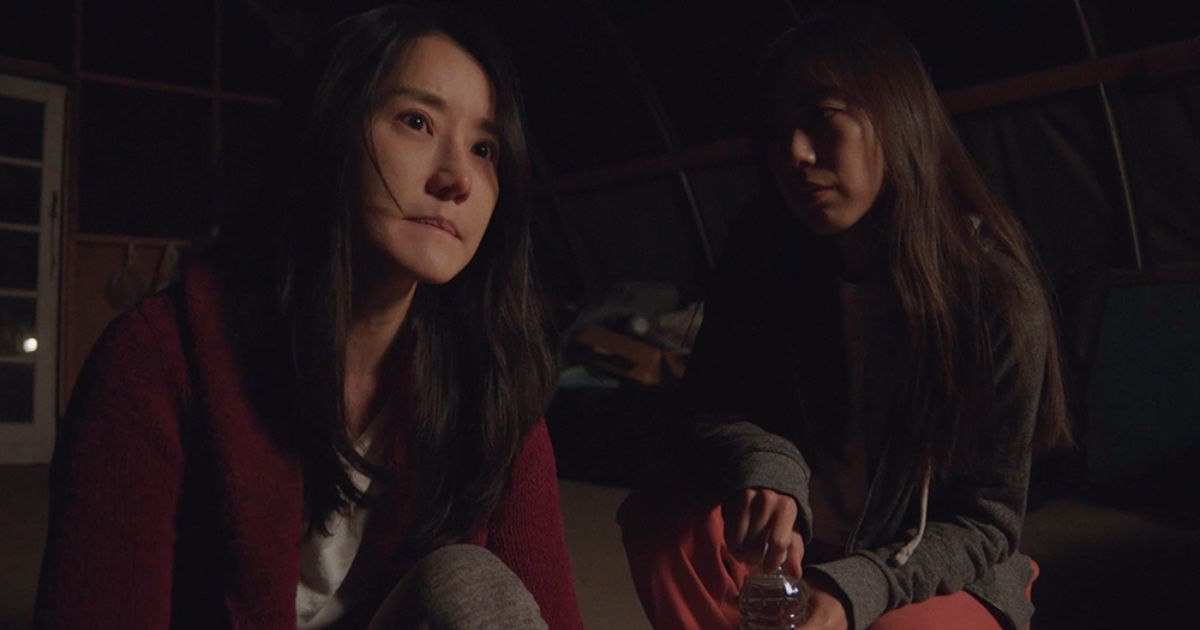 What do you do when a past you have tried to outrun keeps reemerging? Dawning, the directorial debut of Young Min Kim, tries to visualize what happens when mental illness, trauma, and grief collide in the form of a psychological thriller. Set in both dusty Los Angeles and a high rise in New York, the past fuses with the present day to create a haunting picture of the impact of a suicide on a woman's life. Now a successful therapist on the other side of the country, no matter how hard she tries to get away from the past she left behind in Los Angeles, it will catch up to her. When it comes time to return home to help her sister, fresh off of a breakup, and get over the loss of someone in her life, things start to get a little messy.
MOVIEWEB VIDEO OF THE DAY
The film initially made its world premiere at the Panic Fest 2022, slotting in elements of horror movies and psychological twists to create scares. While it may not truly be classified as a horror film at the end of the day, the creative decisions made build upon a specific mood and ambiance that cranks up this sense of isolation. Without the expectation that this is a full-fledged horror movie, it is quite enjoyable and creates a conversation worth continuing outside of the theater. It is historically rare to see movies and television tackle mental health so openly in this context, although shows like Euphoria are slowly changing this, which makes Dawning quite refreshing because of that.
Learning to Confront Tragedy
Dawning, which largely dwells on the themes of the impacts of mental health and trauma on one's psyche, does not hold back straight from the beginning. The film opens with the suicide of Haejin Park's (Kim Ellis) father one day. She slams her fists on the back of his truck, begging to know where he is going, but he is despondent, the first sign that something is amiss. It is this suicide that haunts her ten years later when the bulk of the movie takes place and most likely leads her to pursue a career as a trauma specialist in New York. Her becoming a trauma specialist is deeply ironic, as she has to help other people work through their childhood scars and memories when she cannot even deal with her history.
During one session, as a client describes a situation similar to her father's death, Haejin looks out the window and imagines her father shooting himself in the distance, effectively drowning out her patient's issues. After this ghostly apparition makes an appearance, Haejin packs up her things at the office and prepares to head to Los Angeles and meet her sister. She brushes off her sudden trip as her sister's "boy problems" with the secretary with a half-hearted smile, but there is more than meets the eye with this. When Haejin makes it home, the two sisters are exact opposites. Soojin, her sister, dresses like someone who spends their time doing manual labor on a farm, while Haejin is the epitome of standard New York City attire with her white blouse, trousers, and hardshell luggage. This immediate distinction sets the movie up for some obvious tension that came with Haejin leaving the family behind, as she was not even aware that her mother and sister sold the house they lived in.
At the same time, Haejin's hallucinations are getting worse. The night terrors she was experiencing in New York continue, and Dawning delves deeper into psychologically-based horror. However, the screenplay diverges from this path about halfway through the movie, forgetting the roots and foundations it already laid down in favor of lengthy discussions between the two sisters about the nature of moving on and the pain they suffered. These long conversations, shifting back and forth in Korean and English, are reminiscent of the audiobooks that Haejin was listening to before she arrived. Suddenly these are not self-help books with scientific information and random statistics anymore; these two are living, breathing people who have experienced what the books are talking about, and it is now up to them to try and get themselves together and move on from their collective trauma.
In addition to this, there are some twists in this story to keep it fresh and question what is happening. The leading performances are what tie this together, bringing two estranged sisters and cranking up the tension through dialogue, story, and ambiance. These two feel like sisters that have not spoken for years, as their interactions feel stiff and oddly formal at times for sisters. There are reasons to be suspicious about what is happening scattered throughout the story, casting Haejin as an unreliable narrator because of how she sees and views the world through a lens of hallucinating. This is a movie that prepares its viewers subtly for the rug to be swept out from underneath them three-fourths of the way through the film but still manages to make that moment surprising when it comes. Unfortunately, there is a drawback to this method—because the film is on the shorter side, it cuts off right there and may feel incomplete to some.
Related: The Movies That Swept the 2022 East Asian Film Awards Season
A Movie With Diverging Paths
If there is one characteristic that seeps into almost every scene of the movie, it is loneliness and isolation. The Los Angeles farm that the family resides on is relatively isolated and rundown, and when Soojin and the sisters' mother sold the house, they move into a trailer while continuing their lifestyle as farmers. On the screen, there are rarely more than two characters present in a single scene, but, especially in the beginning, it seems like the two characters are on two different wavelengths. As Haejin and Soojin sit down together for a meal the first-night Haejin is back in town, the conversation quickly twists and becomes an argument about how she abandoned the family and that Soojin, too, once had dreams. Despite the fighting at this moment, they come to peace with each other and continue to coexist in the same space, although the mother is suspiciously absent for her daughter's homecoming.
Haejin being a trauma specialist adds a unique twist to the story, one that has a layer of acknowledgment on the surface. When she initially sees her father shooting himself while talking to a client, she sits down in bed later in the night and tries to get to the core of what she is experiencing. There is a familiarity in this scene that many most likely have experienced, one where an individual heads down the rabbit hole of Googling what may be wrong with them. As Haejin returns to her family's home in Los Angeles, seeing her mother and sister for the first time in ages, she continues to spiral despite wanting to get better. The symptoms she experienced in New York worsen, and, as she begins to descend deeper into madness, it becomes a question of whether she, too, may end up like her father and succumb to her mind.
Dawning is a valiant effort for a directorial debut. The topics it addresses are highly relevant in today's society, as mental health issues are only becoming a bigger concern within certain populations. During the pandemic alone, mental health crises worsened to create an entire pandemic of its own. However, Dawning is fairly short in its run time, as it clocks in at a little over an hour. There needed to be more room to expand on the story, as the introduction of new threads bogs it down and splits the tone into what seems like two different movies. Introducing a nonlinear structure at the very end of the movie can also muddle its message, as it becomes a convenient tool to fill in the gaps of plot points brought in at the last minute. Regardless, the movie does make some excellent points and gets them across fairly effectively, such as the shift towards a drama focusing on family issues.
Some twists wrench the narrative in this direction quite forcibly, which is what causes all the horror and supernatural elements to be dropped in favor of this new tone. There is so much value in this form of representation, though, especially in Asian-American communities. Rarely are these topics discussed in families, and while this family grapples with the impacts of what happened to them, they do confront it honestly and break the stigma surrounding mental health and suicide. Sometimes, this is the only way to confront the past, move forward, and heal.
Dawning was screened as a part of the Asian-American International Film Festival 2022.
You can view the original article HERE.