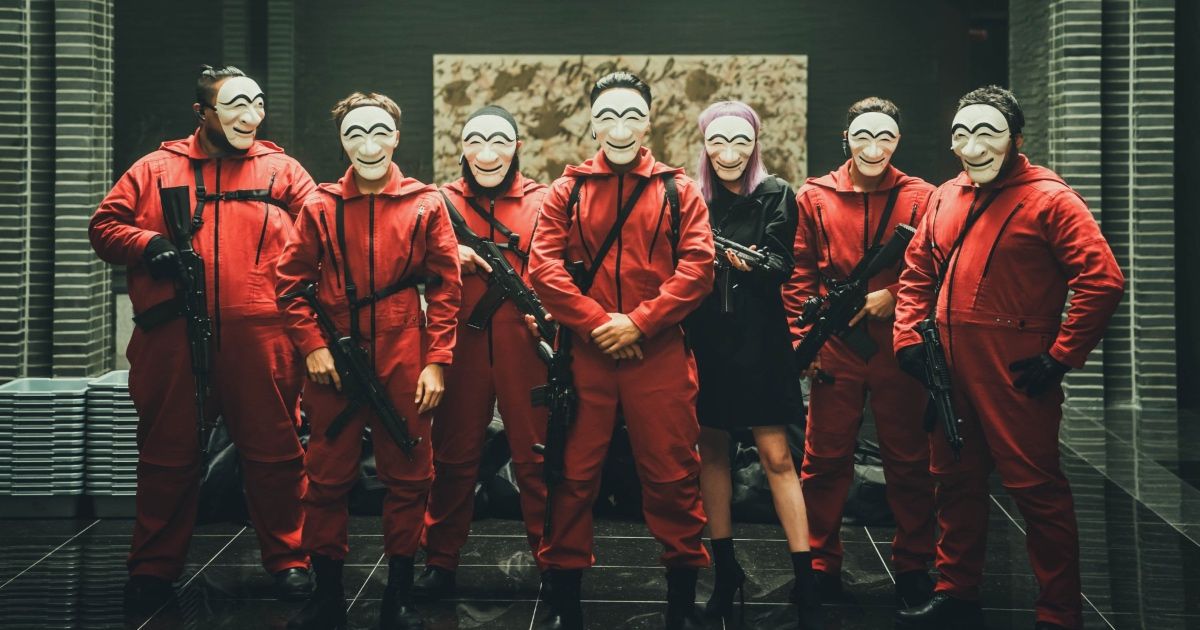 South Korean entertainment has been all the rage in the past couple of years, whether it is from global superstar band BTS, who only just announced their hiatus, or a series of television shows and movies that led the Hallyu wave to all-new levels. From Train to Busan to The Silent Sea and Parasite, Korean actors and singers are gaining global recognition despite appearing in roles entirely in Korean and feature unique cultural characteristics that can only be found in the peninsula country. It seems fitting that the new reboot of Money Heist, which first appeared as a Spanish heist series on global Netflix accounts in 2019, has been made into a Korean adaptation. And, of course, it opens with one of its protagonists dancing to BTS despite being in the middle of North Korea.
MOVIEWEB VIDEO OF THE DAY
Money Heist: Korea was first reported in June 2020, and, in December of the same year, it was finally confirmed with BH Entertainment, a company under the Kakao Corporation umbrella, that the series would find a home on Netflix. The series was slated for twelve episodes originally, but it ended up with six episodes released on June 24, 2022. Its story was modeled after the original Spanish version, and Kim Hong-sun was set to direct the overarching vision for the series. The series was initially hyped up as a follow-up to Squid Game, as it follows similar themes albeit with its unique twist: it incorporates a unified team consisting of members from North and South Korea trying to pull off this heist. It falls under a similar vein to the beloved 2012 Korean movie The Thieves starring Lee Jung-jae, Jun Ji-hyun, and Kim Soo-hyun.
Money Heist's cast is an eclectic mix of veterans and newcomers alike. Yoo Ji-tae (Oldboy) assumes the leading role of the Professor, while Park Hae-soo (Squid Game) compliments him as one of the other key leading roles: Berlin, a North Korean who was previously held inside a concentration camp. Jeon Jeong-seo, who previously received acclaim for her roles in Lee Chang-dong's Burning and the 2020 movie The Call, returns to the small screen as Tokyo, a North Korean with a military background. Other notable actors appearing throughout the show are Kim Ji-Hoon (Flower of Evil), Park Myung-hoon (Parasite), and Lee Hyun-woo (The Beauty Inside), among many others.
Fighting Against Financial Injustice Through Crime
BH Entertainment
The series is narrated by Tokyo, who, at the beginning of the first episode, lays down the laws of this universe. She previously trained in the North Korean army but has a deep love for South Korean entertainment, specifically dramas and K-pop, so when the war reaches its conclusion, and she is discharged from the army, she boards the first train she can get to Seoul. In this alternate universe, an area called the Joint Economic Area is established to create a powerhouse economy combining the two country's resources, but Tokyo, like many North Korean immigrants coming to Seoul now, finds herself scammed by a broker who promised her a job and home. To survive in this new country, she becomes a waitress and an escort for a place that exclusively advertises having North Korean girls.
One night after committing a crime, she meets the Professor in an alley. He is building a master plan where he brings together individuals from both sides of the border to try and take over the new economic center of the unified Koreas. Adorned in red jumpsuits and traditional Korean masks, this new group sheds light on those often forgotten in certain situations. The decision to have a woman from the army narrate this story is an interesting one, adding a specific level of nuance that subverts the typical gender expectations and roles. Though this is not new or groundbreaking—another recent Korean series, My Name, also features a female protagonist who is both a gang member and operating within the police force—the audience is shown how she is taken advantage of and sexualized for being North Korean. When juxtaposed against her fellow North Koreans and South Koreans, the show creates layers that show the complexity of being an immigrant from different angles.
Related: Broker Receives 12-Minute Standing Ovation at Cannes, Longest Ever for a Korean Fil
To try and build better lives for themselves, these characters, led by the Professor, decide that the only way to go about this is to create a hostage situation with the Korea Mint, the headquarters of the new Joint Economic Area. The objective is to print as much money as they can, take it with them, and then get out without killing a large number of people. It seems pretty simple in hindsight, but it would not make a good show if everything went smoothly and the protagonists were able to waltz in and out. Yet, at the same time, the hostages seem to be in a similar situation as the criminals, adding more loaded commentary about capitalism and the people who fall between the cracks of the system.
At times, Money Heist unfolds visually on the screen like a contemporary Wong Kar-Wai movie. Shots where Tokyo, feeling hopeless about her situation, are reminiscent of films like Chungking Express as the people are her are sped up, creating this illusion of a fast-paced world where she has been left behind. While everyone has somewhere to be, this moment, at least for Tokyo and the viewer, seems to stretch longer and mirrors the intense, fast-paced lifestyle found in urban centers like Seoul. It is a stark contrast to the sparse North Korea that the viewers are introduced to at the beginning of the first episode, were listening to a band like BTS and dancing in public are taboo concepts. Other moments are reminiscent of Korean thrillers like The Villainess with harsh neon colors in purple and green illuminating the character's faces.
Related: The Most Anticipated Korean Dramas Still To Come In Summer 2022
A Remake of the Original
BH Entertainment
Fans of the original Money Heist may find this version disappointing, as it has fewer episodes. The original show ran across multiple seasons, allowing time to delve deeper into a character's backstory or a plot point that may have been forgotten initially, but because Money Heist: Korea is only slated to be twelve episodes originally, it is packing a lot of backstory into hour-long episodes. Exposition is critical here, but because the story is told from the perspective of Tokyo, it is limited in what the audience knows. They only are aware of the extent of what she knows at times, which can be a boon or a bane when it comes to plot points and trying to learn more about the other characters and their motives. Each episode elaborates on the character's backstories, but there is not enough justification to root for everyone's overarching goals and missions.
However, another key issue is that Money Heist: Korea does not do enough to distinguish itself from the source material. There are unique cultural elements, such as the Hahoetal, or Hahoe, masks they wear while engaging in illegal activities. These add a deeper layer to the context that they are placed within, as historically those masks were used for stock characters or the ones deemed unimportant in the grand scheme of things. This irony is not lost when Tokyo selects her code name—which is Tokyo—as she smirks and says her reasoning for the name is because they are going to do a bad thing. Her name is a subtle reference to the colonial history that the unified Koreas faced with Japan, which, after World War II, quickly descended into the Korean War and the fragmentation of the Korean society.
Regardless of how the series was tweaked to fit a Korean context, it does not do enough to separate it from the original. Those coming in with fresh eyes might find this more enjoyable than someone who is a diehard fan of the series, swaying opinions drastically based on the bias they come in with. Money Heist is fairly solid if viewing it as a separate entity from the original television series, but it may not be the classic formula that got Squid Game to the forefront of public consciousness. There is also the question of why some characters are doing this. Perhaps this might go into more detail during the second part of the series, but in its current format, the audience can vaguely understand their motives. But then there is this: why should the viewer root for these criminals? Maybe time can only tell when it comes to the bigger questions, as this is only the beginning, but Money Heist: Korea might need some soul searching if not.
The first episodes of Money Heist: Korea are available to stream on Netflix as of June 24, 2022.
You can view the original article HERE.