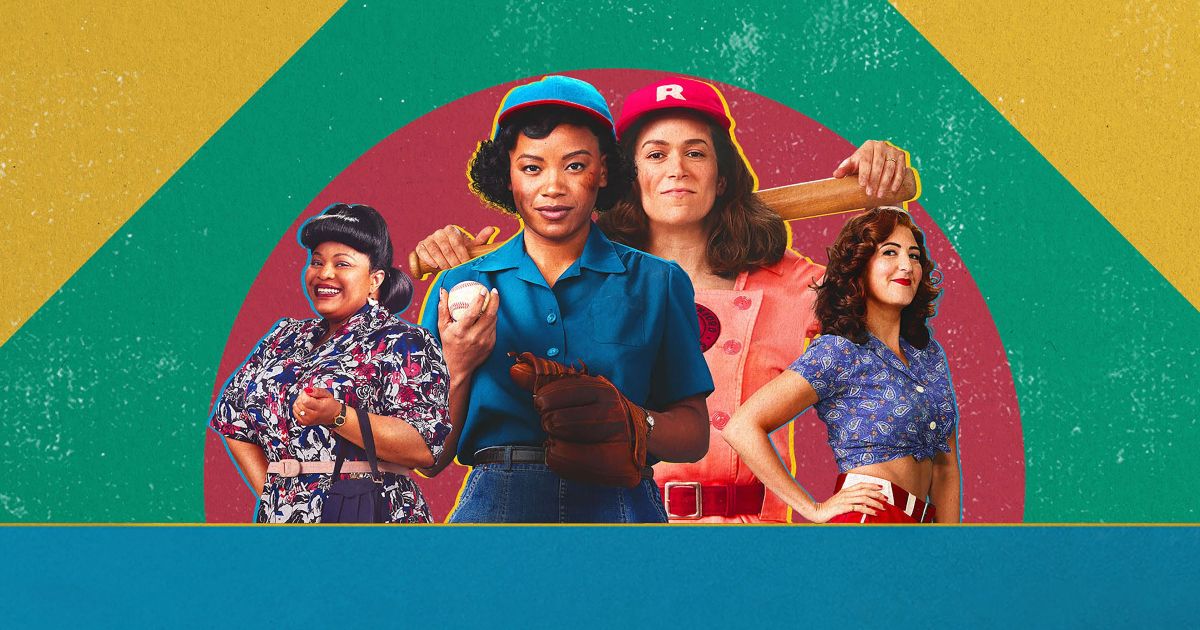 "Let me be something every minute of every hour of my life," a woman recites in the new series A League of Their Own, quoting a passage from Betty Smith's A Tree Grows in Brooklyn, "Let me be cold, let me be warm. Let me be hungry, or have too much to eat. Let me be honorable, or let me sin. Only let me be something every blessed minute." In one sense, the new Amazon Prime Video series is a passionate plea to let people be who they want to be, a story about a group of women who don't fit in with social norms but who just want to be something, to do something that they want, even if that means mistakes will follow.
MOVIEWEB VIDEO OF THE DAY
Interestingly, when reading Smith's words, the character leaves out something from the actual novel — "let me be gay; let me be sad." Of course, in Smith's time, 'gay' mostly meant 'merry,' filled with good cheer; today, it means something different. The fact that this line is omitted when read in the show is telling, indicating that these women feel forced to hide so much of themselves, including their sexuality, in order to simply function in society.
A League of Their Own is very perceptive in this way, remaking the 1992 classic with an almost entirely female cast and maintaining its feel-good energy while updating its politics. It makes some (almost unavoidable) bad decisions with its narrative and cast, but on the whole is a very welcoming, fun, forward-thinking show about the past.
A Baseball Classic Gets a Remake in A League of Their Own
Sony Pictures Television
Amazon Studios
A League of Their Own takes place at the height of the war effort around 1943, beginning appropriately with a running woman, speeding away from 'her place' as a wife and homemaker and toward her future as a baseball player. She falls flat on her face in the dirt, then gets right back up and runs. This is Carson Shaw, played by the ever-endearing Abbi Jacobson, who co-creates and co-writes the series (with Will Graham) as she did in her great comedy show Broad City. Jacobson is always spunky but compassionate in her performances, awkward but endlessly charming, and she brings the same vibe to A League of Their Own.
Shaw is headed to try out for the very real Rockford Peaches, one of the original teams from the All-American Girls Professional Baseball League, the grandmother of all women's professional sports leagues. Women's sports became professionalized in 1943 when so many men were occupied with World War 2; women couldn't serve in the military, but starting that year, they could play baseball in the big leagues.
Sony Pictures Television
Amazon Studios
Women also couldn't own a bank account or a credit card, take legal action against sexual harassment, get a business loan, take birth control or have abortions, or defend themselves against spousal rape (a man could rape his wife whenever he wanted to without any accountability; marital rape was legal and not considered rape in all 50 states until 1993). Women could be fired from their job for being pregnant or needing maternity leave and had only recently just been allowed to vote.
The system was structurally designed so that women couldn't get ahead; the absence of working men in America during World War 2 and the economic need to keep industry and entertainment afloat finally gave women the opportunities they wanted. As such, A League of Their Own follows a group of women who are sick of being told what they can or can't do, and when they see a chance at playing baseball professionally, they run as fast as they can to 'steal' home and attempt to win a championship. None of this is easy, and the series expertly shows just how hard these women have to work (and how much bull they have to put up with) in order to be something.
The Wonderful Women Cast in A League of Their Own
Sony Pictures Television
Amazon Studios
The original A League of Their Own is one of the great baseball movies, with a wonderful ensemble cast to round out their version of the Rockford Peaches (Geena Davis, Madonna, Rosie O'Donnell, Lori Petty, and many more), but this film about women's baseball put a disproportionate emphasis on men. Tom Hanks led the charge as the team's manager (and, essentially, coach) in a hilarious, perfect performance; Jon Lovitz, David Strathairn, Garry Marshall, and Bill Pullman were all prominent as well. The new TV series will have none of that. Nick Offerman is introduced in the Tom Hanks role, but he dips out a few episodes in, leaving the women to coach themselves and the show to exist without any male chaperones.
Related: A League of Their Own TV Cast: Other Roles You've Seen the Actors Play
It's an immensely wise decision, and not the only way A League of Their Own acts as a kind of course correction to that previous film. The cast of women who lead themselves in the show is tremendous, with Jacobson, Chanté Adams, D'Arcy Carden, Roberta Colindrez, Kelly McCormack, Priscilla Delgado, Lea Robinson, Molly Ephraim, and the very funny Kate Berlant all managing to shine despite a wide ensemble cast that includes even more characters than these. The casting is very important here, and smart decisions were made to choose character actors who feel familiar, have an innate sense of comedic timing, and look the part. Everyone basically does a great job, though Jacobson and Carden are the real home run here.
Carden plays Greta, one of the more 'traditionally' beautiful women on the team and one who's privy to the rules of the game, of society as much as of baseball. Greta has been wounded into hiding, turning bitter after society punished her years ago for expressing her actual self; as a result, she's cynical and can manipulate her survival as a queer woman who wants to truly get ahead in life. Charming, sensuous, and resilient, Greta's a great character who opens up Carson Shaw's world and takes her to third base, liberating her from the cage society convinced her to step into.
There's No Politics in Baseball
Sony Pictures Television
Amazon Studios
Greta and Shaw aren't the only LGBTQ+ characters in A League of Their Own, and the decision to tenderly navigate these relationships and experiences is an important one. By looking into the oppressive modes of patriarchy's past, the new series is actually rather forward-thinking in its politics. Of course, this will likely alienate some viewers who may feel like they can't turn on the television without subscribing to progressive ideology.
The culture industry has certainly appropriated the fight for civil rights and monetized queer representation, turning politics into profit, but A League of Their Own isn't didactic about this; it focuses on the humanity of marginalized people in 1943 and, to some extent, today —immigrant, woman, lesbian, poor, Black, tomboy, queer, and every 'other' who wasn't permitted to be something and who were just recently being allowed to swing a bat. By exploring the human element of these topics rather than being preachy about them, A League of Their Own might even win some converts onto the right side of history, the winning team that allows every kind of person to be something.
Related: A League of Their Own TV Series: Plot, Cast, and Everything Else We Know
The series makes an admirable attempt to do the same with the Black experience, something only briefly touched upon in the great '90s movie. While women had only just been allowed to do these things, everything was still racially segregated and Black women wouldn't have the same opportunities for years. Consequently, A League of Their Own attempts to rectify the underrepresentation of the past and includes an important narrative about a strong but stubborn Black woman, Max, who has more passion for (and talent with) baseball than perhaps anyone else. Unfortunately, and almost by necessity, this storyline trips up the show as a whole.
A League of Their Own: Flawed, Feel-Good Female Empowerment
Sony Pictures Television
Amazon Studios
Chanté Adams and especially Gbemisola Ikumelo are wonderful as Max and her best friend Clance, who get rejected from the Rockford Peaches in the first episode; their chemistry together is endlessly easy and entertaining to behold. It's obviously historically accurate to separate them from the main plot of the Peaches, but by being inclusive and exploring the experiences of Black women as well, A League of Their Own often stumbles.
This is not to say that Max's narrative is weak, but it breaks up the action and drama of the show by oscillating between two almost completely unconnected stories, even if they are thematically similar. It often feels more than bifurcated, as if A League of Their Own were two shows spliced into each other sometimes arbitrarily; the series scores runs for inclusion but loses the game of narrative cohesion.
Sony Pictures Television
Amazon Studios
It's also a surprisingly unfunny show, considering how many talented and funny people are involved (and how funny the original film is). A League of Their Own isn't unfunny in the sense that it tries for sidesplitting jokes and instead fails, but rather that it doesn't even step up to bat and make the attempt. Jacobson is hilarious in Broad City and Disenchanted, Carden is the same in A Good Place and Barry, and much of the ensemble are mostly known for their comedic skills, so it's odd how few actual laughs there are in A League of Their Own. Then again, this is a show that takes women seriously, and nobody is made out to be a joke.
Instead of gut-busting, belly-aching laughs, the show exudes a warm kindness; instead of many big chuckles, the viewer gets a consistent, closed-mouth smile. A League of Their Own is more of a drama, but a feel-good one that manages to be pleasantly delightful while also tackling some serious ideas. It's a show that lets women be something every blessed minute, even if that something isn't always funny or cohesive.
You can view the original article HERE.