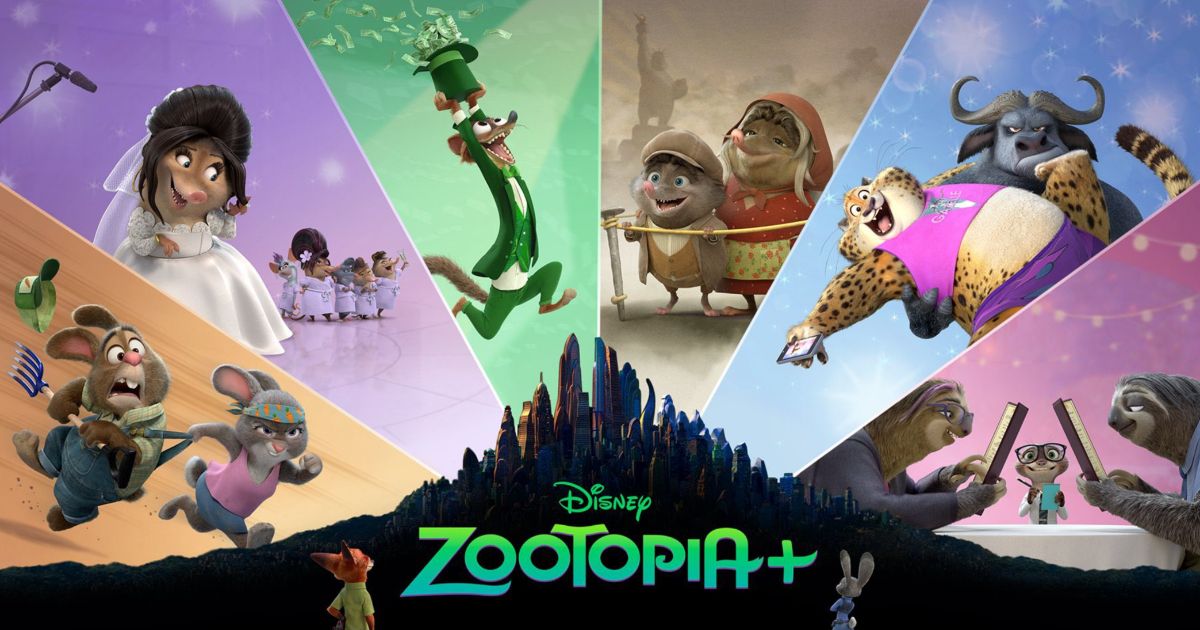 The most beloved characters from the land of Zootopia are back. The all-new series is the perfect extension of the original Zootopia film, with the same humor and visually superb animation. Zootopia+ is a hilarious and delightful series of shorts that's easily enjoyable for both adults and children alike. Revolving around songs and spoofs, such as The Real Housewives and The Godfather, Zootopia+ leaves no story untold. Each episode directly connects to the 2016 film, showing what happened when the camera cuts away from certain characters, while also exploring different genres.
Spoiler Warning
Welcome Back to Zootopia
Zootopia+ heads back to the fast-paced mammal metropolis of Zootopia in a short-form series that dives deeper into the lives of some of the feature film's most intriguing residents, including Fru Fru, the fashion-forward arctic shrew; ZPD dispatcher Clawhauser, the sweet-toothed cheetah; and Flash, the smiling sloth who's full of surprises. In the first episode Hopp on Board, Bonnie (Bonnie Hunt) & Stu Hopps (Don Lake) say their goodbyes to their daughter Judy (Ginnifer Goodwin). She boards the train from Bunny Burrow to Zootopia to begin her life as the big city's first bunny cop. Meanwhile, their youngest daughter, Molly, hitches a ride atop the train. Now the carrot-farming country couple is forced into an action-packed rescue mission to save Molly.
MOVIEWEB VIDEO OF THE DAY
In The Real Rodents of Little Rodentia, newly engaged Fru Fru (Leah Latham) kicks off her wedding planning with enthusiasm and flourish. Unexpectedly, her scene-stealing cousin Tru Tru (Michelle Buteau) arrives to assume the role of Shrew of Honor. A battle for the spotlight ensues until a close call with a giant donut reveals that for better or worse, no one knows you better than family.
Appearing as one of the original film's antagonists, Duke finally hits the spotlight. After being wrangled and arrested in a giant donut (compliments of Officer Judy Hopps), clever criminal weasel Duke (Alan Tudyk) reevaluates his life. He ponders where he went wrong staged in his own mind in Duke the Musical. In a musical aptly staged in his own mind, Duke contemplates how to go from a small-time crook to the big-time.
Related: Titans Season 4 Opening Episode Recap & Review: A Bloody & Promising Start as Darkness Arrives in Metropolis
Making audiences an offer they can't refuse, The Godfather of the Bride will tie in directly with the Fru Fru's wedding. The episode is a touching tale about the powerful arctic shrew known as Mr. Big (Maurice LaMarche). Revisiting Fru Fru's big wedding day, he delivers a revelatory father-of-the-bride speech, taking guests back in time to his days as Mr. Small, a new immigrant to Zootopia alongside his beloved mother. He imparts the wisdom he gained then about the importance of friends, family, and community.
During the episode of So You Think You Can Prance, ZPD dispatcher Clawhauser (Nate Torrence) persuades his boss, Chief Bogo (Idris Elba), to audition for So You Think You Can Prance. Taking center stage and showing off his moves, both characters try to out-dance their competitors. The stakes are high as the ultimate prize is a dream-come-true opportunity to dance on stage with megastar pop sensation Gazelle (Allison Strong).
In Dinner Rush, viewers will meet Sam (Charlotte Nicdao), a super server who urgently tries to finish her restaurant shift to make a once-in-a-lifetime Gazelle concert. The final episode will reintroduce the slow-moving sloths, Flash (Raymond S. Persi) and Priscilla (Kristen Bell), as they hit the town for a late dinner. Much to the dismay of their server Sam, the duo shows up right before closing and move through their dining experience at a glacial pace.
Zootopia+ Needs More Love
Disney+
When Zootopia was released back in March 2016, it proved to be a smash-hit film for Disney. Not only did Zootopia gross more than a $1 billion at the worldwide box office, but it earned rave reviews and even picked up the Best Animated Feature at the Oscars. Zootopia+ does show more of the world of Zootopia that viewers weren't aware of before, following through on all the memorable characters introduced in the 2016 film. With each episode roughly having only an average of 7-minute runtimes, the series has so much more potential to be more entertaining for viewers with an increased number of episodes. While there hasn't been much confirmation on a movie sequel, for now, fans can dive back into the gloriously colorful and eclectic world of Zootopia.
All six episodes of Zootopia+ will be available for streaming on November 9th exclusively on Disney+. The series will also be known as Zootropolis+ in some countries, such as the United Kingdom, due to a legal issue over the name "Zootopia".
You can view the original article HERE.